Shelf Awareness for Friday, June 21, 2013

News
Copperfield's Books Opening Seventh Store, in San Rafael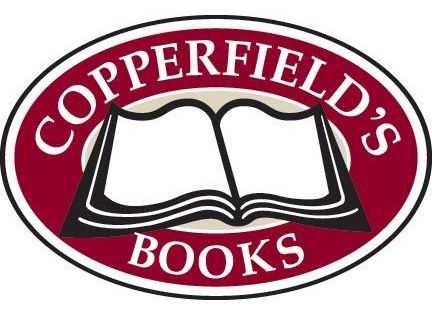 Copperfield's Books, which has six stores in Sonoma and Napa counties in Northern California, is opening a seventh store, in San Rafael, in November. Taylor Maid Farms Organic Coffee will run an organic coffee bar at the store, which will be located downtown at 850 4th Street. The store will have a total of 7,000 square feet of space; the coffee bar will take up 1,300 square feet of that.
Copperfield's said that it had been interested in opening in San Rafael since a Borders there closed nearly two years ago. San Rafael, the largest city in Marin County, has not had a full-service independent bookstore in more than a dozen years.
"Even with all the changes in the book industry over the past decade, we believe that Copperfield's unique mix of books, cards, magazines and carefully selected sidelines will find a welcome audience," said Copperfield's president Paul Jaffe. "Our commitment is to create an extraordinary independent bookstore that serves the greater San Rafael community."


New Owner for the Dolphin Bookshop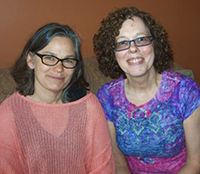 Judith Mitzner and Patti Vunk
Longtime employee Judith Mitzner is the new owner of the Dolphin Bookshop, Port Washington, N.Y., having purchased the store from Patti Vunk earlier this month. The Port Washington News reported that "Mitzner does not intend to make any substantive changes. She said that customers 'will find the same Dolphin' and over time there will be small steps going forward along the path that Vunk has set in motion."

"We will continue to strengthen the book and toy content," she added. "And we have recently added cold fresh pressed organic juices to the café menu."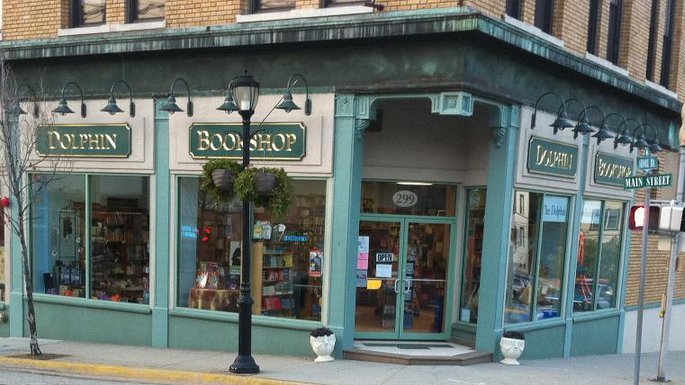 Concerning her purchase of the store, Mitzner said, "Everyone who works here never wants to leave. There is something infectious about being in the store. Employees immerse themselves in the details and are vested in its success. It just seemed the natural thing to do."

Vunk said she is "confident with Judith at the helm of the 67-year-old shop. For me, it is like raising a child and then letting it sprout its wings to fly."


Granada Books Hosts Grand Opening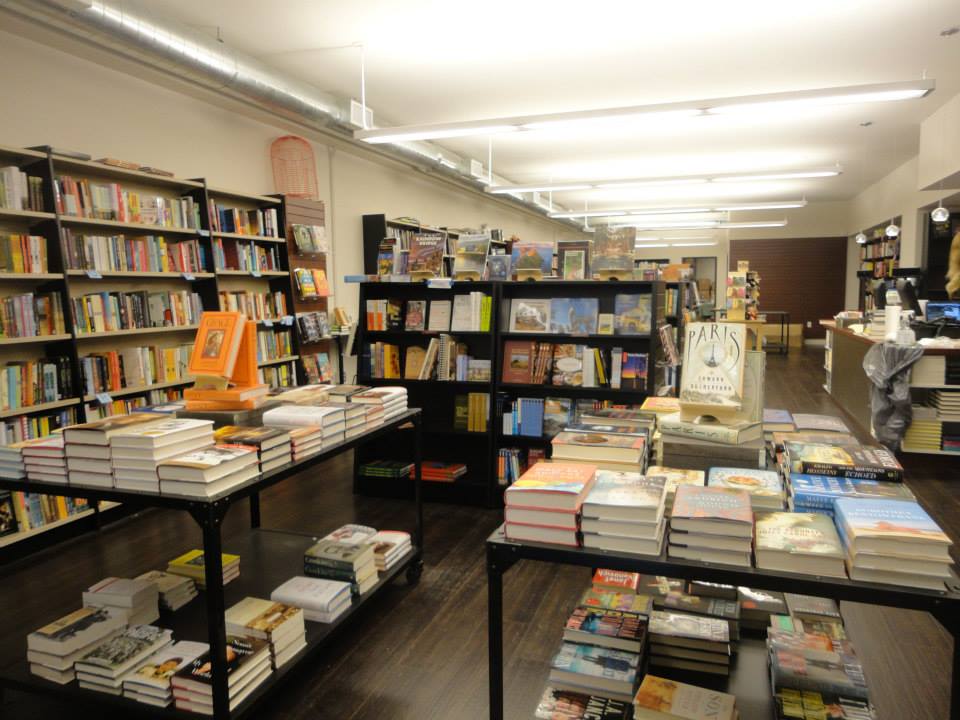 Granada Books, Santa Barbara, Calif., hosted a grand opening celebration yesterday in the fully renovated location on 1224 State St. A note on the bookstore's website nicely summed up the goals for owners Emmett McDonough and Sharon Hoshida: "At Granada Books, we serve the community as a creative, literary and arts center for readers and writers of all ages. We're proud to be a resource and venue for local and national talents.

"Our mission is to contribute to the cultural fabric of downtown Santa Barbara through partnerships and an active schedule of programs. Granada Books offers a place where ideas and innovations can be shared and presented to local and surrounding communities. Welcome!"


FBI: Former Wiley Rep Stole $2.8 Million in Textbooks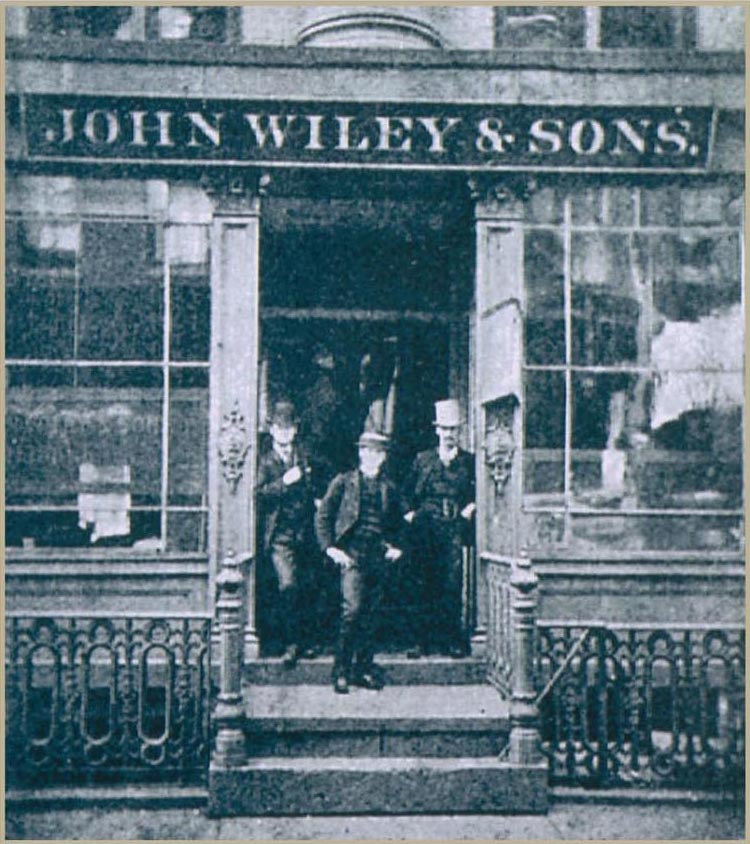 A former Wiley textbook rep and sales supervisor was arrested in Florida on Wednesday and charged with wire fraud in an elaborate scheme that resulted in the theft of more than $2.8 million in textbooks from the publisher, the Jersey Journal reported.
In a complaint, the FBI charged that Christopher Brock "accessed the corporate systems of Wiley including computers located in New Jersey and diverted more than 16,000 textbooks that he designated as free samples to addresses he controlled," the paper wrote. "To avoid detection in an internal review of his employee records, Brock designated both actual and fabricated professors as the purported recipients of the items and listed his own home address and other addresses that he controlled as alternate shipping addresses for those professors."
Brock sold the textbooks to resellers and spent most of the money on personal expenses, "including high-end home furnishings," the FBI said. In federal court, Brock faces a maximum penalty of 20 years in prison and a fine.


Hazes in China, Singapore
On Wednesday, Taiwan bookstore chain Eslite and Shanghai Tower, which is under construction and will be the tallest building in China, announced that Eslite will have a 70,000-square-foot bookstore in the building. Yesterday, according to the South China Morning Post, the Shanghai office of the national propaganda department issued a notice to the media that the bookstore should not be mentioned.
The Post said one member of the media "learned from government sources that Beijing was concerned about the kind of books Eslite may bring to its new Shanghai branch. There was also some speculation about the political background of some Eslite executives."
In addition, Eslite's only other store abroad, in Hong Kong--which continues to have unusual autonomy in China--sells books by dissidents and others disapproved of by the Chinese government, including Wang Dan and the Dalai Lama.
Eslite deputy communications manager Jessie Lu told CNN that the company would not be able to sell books banned by China in stores in the PRC, saying, "Eslite respects the rules and regulations in mainland China, including those on the book market."
Eslite was founded in 1989 and has 49 bookstores, one of which is open 24 hours a day.
---
This week's haze over Singapore caused by from fires in Indonesia has gotten so bad that BooksActually closed Friday and cancelled its Saturday event Art + Design Market No. 5, an art market hosted with Sculpture Square.
Concerning the bookstore's closing, owner Kenny Leck wrote on Facebook: "No point destroying our health.... Fingers crossed that the situation will improve, and we will re-open on Saturday, 22nd June." He added that the store is serving as a refuge. Besides air conditioning, "we have masks here too. and food & drinks to last out this one."
And, he noted, customers can shop at the store online 24 hours a day.


Bravest of the Brave: the Dawes Arboretum StoryTrail
Every summer, the Dawes Arboretum in Newark, Ohio, turns one of its many trails into the StoryTrail-- the pages of a picture book are reproduced as waterproof vinyl signs and posted along a quarter-mile walking trail. This year, the Arboretum chose Shutta Crum's 2005 book Bravest of the Brave (Knopf), a story about a young skunk walking home through the woods.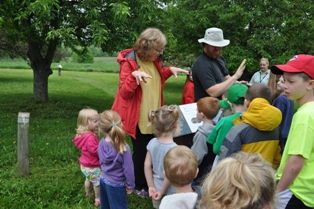 Nancy Gregory, an environmental educator at the Dawes Arboretum, has headed the StoryTrail project since its inception in 2009, which featured Denise Fleming's In the Tall, Tall Grass as the inaugural story. Andrew Clements's Dogku and John Himmelman's Mouse in a Meadow are also past StoryTrail titles. According to Gregory, she had been lobbying for Bravest of the Brave for a couple of years.

"It's one of my favorite stories," explained Gregory. "I've been using it in story time for at least four years. It's just such a cute story, with lots of layers of learning."

This year's StoryTrail opened on May 18, when Crum visited the Arboretum and led the first group of kids and families on a roving reading of Bravest of the Brave. Despite uncooperative weather, the event drew approximately 40 people.

"Other than the weather, it was great," said Crum. "The kids were wonderful. The way my book is structured, each page ends with an ellipsis, and the kids would go racing off to the next sign after I finished reading a page."

The arboretum has planned a summer's-worth of activities related to Bravest of the Brave and the StoryTrail, including arts and crafts programs and opportunities for kids to learn more about nocturnal animals. Gregory also leads walks in which kids take turns reading from the signs. "And sometimes, if the book lends itself to it, we try to move like the animals."

Gregory said that the idea for the StoryTrail came from a program put on by the Vermont Library system called Story Walk, in which books were taken apart, laminated and then posted on sticks along a given trail. For the StoryTrail, the books are fully reproduced with permission from the publisher. "We wanted something a little bit more permanent and weather-proof," explained Gregory. "Something that could stay up for six months."

The StoryTrail is free of charge and will stay open until October; copies of Bravest of the Brave are available in the Dawes Arboretum gift shop.

"The response to the program has been overwhelmingly good," said Gregory, who hopes that other institutions try similar programs. "It's great to get families outside and enjoying literature." --Alex Mutter


Obituary Note: Roberta Karsh
Roberta Karsh, who opened the Footnote Bookstore, "a landmark business in the original Larimer Square in downtown Denver," in 1967, died last week, Intermountain Jewish News reported. She was 86.


Notes
Image of the Day: Justice Is Served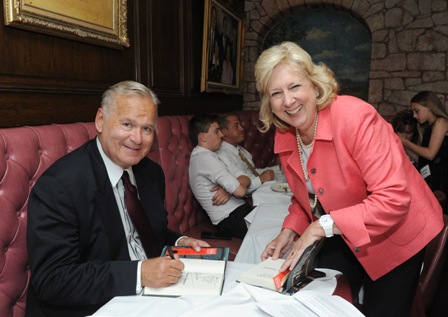 Author and criminal prosecutor Robert K. Tanenbaum (left) hosted a launch party for his new nonfiction Echoes of My Soul (Kensington) earlier this month in the shadow of the Manhattan courthouse at Forlini's Restaurant, a favorite haunt among those in New York's legal scene. Attendees included State Supreme Court Justice Bob Seewald, Federal District Court Judge John Keenan, author and former prosecutor Linda Fairstein (right), former Supreme Court Justice Herb Adlerberg, former D.A. and special prosecutor for the Knapp Commission Maurice Nadjari, and Kensington Publishing execs Steven Zacharius and Laurie Parkin. After speaking about the personal and historical significance of the Wylie-Hoffert case covered in Echoes of My Soul--the murders that helped lead to the Supreme Court's Miranda Rights ruling and helped end the death penalty in New York State--Tanenbaum signed copies of the book, which were made available for purchase by the Mysterious Bookshop.


Book Trailer of the Day: The Tower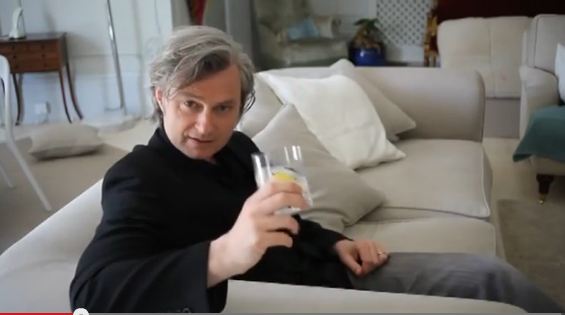 The Tower by Simon Toyne (Morrow), the last in his Sanctus trilogy. In the video, he invites readers to "apply" to be one of his five guests to Thrillerfest's Fanfest next month in New York City.


Media and Movies
Media Heat: Oliver Sacks on Fresh Air
Today on NPR's Fresh Air: Oliver Sacks, author of Hallucinations (Vintage, $15.95, 9780307947437).
---
Tomorrow on NPR's Weekend All Things Considered: Lynda Obst, author of Sleepless in Hollywood: Tales from the New Abnormal in the Movie Business (Simon & Schuster, $26, 9781476727745).
---
Sunday on CNN's Fareed Zakaria GPS: Niall Ferguson, author of The Great Degeneration: How Institutions Decay and Economies Die (Penguin Press, $26.95, 9781594205453).


Movies: Fifty Shades of Grey Director Named
Universal Pictures and Focus Features announced that Sam Taylor-Johnson will direct the film adaptation of the mega-bestselling Fifty Shades of Grey by E.L. James. The New York Times reported that the choice "was surprising because her résumé is slim; her only previous feature-length directing effort was in 2009, with Nowhere Boy, which took in $6.6 million at the box office."

"Sam's unique ability to gracefully showcase complex relationships dealing with love, emotion and sexual chemistry make her the ideal director," said Michael De Luca, one of the producers.

Taylor-Johnson added: "For the legions of fans, I want to say that I will honor the power of Erika's book and the characters of Christian and Anastasia. They are under my skin, too."


Books & Authors
IndieBound: Other Indie Favorites
From last week's Indie bestseller lists, available at IndieBound.org, here are the recommended titles, which are also Indie Next Great Reads:

Hardcovers
The Last Summer of the Camperdowns: A Novel by Elizabeth Kelly (Liveright, $25.95, 9780871403407). "Twelve-year-old Riddle's world starts to crumble when she witnesses a terrible crime but doesn't report it. Set on Cape Cod in the rarified circles of old-money political dynasties, this story's characters are larger than life, brilliant, infuriating, and compelling. They have constituencies and causes, servants in their seaside mansions, famous artwork on their walls, and horse habits, yet they struggle with the shame of overstretched finances, an infamous love triangle, and buried secrets. The Last Summer of the Camperdowns is the perfect summer page-turner." --Sara Hinckley, Hudson Booksellers, Marietta, Ga.

If You Were Here: A Novel of Suspense by Alafair Burke (Harper, $25.99, 9780062208354). "If You Were Here is the story of a New York City prosecutor long fallen from grace, now working as a news reporter. McKenna Jordan unexpectedly stumbles across a recent photo of a close friend who disappeared nearly 10 years ago. Nothing is as it seems, not even the case that cost McKenna her career. Clever plot twists kept my nose buried until the very last page. Highly recommended for fans of Harlan Coben and Lisa Unger." --Bina Valenzano, the BookMark Shoppe, Brooklyn, N.Y.

Paperback
Sutton: A Novel by J.R. Moehringer (Hyperion, $15.99, 9781401312688). "Willie Sutton's life was stranger than fiction so it seems only appropriate that Moehringer uses the novel form to describe the fascinating existence of the bank robber who became a folk hero. As Sutton travels about New York with two reporters after his release from prison, the reader is treated to a story almost beyond belief while being transported into another era. Moehringer's eye for detail and his ability to convey a gritty life and time make for a mesmerizing story." --Bill Cusumano, Nicola's Books, Ann Arbor, Mich.

For Ages 4 to 8
Super Hair-O and the Barber of Doom by John Rocco (Disney/Hyperion, $16.99, 9781423121893). "Cute and funny, this is the tale of a group of four boys who believe they are super heroes whose powers come from their hair. Then they are forced to get haircuts. Down in the dumps, they mope around their playground headquarters trying to find a way to get their powers back. A little girl overhears their problem and puts her doll in danger on the monkey bars to give the boys the jumpstart they need to be heroes again." --Kelly Bolduc, Hockessin Bookshelf, Hockessin, Del.

[Many thanks to IndieBound and the ABA!]


Book Brahmin: David Nickle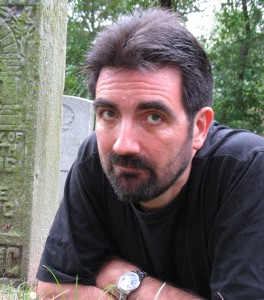 David Nickle grew up in and around Toronto, where he still lives and works, for the most part as a journalist covering city politics--but also as a novelist and short story writer. He's the author of three and a half novels (the half-novel being The Claus Effect, which he and Karl Schroeder co-authored) and a story collection, Monstrous Affections. His first two solo novels were Eutopia: A Novel of Terrible Optimism, and Rasputin's Bastards. His new novel, The 'Geisters (ChiZine Publications, July 9, 2013), is the story of a young woman struggling to control the poltergeist that has haunted her since she was a child—and a group of powerful men who want to control them both. David Nickle blogs at The Devil's Exercise Yard.
On your nightstand now:
There is always a stack--these days, both e-book and paper. The current e-book is The Rook, Daniel O'Malley's wonderful first novel of a secret history of magical goings-on in U.K. intelligence work. On paper, it's Robert Shearman's fantastic and witty story collection, Remember Why You Fear Me. I'm also dipping toe in a collection of Daphne du Maurier's more macabre stories, Don't Look Now.
Favorite book when you were a child:
Lord of the Flies by William Golding. I came upon this novel after reading baskets-full of Enid Blyton novels, which I also adored--particularly Blyton's notion of clever children just like me, going off to remote places without their parents, and outmaneuvering smugglers, pirates and foreign secret agents with nothing but their wits and maybe a bit of string. I learned to read on Blyton books and probably imprinted on them in an unhealthy way. Were it not for Lord of the Flies, I think I would have happily loaded my Grade Four class onto a seaplane, crashed it on a desert island and let the cleverest survive. Goldman's thin novel of wild-pig-gods, broken eyeglasses and very bad boys really did me a service, highlighting some of the less obvious flaws in that plan. It was also a much better yarn than Blyton ever spun, and that's saying something.
Your top five authors:
Joe R. Landsale, Madeline Ashby, Stephen King, Michael Chabon, Stephen Millhauser.
Book you've faked reading:
That's a tough one. I'm usually pretty honest about having abandoned books, because I abandon so many of them--even ones that I find a lot to like in. I'm a slow reader and easily distracted by almost anything. That said: I've definitely held conversations with people about Neal Stephenson's extraordinarily good, and really quite long novel Cryptonomicon, in which I haven't volunteered the fact that I may not have made it quite to the end. Is that faking? I guess it is.
Book you're an evangelist for:
Albert Sánchez Piñol's Pandora in the Congo. I actually discovered this Catalan author's work through his first English-translated novel, Cold Skin. Pandora in the Congo is the more substantial follow-up: a wonderful, Edgar Rice Burroughs–inspired adventure that follows put-upon manservant Marcus Garvey (the other one) deep into the Belgian Congo, and from there eventually into a hollow earth populated by pale giants and infused with strange eroticism. There is murder, and romance, and a very put-upon turtle who learns to live life without a shell, about as well as any of us would.
Book you've bought for the cover:
The Del Rey paperback edition of Lord Foul's Bane by Stephen R. Donaldson, back in the late '70s. The cover had such promise: a bunch of Tolkienesque heroes battling something awful and glowing and yellow on a narrow stone bridge over a river of lava. How could that go wrong, for an imaginative boy looking for straightforward other-world-fantasy adventure that doesn't involve leprosy, rape and chronic depression? How indeed... So yes. These days, I may pick up a book because of its cover. But I buy it after at least having read a few pages.
Book that changed your life:
I want to say "the first one I wrote." It's a glib answer, but for a writer, or this writer at least, it really is the honest one. I've read many, many books over the years, and the good ones, at least, have made as many impressions on me. But ultimately, while life might be imagined within the covers of books, it's lived beyond them. As a writer, I was certainly encouraged and inspired by Stephen King's early work--particularly Salem's Lot and The Shining, and the Different Seasons novella collection. John Irving has shown me how to delve deep into family and place with books like The World According to Garp and The Cider House Rules. Steinbeck's Of Mice and Men made me tear up something awful, and showed me how to pull heart-strings.
But for a life-changing book.... I had to go write that one myself.
Favorite line from a book:
"The sky over the port was the color of a television, tuned to a dead channel." --William Gibson, at the beginning of Neuromancer.
Book you most want to read again for the first time:
A tie: A Confederacy of Dunces by John Kennedy Toole and The World According to Garp by John Irving.


Book Review
Review: The Panopticon
The Panopticon by Jenni Fagan (Hogarth, $22 hardcover, 9780385347860, July 23, 2013)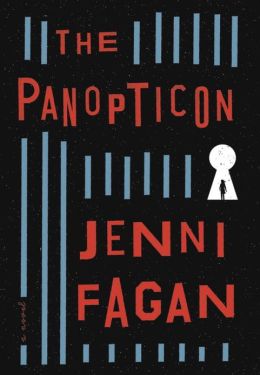 After a life of countless foster homes and juvenile offenses, 15-year-old Anais Hendricks now faces jail time after allegedly putting an abusive police officer in a coma. Anais doesn't remember assaulting the officer but, due to drugs and alcohol, she also doesn't remember anything else. While awaiting her fate, Anais is hauled to the Panopticon, a high-security foster-care facility where various teenagers who have fallen through cracks in the system have ended up. Like Anais, these "clients" of the foster-care system have faced abuse and neglect, often by the adults who were responsible for protecting them.
Set in Scotland and thus evoking inevitable comparisons to Trainspotting, Jenni Fagan's debut novel, The Panopticon, depicts the devastating realities of lifelong foster care. Sensitive and precocious beyond her years, Anais reads avidly (from classics to vampire novels) and dreams of a future beyond the surveillance of what she calls "the experiment." Her substance abuse and penchant for minor offenses against the police are clearly an effort to escape emotionally from a system that is otherwise inescapable.
Fagan excels at portraying the desolation of a child unmoored who, in her short life, has experienced and witnessed abuse--and even dealt with the grisly murder of a loved foster mother. By the time Anais reaches the Panopticon, she views every adult as a potential--and likely--enemy, and is wary of "the experiment" that she is certain is studying her. She is even convinced she can spot a pedophile on sight.
A reader of The Panopticon becomes entrenched in Anais's mind, absorbing her acid observations and theories, as well as the flashbacks that gradually shed light on her past. Enjoyment of the novel very much hinges on whether the reader enjoys Anais's voice, as it is ultimately the central element defining the whole. While Fagan introduces various elements of plot--the mysterious coma, the question of whether Anais's fear of "the experiment" is sane--a resolution doesn't fully materialize. Perhaps what the novel does best is to illuminate harshly, like the light from the security tower at the center of the Panopticon, a life most readers are unlikely to ever observe firsthand. --Ilana Teitelbaum
Shelf Talker: A devastating depiction of the foster care system in Scotland from the point of view of a strong-willed, independent 15-year-old heroine.


Deeper Understanding
Robert Gray: Do You Need a Bookshop-Sitter?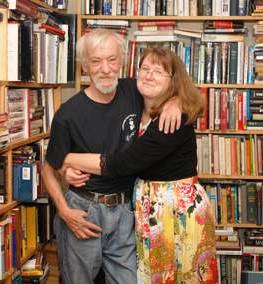 Jack Beck and Wendy Welch
Nearly a year ago, I wrote about the search for a bookshop-sitter launched by Wendy Welch and Jack Beck, co-owners of Tales of the Lonesome Pine bookshop, Big Stone Gap, Va. They needed somebody to keep an eye on the place while they toured for Wendy's new book, The Little Bookstore of Big Stone Gap: A Memoir of Friendship, Community and the Uncommon Pleasure of a Good Book (St. Martin's).

Ultimately, "the perfect" Andrew Whalen took the helm for a couple of months, but Wendy recently told me that among the 180-plus inquiries they received was one from Memphis, Tenn., residents Mark and Sally Smith, who "would have been our shopsitters (and nothing would have gone viral) if it hadn't been that they had a family function in the middle of the period when we needed them. They wrote their information in the voice of their granddog, whom they were babysitting. He recommended them highly."

This spring, the Smiths finally had their chance, watching the bookstore for two weeks while Jack and Wendy took "a good old-fashioned vacation.... When we got home, they had planted flowers in our empty beds and left a quart of fresh milk in the fridge. They are also perfect," Wendy said.

Now the Smiths have decided to offer their bookshop-sitting services to other indies. Their Tales of the Lonesome Pine experience "turned out to be the perfect way to indulge in our love of books, bookstores and travel without having to be tied down to a long-term situation," Mark recalled. "We had great fun. We met a lot of interesting people, some local and some passing through. It was wonderful to be surrounded by books all day while meeting people who wanted to talk about books."

There were challenges, of course, but "Wendy and Jack were liberal with their instructions on pricing so things went along without a hitch," Mark said. "We enjoyed the routine of sorting, finding out-of-order books and reshelving them, and just making things look neat. Oh yes, the flowers were an extra touch."

Mark retired three years ago after a career in the corporate world and Sally was a teacher. Both are volunteers at the Memphis Public Library, where Sally works in the retail portion of the bookstore and Mark in the sorting room. They met through the library's book club and have been married since 2007.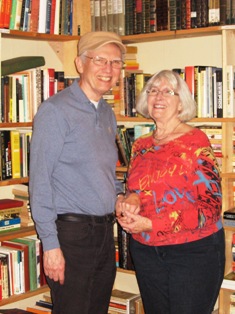 Mark and Sally Smith
Why do they want to expand their bookshop-sitting quest? "We had such fun meeting the people there in Big Stone Gap, and we were happy to help in a small way independent bookstore owners who needed to be away from the shop for a short time," Mark said. "The opportunity to visit new places and be there long enough to get the real feel of the place is a great opportunity. In short, we love books, love people and love to travel. Bookshop-sitting (Is that really a word?) fulfills all those things."

Of course bookshop-sitting is a real word, Mark. I should know. I was the one who made it up.

The big question, of course, is what sort of indie could use a bookshop-sitter? Wendy said her favorite "crazy bookstore" Facebook cover photo "suggests the atmosphere Mark and Sally walked into that just fit them. Our place is a social center, the books are easy to price and we live there. Mark and Sally had library sale experience but not bookstore itself, but that worked for us. Also, they loved animals and were outgoing--two big pluses to fit our ethos.

"From when the thing went viral last year and we got all those applications, the thing Jack and I noted right away was people who would fit in, in Big Stone Gap, and those who wouldn't. What do the bookshop-sitters think they're getting? That is way more important than anything else. It's like a tiny marriage; you have to have some empathy for how each other lives, or it's not going to work."

As far as the used versus new bookstore question is concerned, Wendy said it "depends on the bookshop-sitters themselves. I don't think Mark and Sally would've wanted to work a new store, given their experience levels, without some serious training. But they walked into our place, spent one day learning how to order books, triage books, and price them. And we walked out and they had the place as their own." She thought the ideal shop would probably have a small staff, be very community rooted and use systems that can be quickly learned. "Not everyone can step into an ethos and match it by talent; most have to match it by being of the same mind."

Do you need a bookshop-sitter? Contact Mark and Sally Smith at marksmith44@yahoo.com. As Wendy observed, "They don't want money, just to have a good time and be appreciated. And believe me, they are easy to appreciate." --Robert Gray, contributing editor (column archives available at Fresh Eyes Now).