Shelf Awareness for Wednesday, December 18, 2013

Quotation of the Day
Christmas Spirit: Print Is Alive at Indie Bookstores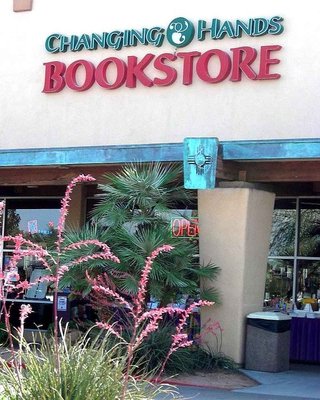 "Anyone who still believes print is dead never worked in an indie bookstore the week before Christmas. Seriously."


News
Kids Right to Read Project: Book Challenges Increased in 2013

In November, the Kids' Right to Read Project investigated three times the average number of incidents, adding to an overall rise in cases for the entire year, according to KRRP coordinator Acacia O'Connor. To date, KRRP has confronted 49 incidents in 29 states this year, a 53% increase in activity from 2012. During the second half of 2013, the project battled 31 new incidents, compared to only 14 in the same period last year.

"It has been a sprint since the beginning of the school year," O'Connor said. "We would settle one issue and wake up the next morning to find out another book was on the chopping block."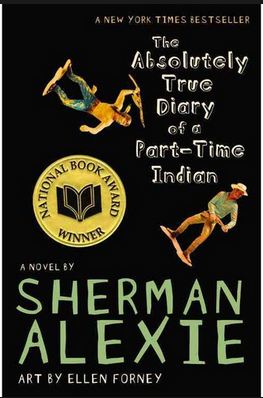 The majority of challengers were parents of district students or library patrons, though a handful were local or state government officials. Of the more than two dozen incidents KRRP faced from September to December, most involved materials used in classroom instruction. Another trend that emerged during the fall was a substantial number of challenges to notable works by well-known minority writers, including Ralph Ellison's Invisible Man, Toni Morrison's The Bluest Eye, Alice Walker's The Color Purple, Sherman Alexie's The Absolutely True Diary of a Part-Time Indian, Isabel Allende's The House of the Spirits and Rudolfo Anaya's Bless Me, Ultima.

"Whether or not patterns like this are the result of coordination between would-be censors across the country is impossible to say," said O'Connor. "But there are moments, when a half-dozen or so challenges regarding race or LGBT content hit within a couple weeks, where you just have to ask, 'What is going on out there?' "

O'Connor also noted a positive trend this year in the notable increase in positive outcomes to book challenges, including two recent victories: Bless Me, Ultima was returned to sophomore English classrooms in Driggs, Idaho; and The House of the Spirits will remain in Watauga County Schools in Boone, N.C.

KRRP was founded by the National Coalition Against Censorship and the American Booksellers Foundation for Free Expression and is supported by the Association of American Publishers and the Comic Book Legal Defense Fund.


South Main Book Juggler Opens in Memphis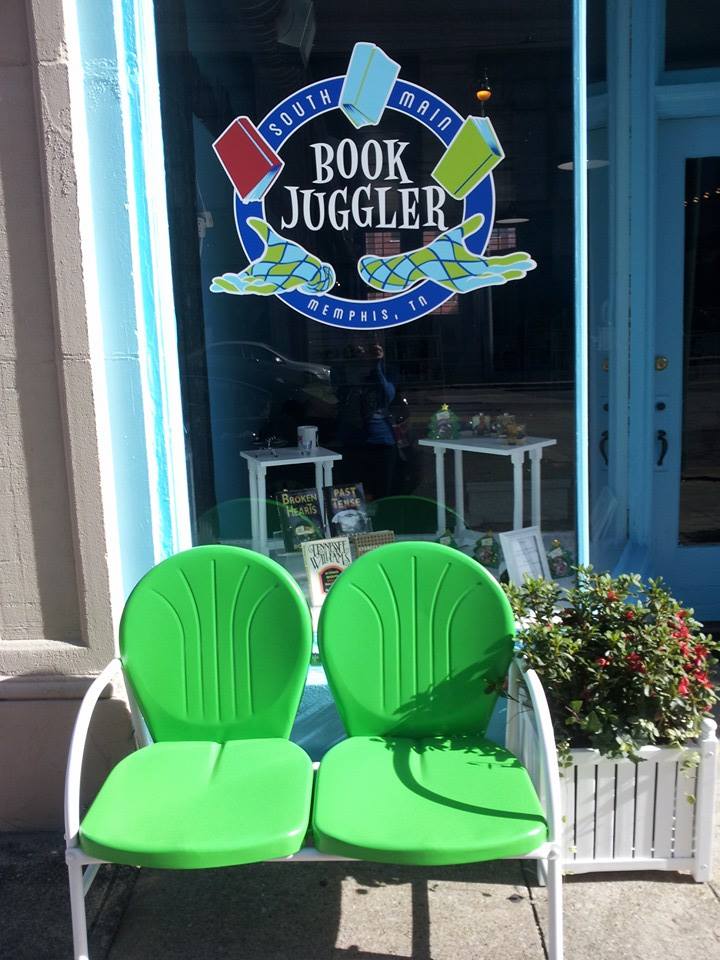 Jean Williams Andrus and her husband, Clayton, recently opened the South Main Book Juggler, Memphis, Tenn., in the South Main Historic Arts District, "continuing the blossoming district's revival," the Memphis Business Journal reported, adding that the location was chosen because they "wanted to be part of the movement to grow the neighborhood, and because of the dearth of booksellers in the area."

"I think the neighborhood can only go up," Jean said. "It's a pleasant neighborhood. When we moved in four years ago, it felt more like a true neighborhood than a suburban one."


Main Street Books to Close Unless Buyer Found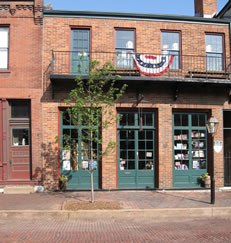 Main Street Books in St. Charles, Mo., will close at the end of January unless a buyer is found, the St. Louis Post-Dispatch reported.

Vicki Erwin, who owns the store with her husband, Jim, said the pair want "to spend more time with our children and grandchildren and to travel. That's difficult with the day to day responsibilities of running a business." She added that the store has been "solid financially the entire time, including this year, which only made it a more difficult decision."

Founded in 1993, Main Street Books will have a "retirement sale" in January. Erwin estimated that inventory will be worth about $45,000 after Christmas and the business will be worth about $50,000.


Amazon Warehouses: Construction in Wis.; Fatality in N.J.
Amazon plans to develop a second, 500,000-square-foot distribution center in Kenosha, Wis.. The $62-million project would add around 575 full- and part-time jobs, the Milwaukee Journal Sentinel reported. The additional facility would be built in conjunction with a one-million-square-foot facility approved in October by the Common Council and located about 30 miles south of downtown Milwaukee.

The first fulfillment center, "with an estimated cost of over $200 million, is receiving $17 million from the city to pay for roads, sewers, water mains and other public improvements," the Journal Sentinel noted, adding that KTR Capital Partners, which is building both facilities and leasing them to Amazon, "has filed a new proposal seeking to change the tax incremental financing district that covers the project site."

Zohrab Khaligian, of the Community Development Department, said the new proposal, which asks for a second grant of $5 million, will need Common Council approval.

---

A man working at Amazon's new warehouse in Avenel, N.J., was killed December 4 "after being crushed by a piece of equipment," AllThingsD reported, citing a Department of Labor incident report on the website of the Occupational Safety and Health Administration. Saying that the company is "very saddened and our hearts go out to his family and loved ones," Amazon spokeswoman Kelly Cheeseman said the worker was not one of its employees. AllThingsD noted later that "the victim was employed by Abacus, a temporary staffing firm."


Michael Morpurgo Is New Booktrust President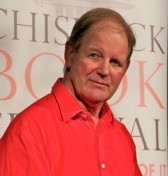 Author and former British children's laureate Michael Morpurgo has been appointed president of the reading charity Booktrust, which sponsors several children's book prizes and gives free books to children through programs such as Bookstart, the Bookseller reported. The position, which is given to "a notable figure as a supporter and ambassador for Booktrust's work," was previously held by the late Doris Lessing.

"Booktrust is batting for literature in all its forms," he said. "The organization is particularly meaningful for me: my late stepfather, Jack Morpurgo, was director of the National Book League, from which Booktrust grew. What Booktrust continues to do is to not simply promote reading, but to enthuse teachers, parents and children with the joy and wonder that can be found in books. To be invited to join them as their president is an honor, and I hope I can make a significant contribution."

Booktrust CEO Viv Bird praised Morpurgo as "a powerful voice and we are incredibly grateful to have his support. We look forward to working together to change the story for children across the country."


Obituary Note: Janet Dailey
Bestselling romance writer Janet Dailey, who wrote 150-plus novels that sold more than 325 million copies worldwide, died last Saturday, the Associated Press reported. She was 69.


Notes
Image of the Day: Decorations for a Good Cause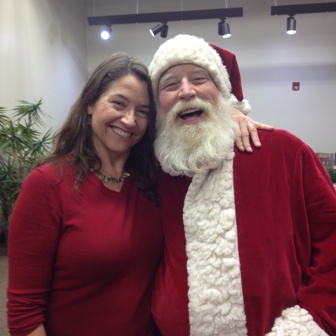 Half Price Books held its fourth annual employee ornament sale this past weekend at its Dallas flagship store, selling hand-crafted ornaments from employees across the country. The ornament sale raised more than $1,700 for the North Texas Food Bank, which will help purchase more than 550 meals for those in need. Here's Santa with Half Price Books president and CEO Sharon Anderson Wright.


Inside the Wimpy Kid Tour Bus: Jeff Kinney Talks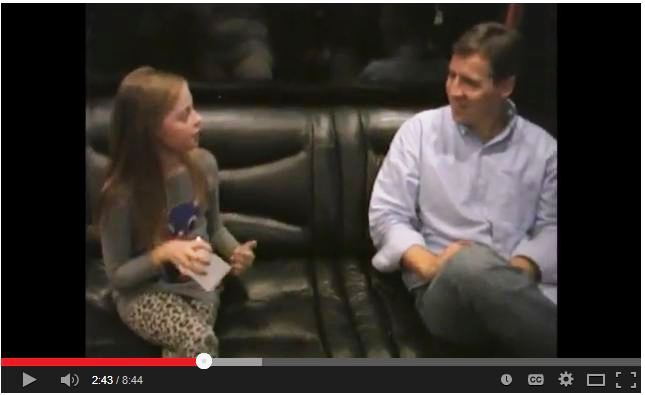 On tour cross-country for his latest book, Diary of a Wimpy Kid: Hard Luck (Abrams), Jeff Kinney recently came to Seattle, Wash., where he appeared at University Book Store and Elliott Bay Book Company. During his visit, Shelf Awareness cub reporter Lily Vinroe, daughter of publisher Jenn Risko, interviewed Kinney aboard the famous Wimpy Kid bus. See their discussion about what it's like touring on the bus, his inspiration for Hard Luck, his next untitled book and more.


McLean & Eakin on the Nightly News... in Canada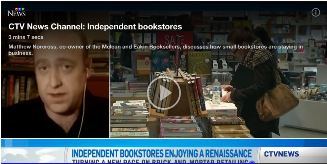 Matt Norcross, co-owner of McLean & Eakin Booksellers, Petoskey, Mich., was interviewed by Canada's CTV News for a segment that focused on "independent bookstores enjoying a renaissance" in the U.S.

Asked whether selling books is still a profitable business, Norcross replied: "It is still profitable.... Actually (I should knock on wood; the year's not over yet), but we're having the most profitable year in the store's history."


Book Trailer of the Day: It's Not About the Broccoli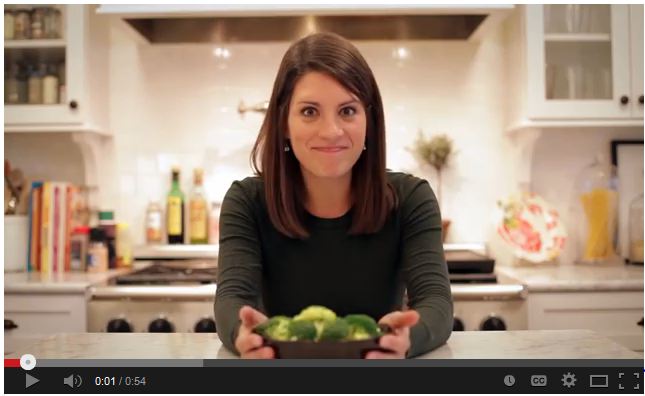 It's Not About the Broccoli: Three Habits to Teach Your Kids for a Lifetime of Healthy Eating by Dr. Dina Rose (Perigee Books), which includes perhaps every line a mother has uttered in efforts to get children to eat vegetables.


Media and Movies
Media Heat: Joe Sacco on KCRW's Bookworm
Tomorrow on KCRW's Bookworm: Joe Sacco, author of The Great War: July 1, 1916: The First Day of the Battle of the Somme (Norton, $35, 9780393088809). As the show put it: "Joe Sacco has spent his career as our most trenchant 'comic journalist' depicting the horrors of human conflicts in Palestine, Bosnia, and the Persian Gulf. His latest work, The Great War: July 1, 1916, is an astonishing panorama of the Battle of the Somme, that folds open into one continuous illustration over twenty feet long. Sacco elaborates on his interest in the Somme--a battle infamous for its human errors--and reflects on his decades-long development of the comic into a form that can soberly contain the worst extremes of human violence."
---
Tomorrow on the Rachael Ray Show: Heather Bertinetti, author of Bake It, Don't Fake It!: A Pastry Chef Shares Her Secrets for Impressive (and Easy) From-Scratch Desserts (Atria, $20, 9781476735542).


Movies: Sandman; The Double
Joseph Gordon-Levitt "is finalizing a deal" to produce--and possibly star--in Sandman at Warner Bros with David Goyer, "who pitched his treatment for the Neil Gaiman comic book classic," Deadline.com reported, adding that Gordon-Levitt is also "eyeing the project as a directing vehicle. Gordon-Levitt made his feature directorial debut on the well received Sundance pic Don Jon, but this would be a considerable step up in scope and scale. They will hire a writer shortly."

---

A new teaser trailer is available for The Double, based on a novella by Fyodor Dostoevsky. Indiewire noted that the "pleasures to be found in Richard Ayoade's upcoming The Double go far beyond Jesse Eisenberg's dual performance that powers the movie. From the great score by Andrew Hewitt, to the production design from David Crank, every inch of the Submarine director's film has been carefully considered and thought through. That it all comes together as a near flawless steampunk comedy/romance/thriller is the icing on the cake." The film, which also stars Mia Wasikowska, opens in the U.K. April 4. Magnolia will release it in the U.S., but no date has been set.


Books & Authors
Sequel to Girl with the Dragon Tattoo Trilogy Planned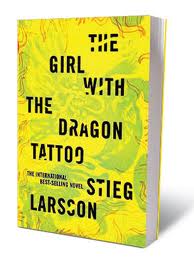 Norstedts, the Swedish publisher of the late Stieg Larsson's The Girl with the Dragon Tattoo trilogy, announced yesterday it has hired David Lagercrantz to write a fourth novel featuring journalist Mikael Blomqvist and hacker Lisbeth Salander, the Associated Press reported. The book is scheduled to be published in 2015. Lagercrantz was the ghost writer of I Am Zlatan Ibrahimović, which was shortlisted for this year's William Hill Sports Book of the Year Award.

Eva Gedin, head of publishing at Norstedts, said the Dragon Tattoo project "would be an original work that includes nothing from the fourth book in the series, which Larsson began writing but remained unfinished when he died." That manuscript had been the center of a legal battle waged over Larsson's estate in 2010 between the late author's family and his longtime partner, Eva Gabrielsson.


Awards: SCBWI On-The-Verge Emerging Voices
The Society of Children's Book Writers and Illustrators announced the winners of this year's On-The-Verge Emerging Voices Award, which is given to two writers or illustrators "who are from ethnic and/or cultural backgrounds that are traditionally under-represented in children's literature in America and who have a ready-to-submit completed work for children."

The 2013 recipients are Jennifer Baker "for her diverse teen thriller The Facility, where newly-orphaned teens forget painful pasts and embrace their supernatural abilities for better or worse"; and Tiemdow Phumiruk "for her beautifully illustrated Mela in the Jungle, a Thai fable set along the Ping River of a girl lost in the jungle and the kindness of one animal that saves her."

"Every child should have the opportunity to experience many and diverse of points of view," said the organization's executive director Lin Oliver. "SCBWI is proud to contribute to this all-important effort to bring forth new voices." Each winner receives an all-expense paid trip to the SCBWI Summer Conference in Los Angeles and several private meetings and with editors, art directors and other industry professionals.


Book Brahmin: Kim Gruenenfelder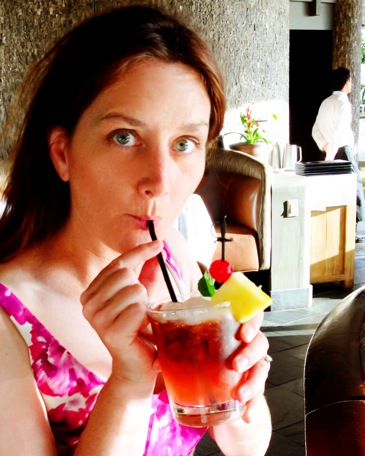 photo: Brian Smith
Kim Gruenenfelder lives in Los Angeles with her husband and son, and continues to avoid anything even remotely resembling a real job. In addition to her books--including A Total Waste of Makeup, Misery Loves Cabernet and There's Cake in My Future--she has written feature films, episodic teleplays and two stage plays. Her new book, Keep Calm and Carry a Big Drink, will be published by St. Martin's Griffin on December 24, 2013.
On your nightstand now:
Ummm... that's kind of personal.... Wait, I'm hoping you mean books. Okay, I'm currently reading a book being optioned by a studio, but I don't think I'm allowed to name it. Also have Bridget Jones: Mad About the Boy by Helen Fielding.
Favorite book when you were a child:
As a little kid, Green Eggs and Ham by Dr. Seuss. Junior high: A Connecticut Yankee in King Arthur's Court by Mark Twain.
Your top five authors:
I will refrain from saying Joe Keenan, Quinn Cummings, Nancy Redd and Jennifer Coburn, as they are my friends (and therefore they are my favorites). Joe Keenan wrote three very funny P.G. Wodehouse type books before going on to win seven Emmys for Frasier, so he's on the list. But for your specific question, I will say Jonathan Franzen, Laurie Notaro, Mark Twain, William Shakespeare and Alton Brown. (There is no rhyme or reason here, I know.)
Book you've faked reading:
I have spent all day trying to come up with an answer, and can't think of a thing. But only because my experience is when someone loves a book, they don't have to pretend to have read it--they can't wait to rave about it. I have attempted Ulysses by James Joyce five times now. I know several people who say it's their favorite book, but maybe they fake-read it.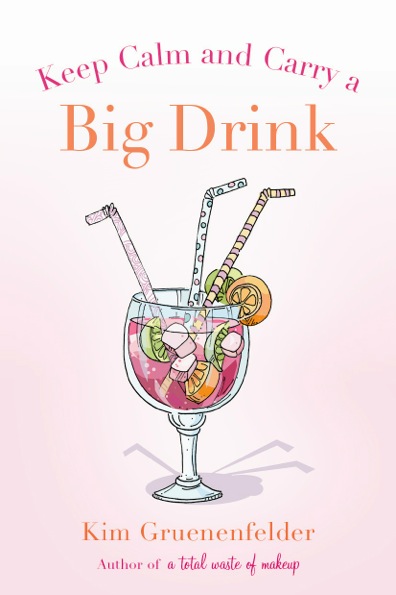 Book you're an evangelist for:
War and Peace by Leo Tolstoy. Stop groaning. Yes, it's Russian and it's long. But I firmly believe if you limit yourself to just 10 pages a day (15 tops), you have time each day to revel in the density, and you will love it. Just remember to get a good translation.
Book you've bought for the cover:
You Can't Drink All Day if You Don't Start in the Morning by Celia Rivenbark. She had me at the title. I've gone to read several other books of hers, and she's hysterically funny.
Book that changed your life:
A Total Waste of Makeup. (Yes, my first book.) Suddenly, people acted like I was smart or something. The Screenwriter's Workbook by Syd Field gave me a blueprint for screenwriting, and made it seem like an attainable goal. If I had never written screenplays, I'm not sure if I would have had the courage or discipline to try my hand at writing novels.
Favorite line from a book:
"There is no such thing as a problem without a gift for you in its hands. You seek problems because you need their gifts." --from Illusions by Richard Bach.
Book you most want to read again for the first time:
America (The Book): A Citizen's Guide to Democracy Inaction by Jon Stewart and a variety of Daily Show writers. It is laugh-out-loud funny in places. I wish I could hear the jokes again for the first time.


Book Review
YA Review: How I Discovered Poetry
How I Discovered Poetry by Marilyn Nelson, illus. by Hadley Hooper (Dial Books, $17.99 hardcover, 112p., ages 12-up, 9780803733046, January 14, 2014)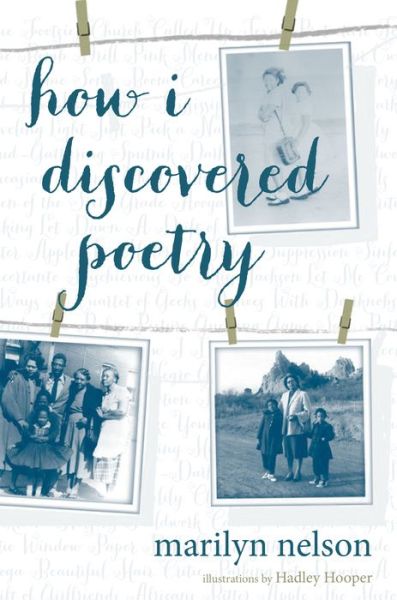 Marilyn Nelson (A Wreath for Emmett Till) calls this collection of 50 poems "a personal memoir, a 'portrait of the artist as a young American Negro Girl.' " As in James Joyce's A Portrait of the Artist as a Young Man, the protagonist of these poems is a stranger in her own land. She sees its beauty and its cruelty. Nelson harnesses her observations into unrhymed sonnets with iambic pentameter, and unpacks their power one line at a time.
Like Joyce, the poet begins with a seemingly nonsensical riff on "Once upon a time." She writes, "Once upon a time. Upon a time?/ Something got on a time? What is a time?/ When it got on a time, could it get off?" But at the close, she contemplates a danger to her father, mother and sister: "If there was, once upon a time, a fire,/ and I could only rescue one of them,/ would I save him, or her? Or Jennifer?/ Four-year-old saves three people from hot flames!/ God bless Mama, Daddy, and Jennifer."
The poems cover the evolution of a child's thoughts from age 4 to 14, from 1950 to 1959, in states stretching from Ohio to Texas, and California to Maine. They chronicle the becoming of a poet and the maturation of a nation. Nelson's poetry--like that of Frost and Dickinson--moves from the specific to the abstract and back again. On the eve of her best friend, Helene, moving away, Nelson writes, "Tomorrow I'll feel lonely as Sputnik," only to have Helene put their situation in a larger context in the last lines: "Helene talks about the kids in Little Rock:/ how brave they are, how lonely they must feel."
Nelson's voice takes the form of a child trying to make sense of a world that adults have largely botched: "I read while the television talker/ talks about career and the hide drajen bomb./ .../ We ducked and covered underneath our desks,/ hiding from drajen bombs in school today./ Maybe drajens would turn into butter/ if they ran really fast around a tree," she writes in "Bomb Drill," as the six-year-old makes a connection to the tigers from Little Black Sambo transforming to butter. Later, at age 12 (in "Attic Window"), young Marilyn questions the American mythology--the Sweet Land of Liberty and Thanksgiving: "The more time I spend in the library,/ the less sure I am about everything./.../ I read by the window in the attic,/ and things people believe in are unmasked/ like movie stars whose real names are revealed/ in their obituaries."
Yet her family's travels, due to her father's work as a B-52 pilot, also lead them to the vastness of the West, and the Grand Canyon at dawn: "There's more beauty on Earth than I can bear," she writes. Readers watch the seeds planted in the early poems flower by book's end. Like Stephen Dedalus in Joyce's Portrait, a teenage Marilyn begins to own the power of what a calling as a writer might mean. --Jennifer M. Brown
Shelf Talker: Three-time National Book Award Finalist and Newbery Honor author Marilyn Nelson offers a memoir of her 1950s childhood through 50 poems.