WI9: Making Better Decisions; the 'Bikini Model' of Indies First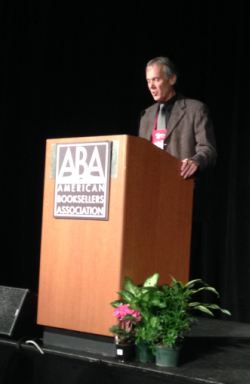 Steve Bercu
In his opening address at the plenary breakfast on the first day of Winter Institute 9 in Seattle, Wash., American Booksellers Association president Steve Bercu proclaimed that after an "incredibly positive season for many of us," the media and general public were finally "recognizing the reality that indie bookselling is strong, vital and growing."

Bercu, owner of BookPeople in Austin, Tex., went on to acknowledge the "remarkable success" of Indies First Day, held November 30, which was the "result of a heartfelt challenge" issued by author Sherman Alexie, a longtime friend, ally and advocate of independent bookstores. Alexie came on stage to receive a huge round of applause and a blue, ABA T-shirt with the words "the absolutely true original part time Indie" on it.

"I'm happy to be the bikini model for Indies First," quipped Alexie, after showing off the T-shirt to the audience. The idea for Indies First, he said, came after he completely forgot about his plan to visit Seattle's Queen Anne Book Company to celebrate the store's reopening last March. Feeling terrible, he promised that he would soon visit the store and spend an entire day there. The owners of Queen Anne suggested that he volunteer as a bookseller for a day, and he enthusiastically agreed. In April, he spent a day at the store, and in early September penned the open letter that put Indies First on the radar of independent booksellers and authors nationwide.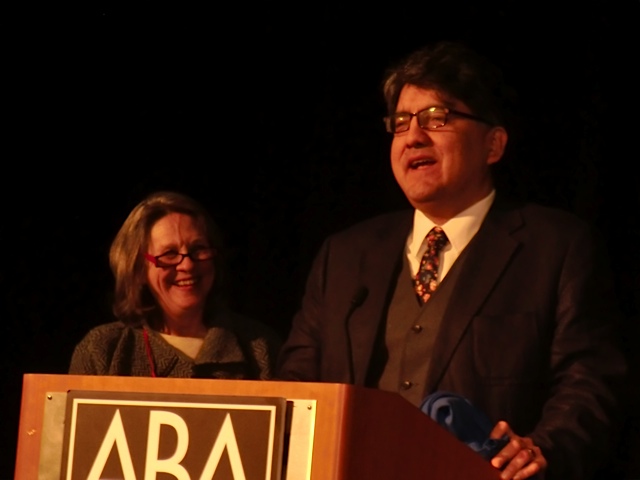 Betsy Burton and Sherman Alexie
"Writers responded in a way that completely shocked me," said Alexie. Before leaving the stage, he thanked indies for "making [his] career." Prior to their efforts, he said, he was just a kid with a book of stories about reservation Indians.

Dan Heath, the morning's featured speaker and co-author of the book Decisive: How to Make Better Choices in Life and Work, shared with indies excerpts from "humanity's questionable decision making track record," highlighting common pitfalls in the decision making processes of the average person. Among the traps into which people often fall, he asserted, were the tendency to simplify complex, multi-variable problems into binary dilemmas, and the unconscious habit of ignoring information that does not fit with preconceived notions.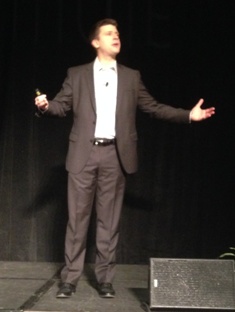 Dan Heath
Heath offered suggestions on how to learn to minimize these mistakes, and he used two indie booksellers to illustrate good decision making. He commended Robert Sindelar, managing partner of Third Place Books in Lake Forest Park and Ravenna, Wash., on the way he handled poor cafe sales in the store's second location. Rather than minimize the problem to something overly simple (such as just hiring a different cafe manager or only changing the cafe's menu), Sindelar looked at a wider range of options and sought help from outside sources to turn things around. Likewise, Heath praised Jamie Fiocco, the owner of Flyleaf Books in Chapel Hill, N.C., for nimbly experimenting with a variety of social media promotions and eventually landing on a promotional method that worked wonders.

Taking a moment to deviate from his talk, Heath congratulated indies on "earning the trust of the book buying public." The power of indies, Heath proclaimed, was the power of a point of view.

"The value you provide comes from the fact that you live books, you know books," Heath said, recalling how his literary tastes and intellectual horizons have been expanded due to the work of indies nationwide. "You're the people who stretch us, the people who lead us. I just wanted to take a minute to thank all of you for providing that." --Alex Mutter
---

---