Wednesday, February 6, 2013: Maximum Shelf: After Visiting Friends

After Visiting Friends: A Son's Story
by Michael Hainey
Michael Hainey's life was forever changed the morning of April 24, 1970. As he and his older brother came down for breakfast, they found their family gathered in the kitchen--except for their father. "Your dad is dead," their mother tells them. In the shock of the moment, Hainey recalls, "I think only one thing: how excited I am." Seeing his brother in tears for the first time in his life, the six-year-old boy gleefully exclaims, "Crybaby! Crybaby!"
The title of After Visiting Friends refers to the public explanation for 35-year-old Robert Hainey's death in the middle of the night, in a neighborhood miles from his office at the Chicago Sun-Times, where he worked the late shift as assistant copy desk chief. "He died and we never spoke again about him," Hainey writes; any time he tried to ask his mother about what happened, he was briskly rebuffed. He didn't even know where his father's body had been found until he was 18, and decided to look up the obituaries while researching a school project at the library. That's when he discovered that three different newspapers had three different accounts of how and where his father died. But he sat on his questions for more than a decade and a half--until he himself turned 35. "I cracked," he says, convinced that he was doomed to die young like his father. "My doctor called it a functioning breakdown." Eventually, to come out the other side, he would need to find the truth.
Hainey's recollection of a childhood defined by his father's absence is haunting, although there are a few flashes of dark humor, as when he invokes the awkwardness of having to explain his situation over and over to his teachers:
"Mi padre está... ¿dead?"
"No, Miguelito. No se dice dead. Se dice tu padre está muerto. Mwer-toe!"
Hainey finds an apt metaphor for his mother's refusal to talk about her dead husband in the Soviet practice of airbrushing disgraced political figures out of official photographs. "I learned never to mention the name of the nonperson," he says. "I worked to crush my desire to know him and smother my instinct to keep him alive."
When he starts poking into the matter as an adult, however, Hainey learns his mother isn't the only one who doesn't want to talk about it. His cousin is willing to point him in the right direction--"I always knew this day was going to come"--but he only knows so much, and as Hainey begins tracking down his father's former colleagues to fill in the gaps, they maintain a rigid wall of silence. "Don't call me again," one says; "I don't know anything about that night," another insists. And one goes so far as to tell him straight up, "I don't think you have the right to know the truth." Fortunately, he comes across more sympathetic figures at crucial moments, from the Chicago morgue employee who insists "God wants you to tell that story" to the one coworker of his father whose own family history makes him willing to talk: "I know what it's like to be searching for the truth and all you get is silence."
Hainey's journalistic zeal in nailing down the story is only part of what After Visiting Friends is about, though. It's also a book about repairing his relationship with his older brother (who, of course, doesn't remember that childhood taunt) and trying to get his mother to finally open up--and, while all this is going on, coping with the final decline of his 95-year-old grandmother's health. Then there's the question of what he should do with the knowledge he's worked so hard to uncover: "It's one thing to be the truth-seeker," he confesses. "It's quite another to be the truth-bearer."
We all have unanswered questions about our family's past, although they aren't always as stark as the ones Michael Hainey faced--and few of us are likely to take on the role of investigative journalist so thoroughly to find our answers. Hainey's candor in After Visiting Friends, especially about the self-doubt and frustration that accompany his quest, makes it easy for us to root for him--not just in the search for truth but in the emotional transformation that comes with it. --Ron Hogan, founder of Beatrice.com
Scribner, $26, hardcover, 9781451676563, February 19, 2013
Michael Hainey: A Family Mystery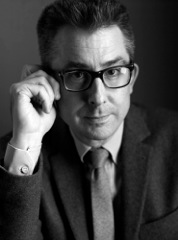 photo: Mark Seliger
"We all come from families, and all our families have secrets," Michael Hainey says, sitting at the end of a long table in an empty conference room at the offices of GQ, where he works as a deputy editor. "We all have these questions about something that happened in our family, a mystery that maybe we long to go in search of the answer." In his case, the family mystery concerns the sudden death of his father at the age of 35, when Hainey himself was still a young boy. Hainey's memoir, After Visiting Friends, draws its title from the "official" explanation for why his father was found collapsed on a sidewalk in the middle of the night on the other side of home from his Chicago home.
"From the time I was a young boy," Hainey recalls, "the story my family was told, the story my mother told me about the circumstances surrounding my father's death, didn't really add up." But he pushed aside his questions until, coming out of what he describes as a "functioning breakdown" in his mid-30s, he finally resolved to figure out what had happened. It was a quest that would call upon all the skills he'd acquired throughout his journalistic career.
"One of the things working in magazines has taught me is that reporting is the most amazing way to tell a story," Hainey says. He emphasizes that it's an activity we all engage in, every time we have a conversation with someone ("Where are you from? What's going on?") and invokes the classic "five Ws" of journalism: who, what, why, where, when (plus how). "Those are the fundamentals of reporting, and I think they're also the fundamentals of great fiction and nonfiction," he says. "Who's the character, what's their motivation, how are they acting, why are they doing it, where is it happening.... If you, as a writer, drill down on that and always have it in mind, then your story has momentum to it."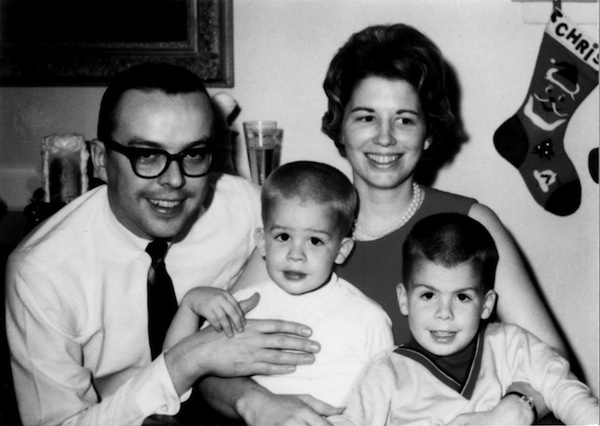 Hainey estimates that he spent five or six years on the initial reporting--interviewing his father's former colleagues, tracking down his medical records, and so on. "I didn't have a book contract or anything, I was just going to write this story for myself," he recalls. "I didn't know what it was going to be, I had no promise it would sell." Though many of the people he spoke to tried to keep him from the truth, he says he bears them no ill will: "I love every person who comes on stage in this book, and I've worked to honor every one who comes in, because I feel that even if someone was stonewalling me, I believe they were doing it out of the best of intentions."
And yet, once he'd pieced together the story, he sat on it for a long time. "A wave of fear had come over me," he admits; he was afraid to tell his mother and his brother what he'd learned, let alone the entire world. Then he got a phone call from one of his sources, a receptionist at the Chicago morgue who'd helped him recover some of his father's paperwork. "You think about the parade of people that come through a morgue every day, having to identify someone who they've lost," Hainey reflects, "and this woman could not have been more full of life and prayerfulness in watching over me." He hadn't spoken to her in over a year and a half, but she called to say that she'd been thinking about him and his story, and it provided the encouragement he needed to move forward.
Hainey also credits his agent, Bill Clegg, for his support during the long process of writing and revision. Although his career has been in magazine journalism, Hainey has also been writing poetry his entire adult life, and Clegg came across some of his work and called, suggesting they meet. "Now, what agent wants to represent a poet?" Hainey asks rhetorically, but it turned out that Clegg believed he saw some further potential in his literary voice. Then, once they'd started working together, Hainey recalls, Clegg told him, "I think you should write a book about your father, because all your poems circle around that."
So Hainey got up at 4:30 every morning and wrote for several hours before going to work; sometimes, he'd spend his lunch break at the New York Public Library, looking over the pages he'd written that morning. When he finally completed the memoir, nearly a decade (and three drafts) after he'd started, he gave the completed manuscript to his mother, and remembers that she called him in tears after she'd read it. "I asked, 'Are you upset?' and she said, 'No, I think this is the most beautiful and powerful thing.... I'm so proud of you. It's a story that needed to be told, and it's the greatest gift you could ever give me.'"
"And here I was, for decades, afraid to confront that story," he marvels. "Because I thought, what would happen to her? And it's brought us closer together." --Ron Hogan, founder of Beatrice.com

Photos courtesy of the Hainey family