Shelf Awareness for Readers for Friday, July 27, 2012
Book Candy
Hogwarts Treehouses; Bookends and a Bookwall
J.K. Rowling is building Hogwarts treehouses for her kids. The creator of Harry Potter's imaginary world now wants a pair of 40-foot high "magical tree-top turrets custom-built by treehouse designer extraordinaire Blue Forest" that are so large "the author has had to seek planning permission from Edinburgh Council," Inhabitat reported.

---

Enterprising as it may be, the clothes dryer bookcase is probably an idea whose time has not come.

---

Bookends of the day: Explore featured Halve Bookends, which are "made of two split halves of a glass jar and fillable with anything you like."

---

Artist Anouk Kruithof's Bookwall installation is created in a different order each time with approximately 3,500 books.
The Writer's Life
Jim Holt: Unexpected Metaphysical Alleys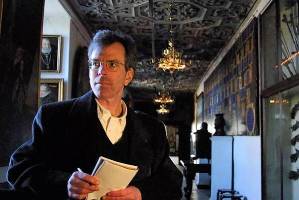 Jim Holt is an essayist and critic, but for his latest book he put on his "existential detective" hat and followed the trail of investigations into the origins of the universe. Why Does the World Exist? (Liveright, July 16) explores some of the common beliefs about how we came into existence, but also blazes trails off of the beaten path, broadening the discussion into something more than the sum of philosophy, physics, and spirituality. The result is a fascinating, broad look at humanity that also delivers on a personal level, with Holt's own life taking some existentially challenging turns during the narrative. Why Does the World Exist? is also significantly funnier than anything Martin Heidegger put to paper.
Your book is more than a survey of thinking around the topic; part of the title is An Existential Detective Story, and a good detective doesn't investigate a question without hope of a solution. Did you set out to do a survey or to solve the mystery, or neither?
A good detective looks beyond the usual suspects. And when it comes to cracking the mystery of existence--why is there a universe rather than nothing at all?--the usual suspects are God and science. If you are a religious believer, you think the world exists because an eternal self-subsistent deity brought it into being. If you are a neo-atheist, you think--you hope!--that science can account for how our universe popped into existence out of nothingness in a primeval Big Bang. That's been the big back-and-forth argument in the recent "God wars."
I wasn't happy with either of these possibilities. I'm personally skeptical of religious metaphysics. And science can't really explain how something can arise from nothing; it only tells you how something arises from something else. Even if, as Lawrence Krauss has argued in A Universe from Nothing, the laws of physics can account for the emergence of space and time out of a state of pure nothingness, the status of those laws remains puzzling. As Stephen Hawking commented, "What breathes fire into the equations and makes a universe for them to describe?"
So, in playing the existential detective, I was determined to go beyond God and physics. But who or what could the other cosmic suspects be? As it happened, I got my clues by talking to some of the greatest living physicists and theologians--people like the physics Nobel laureate Steven Weinberg, the eminent Oxford theologian Richard Swinburne and the brilliantly speculative quantum-computation expert David Deutsch. Their own insights and perplexities led me to pursue my investigation down some unexpected metaphysical alleys.
What were the biggest surprises for you in researching and interviewing for this book?
How bizarre some of these alleys turned out to be. Could the world ultimately exist because it fulfills an abstract need for goodness? That sounds like a daft idea, but a distinguished Canadian cosmologist by the name of John Leslie nearly persuaded me it was true. Or might the rather messy world that we live in be a kind of reflection of perfect and eternal realm of mathematical essences? That's what Plato believed in ancient times, but it also, to my surprise, turned out to be pretty much what the great Oxford physicist Roger Penrose seemed to be convinced of when I talked to him. Perhaps the craziest notion I encountered was that absolute nothingness was like an annihilating force that somehow "nothed" itself, thereby engendering a world of being.
I guess the main thing that surprised me was that, if you let brilliant and profound thinkers do their thinking out loud, they eventually say things that are not dissimilar to what we used to say back in college in our cosmic rap sessions in the late-night hours. By the way, I was also surprised how my pursuit of the mystery of cosmic existence led me to ponder more deeply the mystery of my own existence, and how it would come to an end in the nothingness of death. There's a lot of death in the book--John Updike's, Claude Lévi-Strauss's, my dog's, my mother's and nearly my own.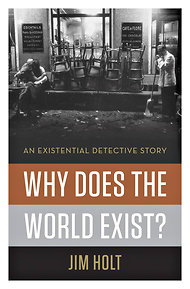 There's a quotation in the book from Allan Sandage, "the father of modern astronomy": "Science cannot answer the deepest questions. As soon as you ask why there is something instead of nothing, you have gone beyond science." Do you agree? Do you think it is necessary to draw a distinction?
Well, another great scientist--John Archibald Wheeler, who coined the expression "black hole"--famously said, "We demand of physics some understanding of existence itself." But can physics ever meet that demand? The physicist Lawrence Krauss, in his book A Universe from Nothing, claimed that it could. But his case got pretty much demolished in a brutal review by the Columbia physicist and philosopher David Albert in the New York Times. When scientists try to explain why there is something rather than nothing, they tend, whether they realize it or not, to smuggle metaphysical assumptions into their reasoning. They also fall into circularity by trying to make Nothing into a Something--a quantum vacuum, a closed spacetime of radius zero and so on.
At risk of spoiling the book: Why does the world exist?
The answer to that question takes shape near the end of my book, after I have returned to All Souls College at Oxford and encountered the amazing Derek Parfit, one of the most profound philosophers alive. Instead of spelling out the answer explicitly, let me just say that it comes down to two principles: Simplicity and Fullness. Simplicity is a modern scientific principle: science always reaches for the simplest hypothesis. And Fullness (or Plenitude) is an ancient philosophical one, going back to Plato: the Great Chain of Being and all that.
But here's the great irony. Even though the principles of Simplicity and Fullness combine to explain the most general form that reality takes, they do not imply that the world should be either simple or full. (After all, the simplest world would be a world of nothingness.) Rather, they imply that reality is infinitely incomplete, messy and mediocre--a conclusion that is increasingly borne out both by cosmological investigation and by our own everyday experience, our finite existence in the shadow of death. --Matthew Tiffany, counselor, writer for Condalmo
Inklings
Extraordinary, 'Insignificant' Women
Lisa Cohen is the author of All We Know (Farrar, Straus & Giroux), about three women of the modernist era: Mercedes de Acosta, Madge Garland and Esther Murphy.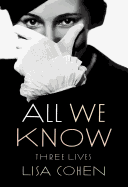 I am often asked why All We Know is about these particular three women. In fact, I first conceived of a book solely about Madge Garland, whom I had encountered while reading Virginia Woolf's Diaries. Madge was so fascinating--she worked on British Vogue when it was a forum for modernist artists and writers; she started the School of Fashion at the Royal College of Art; but despite this rich public life she was elusive. She didn't leave diaries or a voluminous correspondence, and often obscured the facts of her life. Yet even as it became clear to me that I had enough material to write a whole book about her, I realized that such a book would--ironically--not quite do her justice. She had accomplished so much, but much it was hard to pin down.
I realized that I had to grapple with the idea of ephemeral achievement more broadly. That challenge also meant a different approach to the form of biography. In the meantime, I was learning about several friends of hers whose lives were similarly elusive. From the writer Sybille Bedford, whom I had interviewed about Madge, I heard about the eccentric New York intellectual Esther Murphy--and was hooked. Writing a magazine profile of the iconic cultivator of celebrity Mercedes de Acosta, I spent a lot of time reading through her complex archive.
Writing about these three women made it possible to really focus on representing people who were both central and marginal to their time--and to try to capture, from several angles, what it felt like to live through the modernist moment. These women and this structure also allowed me to keep asking: What is failure and what is accomplishment? Who and what is important? These were questions that their lives raised so significantly—and yet they themselves have not been seen as significant. Putting them in the same book made it possible to tackle that paradox. --Lisa Cohen
Literary Lists
Bright and Dark Summer Reads; Thrillers for Non-fans
"Yes, summer is half-over," GQ magazine conceded before noting that there is still time to check out "the five books to read this summer."

---

"Dark reads for your bright summer day" were recommended by the Huffington Post, which noted that the suggested books "can provide an escape synonymous with vacation while voyeuristically entering the shadowy world inhabited by the heroes and anti-heroes of noir."

---

Can't get to London for the Olympics? The Christian Science Monitor found "3 perfect summer books for Anglophiles."

---
"Eleven thrilling books for people who don't read thrillers" were suggested by Flavorwire.
Book Review
Fiction

The Unlikely Pilgrimage of Harold Fry
by Rachel Joyce
The Sandcastle Girls
by Chris Bohjalian
Mystery & Thriller
The Joy Brigade
by Martin Limon
Broken Harbor
by Tana French
The Empty Glass
by J.I. Baker
Biography & Memoir

How to Be a Woman
by Caitlin Moran
Have Mother, Will Travel
by Claire Fontaine , Mia Fontaine
History
Osceola and the Great Seminole War
by Thom Hatch
Current Events & Issues
Nonbeliever Nation: The Rise of Secular Americans
by David Niose
Psychology & Self-Help
What to Do When There's Too Much to Do: Reduce Tasks, Increase Results, and Save 90 Minutes a Day
by Laura Stack
Children's & Young Adult

Small Damages
by Beth Kephart
Something Strange and Deadly
by Susan Dennard
White House Kids: The Perks, Pleasures, Problems, and Pratfalls of the Presidents' Children
by Joe Rhatigan , illus. by Jay Shin
--- SPECIAL ADVERTORIAL OFFERINGS ---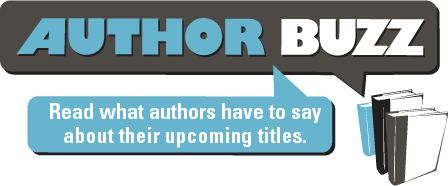 Dear Reader,

When I first set up a "demon graveyard," of sorts, for my Demonica/Lords of Deliverance series, I never imagined that the characters who populated it would become so central to the series. But here we are, following up the Grim Reaper's story with that of his right-hand man, Hades.

Dark, lethal, and a little playful, Hades will take a beautiful, brave fallen angel on a journey that will lead them both to danger and, possibly, love.

Please write to 1001DarkNights@gmail.com to win one of five copies.

http://www.1001darknights.com/authors/2015-books/larissa-ione-hades/




Publisher: Evil Eye Concepts, Inc

Pub Date: 5/26/15

ISBN: 978-1-940887-54-8

List Price: $2.99