Shelf Awareness for Readers for Tuesday, July 31, 2012

Book Candy
Archery Hits the Bull's Eye; Bathing Suits & Book Covers
An Olympic moment for The Hunger Games. Katniss Everdeen's bow-and-arrow skills have made archery cool, the Guardian reported. "Last year there was a survey of 12-18 year olds who were asked what Olympic sport they would like to try and archery came out top," said Peter Jones of Archery GB.

---

Laughing Squid highlighted Kate Imbach's Tumblr blog Matchbook, where she has taken the concept of beach reading to a new level with "bathing suits matched with their book cover counterpart."

---

Thomas Jefferson's revolving bookcase allowed him "to quickly and easily view five books with the spin of the wrist," the Bookshelf noted.

---

After collecting a few choice recipes, Flavorwire offered tips on "how to eat like your favorite authors."
The Writer's Life
Rachel Joyce: Sitting Inside Harold's Head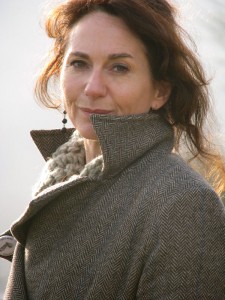 Rachel Joyce, writer of more than 20 plays for BBC Radio 4, took a moment to speak with us about her debut novel, The Unlikely Pilgrimage of Harold Fry. Joyce lives in Gloucestershire, England, where she is at work on her second novel.
What inspired you to write The Unlikely Pilgrimage of Harold Fry?
It began as a radio play that I wrote for my father seven years ago when he was dying of cancer. I knew he would never hear my play--and he didn't--but I wanted to do something for him. I wanted to write something with my heart in it that would also make him laugh. I loved making my dad laugh. I also believe that stories, poems, myths and phrases are part of who we are. Sometimes it is hard to know where exactly they have come from. They are simply in the air.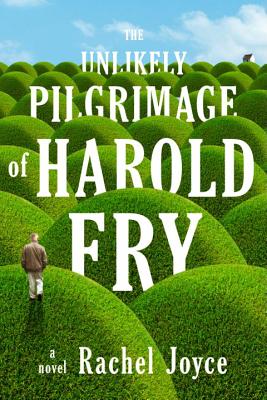 Tell us about the process of changing that radio play into a novel.
A radio play is about 7,500 words and my book is over 85,000--so you have more words at your disposal! And that means you can go to places you can't with a radio play--into the land, the sky, people's heads, and the past, too. Only the bare bones of the story are the same (and the radio budget only ran to three actors, so it was a much slimmer tale.) Even the ending is different. I think stories evolve, though. The longer you sit with them, the bigger they grow. One of the main things I have learnt from radio drama is about story. Every scene has to advance the plot. If it doesn't--no matter how beautiful you think it is--it has to go. I felt the same way about writing the book. The reader has to be gripped by the story from start to finish.
Was it difficult to get into the mindset of an elderly gentleman?
It didn't feel difficult at all to get into Harold's head. In fact Harold's head became a very pleasurable place to sit, and I still miss that. People have asked if Harold is my dad. My answer to that is that Harold is a little bit of my dad, and a little bit of me, and maybe (I hope) a little bit of us all.
How did you research Harold's 600-mile route?
Harold's route begins and passes through places I know, love or have passed myself. That is the way with this book--it has a lot of what I know or have seen. (This is true, too, of the people Harold meets.) But when I didn't know a place, I researched it very thoroughly. I studied maps, guidebooks, the Internet and photos. As I wrote the book, I had endless notes about Harold's journey. I knew which road he was on every day, as well as how many miles he had walked and where he slept. I knew the reader didn't always need to know these things but I also knew that I did. In the end I cut out the pages of our road map and stuck them in a long chain up two walls of our house. My husband rang one day--lost on the A46--and said, "The road map has jumped from page 5 to 38. Is this anything to do with you?"
Harold's pilgrimage requires great faith. What sustains you through great effort, such as your writing?
I think it is a combination of things, and some of them are very ordinary. There is the fact that you sit with the story every day and you chip away at a bit more of it--even if the writing is not good. Sometimes you have to make mistakes in order to see that they are mistakes.
Tell us about your next project.
I am working on a very different story, about a young boy who has everything ahead, and an older man who has lost it all. The boy believes his mother has done something terrible from which he must save her; the man can't form relationships.
What I can't get away from, I suppose, is my "voice," my way of seeing the world. Having written a whole novel about being outside, about a relationship with the land, I also have to keep shoving my new characters inside houses. That bit I find hard. They seem to want to keep rushing outside. --Jaclyn Fulwood, blogger, Infinite Reads
Inklings
That First Tremor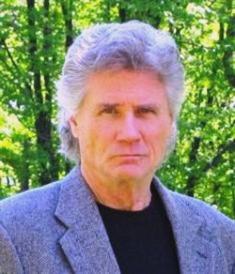 John Verdon is the author of the Dave Gurney thrillers: Think of a Number, Shut Your Eyes Tight and Let the Devil Sleep (just out from Crown).
Ask me what sort of fiction I like, and my answer will cover the same broad ground as the answers of a million other readers with traditional liberal arts educations.
But if you were to ask me what sort of fiction I love, my answer would cover a much narrower segment of literary geography. In fact, the kind story I love has three rather exclusive characteristics: its structure lies at the intersection of mysteries and thrillers. Its protagonist is a detective (or a detective-surrogate). And, most important, its narrative arc begins with a distinct and disturbing tremor.
What do I mean by "tremor"? I mean the initial anomaly--the story's first odd event or strange fact--the splinter of bone in the rose garden.
That first unsettling discovery has always electrified me. It might be as ambiguous as an unexplained footprint in the snow or as bizarre as a severed ear by a path in the woods. Subtle or strident, the note is discordant. It is the moment when I realize that something in the world of the story is amiss. Something is wrong, maybe horribly wrong.
This suggestion of inchoate evil lurking somewhere out of sight, still nameless and shapeless, has always had the power to thrill and unnerve me. Simultaneously, it has the power to engage the curiosity of the detective. His or her role--the role of rational inquiry, of objectivity--is to identify the evil, to bring its boundaries and vulnerabilities into the light, thus defeating it and banishing my fear. Clarity and balance are restored.
At least for the moment. At least until I open the next mystery-thriller and repeat the whole delicious experience. --John Verdon
Literary Lists
Greatest Lit Lists; Books Honoring Papa; Best Closing Lines
"Fifteen of the greatest lists in literature" were featured by Flavorwire, which noted that lists "are no rare thing in literature, and have many uses, from adding quirk to showing off knowledge."

---
Manly tomes. In recommending "10 books to put hair on your chest" to honor Ernest Hemingway's recent birthday, Flavorwire noted the choices "might help you live up to the Hemingway memory by putting a little hair on your chest--totally metaphoric hair, that is (well, probably)."

---

"The knife came down, missing him by inches, and he took off." Joseph Heller's last sentence in Catch-22 was one of the Observer's "10 best... closing lines of books."

---

Noting that "cold wet summers do nothing to dampen people's enthusiasm for ice cream," the Guardian offered a little "sundae worship: the best ice-cream recipe books."
Book Review
Fiction
Where We Belong
by Emily Giffin
The Light Between Oceans
by M.L. Stedman
The Wild Princess: A Novel of Queen Victoria's Defiant Daughter
by Mary Hart Perry
How to Get into the Twin Palms
by Karolina Waclawiak
Mystery & Thriller
The Thing About Thugs
by Tabish Khair
Heron's Cove
by Carla Neggers
Science Fiction & Fantasy

Sorry Please Thank You: Stories
by Charles Yu
History

Double Cross: The True Story of the D-Day Spies
by Ben Macintyre
Current Events & Issues
Death at SeaWorld: Shamu and the Dark Side of Killer Whales in Captivity
by David Kirby
The Invisible Wounds of War: Coming Home from Iraq and Afghanistan
by Marguerite Guzmán Bouvard
Children's & Young Adult

The Happy Little Yellow Box: A Pop-Up Book of Opposites
by David A. Carter
On the Day I Died
by Candace Fleming
--- SPECIAL ADVERTORIAL OFFERINGS ---

The School for Good and Evil


by Soman Chainani


Dear Reader:

On May 14, the doors open to THE SCHOOL FOR GOOD AND EVIL, the first in a trilogy that will soon be a series of movies too!

For centuries, the legendary School for Good and Evil has trained legendary heroes and villains. But when princess-wannabe Sophie is dumped in the School for Evil and witchy loner Agatha is thrust in the School for Good, clearly it's a mistake. Or is it?

E-mail me at somanschainani@gmail.com to enter to win a signed copy. And play the 'Are You Good or Evil?' quiz online at www.schoolforgoodandevil.com to see which school is yours!

Cheers,
Soman Chainani

www.facebook.com/TheSchoolforGoodandEvil





HARPERCOLLINS CHILDREN'S

MAY 14, 2013

8 & UP

MIDDLE-GRADE FICTION

ISBN: 9780062104892

PRICE: $16.99
Soulfire


by Mona Ombogo


Dear Reader…

People who read get the best out of the world. We can be in a countless places at once. We visit worlds that don't exist on our plane. We make friends and enemies. We laugh, cry, we live.

Soulfire is a fantasy novel about a young prince, learning to go beyond his boundaries, when his world of metal and stone is invaded by love and magic. Take this adventure; explore an ancient world through young eyes.

Enter to win a copy of Soulfire via my website www.monaombogo.com. Or simply write me at mo@monaombogo.com or masopwe@yahoo.com and tell me three things that you love the most about fantasy.

Here is to sharing the worlds we love…

Xo… Mona.





NETHERWORLD BOOKS

DECEMBER 2012

AGES 15 - 25

YA FANTASY

ISBN: 9781909224285

PRICE: $13.89