Shelf Awareness for Readers for Friday, January 18, 2013

Book Candy
Books for a Second Term; Preparing for Catching Fire
Inauguration tutorial. Bill Moyers asked his fans for their "book recommendations for President Obama."

---
"Are you as well read as the average 10th grader?" The Christian Science Monitor featured questions from the Common Core set of standards "that spell out what U.S. public school students learn in each grade, from kindergarten to graduation."
---
Although the movie version of Catching Fire won't be released until November 22, the Huffington Post did a little prep work and offered "15 great one-liners" from the second book in the Hunger Games trilogy.

---
Flavorwire recommended "10 works of literary fantasy to jump start your imagination."
---
Apartment Therapy offered a selection of "beautifully organized" home libraries, noting that the "ideal living space is part greenhouse and part library. To get the look of the latter you don't have to have a wheeled ladder--just orderly bookshelves."

---
Sehoon Lee's Squaring Movable Bookshelf is a set of wall boxes that "does the unexpected," Design Milk reported. "The boxes are actually hinged together so that they can flex and move around each other into different shapes."
Great Reads
Now in Paper: January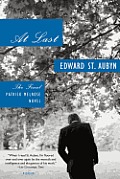 At Last by Edward St. Aubyn (Picador, $15)
Can anyone these days really understand or care about the troubles of a family who "had a good run," lasting "six generations with every single descendant... essentially idle?" But strip away all the money, and St. Aubyn's fictional Melrose family--with its history of child abuse, rape, murder, addiction and bad marriage--still possesses a little something that touches almost everyone. It's just that the introspective, ironic, sensitive Patrick Melrose has had to bear all of it, and he was bound to have a messy life. With ironic flair and sharp observation, At Last is a masterful conclusion to St. Aubyn's cycle of five novels spanning 20 years.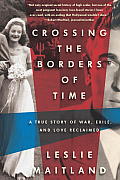 Crossing the Borders of Time by Leslie Maitland (Other Press, $17.95)
Crossing the Borders of Time is a gripping memoir. Janine Gunzburger Maitland's escape from Germany to France during Hitler's rise to power, her family's 11th-hour escape on a refugee ship and their acclimation to America is woven with the sorrow at leaving her fiancé behind and the life-long hope of seeing him again. Former New York Times investigative reporter Leslie Maitland grew up hearing her grandparents' and her mother's stories about their lives and determined to find closure for her mother.
The Garden Intrigue by Lauren Willig (NAL, $15)
Nine books into her Scarlet Pimpernel-esque series, Willig's romp continues to be as clever, witty and charming as ever. The latest centers on the absurdly verbose Augustus Whittlesby, poet extraordinaire and secret agent, who is thrown into a partnership with lively American expatriate Emma Delagardie. The effervescent historical romance is framed in the contemporary research of Eloise Kelly, an American graduate student in London, and this savvy, snarky modern heroine is every bit as appealing as her historical counterpart.
The Good Father by Noah Hawley (Anchor, $15)
Noah Hawley's fourth novel mingles psychodrama and political intrigue in a story that raises questions about the scope of parental responsibility. When an adult child's life takes a horribly wrong turn, how much is the parent at fault? Can a parent have too much blind faith in a child and can it be a willful blindness to the parent's own failings? A conflicted family faces an unthinkable crisis in a timely, provocative story.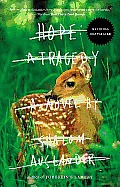 Hope: A Tragedy by Shalom Auslander (Riverhead, $16)
Solomon Kugel wants to start over: escape his Orthodox Jewish upbringing, take his lately distant wife and sickly son to upstate New York and live quietly in a rural farmhouse, working his sales job in eco-composting. Happiness is not so easy, though. Since she has only a few months left to live, he reluctantly brings along his Holocaust-obsessed mother, and he also finds out that his new community is plagued by an arsonist--not to mention the rancid crone who claims to be Anne Frank living in his attic.
An Unmarked Grave by Charles Todd (Morrow, $14.99)
During the 1918 Spanish flu epidemic, an orderly shows army nurse Bess Crawford the body of a murdered man concealed among the influenza victims waiting for burial; Bess plans to investigate, but falls ill before she can do so. By the time she recovers, the soldier is long buried and the orderly who reported the murder is dead, allegedly by his own hand. Soon she realizes a killer is still on the loose--and that she is his next target.
The Hunt by Andrew Fukuda (St. Martin's Griffin, $9.99)
Seventeen-year-old narrator Gene dares not laugh or cry, or walk into the sunlight. If he did, his secret would be out, and he would be devoured by his neighbors and classmates--literally. Gene is a heper--human--left in a world of vampire-like carnivores who consider hepers the greatest delicacy. Just as Gene discovers there are others like him, the Ruler announces that for the first time in a decade, he will hold a Heper Hunt. Gene is chosen to be one of the hunters. With this, Andrew Fukuda takes the feeling of isolation that dominates adolescence and builds a world around it in a novel where the tension rarely slackens.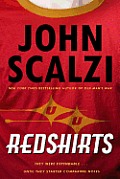 Redshirts: A Novel with Three Codas by John Scalzi (Tor, $14.99)
Redshirts begins with a simple premise science fiction fans have been pondering since the original Star Trek series aired in the 1960s: when the extras on away missions always wound up dead, they always wore a red uniform shirt. John Scalzi takes this idea and runs with it, when new arrivals on a starship notice a disproportionate number of deaths among the lower-ranking crew members; when they look for explanations, they uncover a wildly existential conundrum. Scalzi shows a mastery of the extrapolative process while building a tale that's equal parts hilarious and thought-provoking.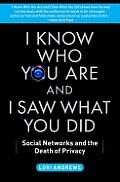 I Know Who You Are and I Saw What You Did by Lori Andrews (Free Press, $15.99)
Lori Andrews uses a slew of eyeball-singeing examples to strip away every assumption you might have about what can be legally gathered and disseminated about your Internet activity. Her book is both a consumer alert and a treatise, and serves as a cautionary-anecdote resource for who needs convincing that colleges and employers can easily see frolicking photos and puerile pontifications. An alarming exposé of how puny our online privacy rights really are.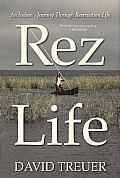 Rez Life: An Indian's Journey Through Reservation Life by David Treuer (Grove Press, $15.95)
Most American citizens rarely see more of reservations than the highway signs announcing their presence, if that. David Treuer (Ojibwe) spent five years researching tribal histories and interviewing tribe members in order to bring us this authoritative and vastly entertaining book. Our reviewer said, "There may be no more accurate, more engaging, more thought-provoking book on contemporary Native American Indian life than this."
Roger Williams and the Creation of the American Soul: Church, State, and the Birth of Liberty by John M. Barry (Penguin Books, $18)
In most American high school history classes, Roger Williams is summarized in a single sentence, if at all: booted out of Massachusetts for insufficient conformity with the Puritan vanguard, he founded Rhode Island on the principle of religious freedom. That reductive description, however, elides over his significant contribution to our understanding of religious freedom and the separation of church and state--a contribution John M. Barry explores in this engaging discussion of a religious maverick's contributions to the political philosophy underpinning the U.S. Constitution.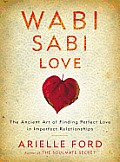 Wabi Sabi Love by Arielle Ford (HarperOne, $15.99)
Wabi sabi is the ancient Japanese art form that finds beauty and perfection in imperfection, and the concept inspired Ford to write about the art and practice of loving the imperfections in ourselves and in our partners. It's primarily a self-help book, with exercises to help readers reconcile the daily irritations inherent in partnerships and embrace with gratitude what is most important: unconditional love.
Book Review
Fiction

The Miniature Wife
by Manuel Gonzales

The Painted Girls
by Cathy Marie Buchanan
Tropic Death
by Eric Walrond
The Good House
by Ann Leary
Mystery & Thriller
Good Bait
by John Harvey
Daddy Love
by Joyce Carol Oates
Nonfiction
Naked Statistics: Stripping the Dread from the Data
by Charles Wheelan
History
Useful Enemies: John Demjanjuk and America's Open-Door Policy for Nazi War Criminals
by Richard Rashke
Kill Anything That Moves: The Real American War in Vietnam
by Nick Turse
The Making of the First World War: A Pivotal History
by Ian F.W. Beckett
Children's & Young Adult

Hokey Pokey
by Jerry Spinelli
Building Our House
by Jonathan Bean
See Me Dig
by Paul Meisel
--- SPECIAL ADVERTORIAL OFFERINGS ---

The Summer I Saved the World...in 65 Days


by Michele Weber Hurwitz


Dear Reader,

Random acts of kindness are everywhere, but does doing good really do any good?

The summer after eighth grade, Nina Ross is inspired to do one small, anonymous good thing for family and neighbors every day -- 65 in total. People react in ways she didn't envision, and the ordinary yet remarkable cul-de-sac where she lives becomes forever changed.

Uplifting, hopeful, funny. BCCB STARRED review. 2015-2016 Pennsylvania Young Reader's Choice State Award list.

Email micheleweberhurwitz@gmail.com for a chance to win a signed copy.

Michele Weber Hurwitz
micheleweberhurwitz.com





PUBLISHER: Random House Children's Books

PUB DATE:
April 14, 2015

AGE RANGE: 10 and up

GRADES: 5 and up

TYPE OF BOOK: Middle grade fiction

ISBN-13:
978-0-385-37109-4

PRICE: $9.99
Escape From the Haunted Warehouse, Choose Your Own Adventure #185


by Anson Montgomery


Dear Reader,

Choose Your Own Adventure #185, Escape from the Haunted Warehouse, is so scary it gave me nightmares. Was this long-rumored title kept from shelves because editors felt it was the scariest Choose ever written? Probably. When night falls at the beginning of your graveyard shift, the morphing hallways of the warehouse fill with the roaming spirits of the world's most horrible humans.

Anson Montgomery

P.S. Email webmail@chooseco.com for a chance to win an autographed copy!





PUBLISHER: Chooseco

PUB DATE:
Available Now

AGE RANGE: 10+

GRADES: 5-8

ISBN-13:
9781937133474

PRICE: $6.99
Invasion of the Overworld


by Mark Cheverton


Dear Reader,

I love playing MINECRAFT with my son, but when he was cyber bullied on his own server, everything changed for me.

That's when I wrote my first Minecraft novel, Invasion of the Overworld. It's about anti-bullying, friendships and courage, using the tapestry of Minecraft on which to paint the lesson.

Kids love this NYT Bestselling novel (and the rest of the series) and it's getting them to READ!

Email and mention KidsBuzz to win a copy, marktheminecraftauthor@gmail.com.

Mark Cheverton





PUBLISHER: Sky Pony Press

PUB DATE: August 2014

AGE RANGE: 8+

GRADES: 3rd+

TYPE OF BOOK: Middle grade fiction, action/adventure

ISBN-13: 978-1632207111

PRICE: $9.99