Shelf Awareness for Readers for Friday, January 25, 2013
Book Candy
Presidents Quiz; Books Ready for TV; Authors' Letters to Their Children
Now that the inauguration is over, test your political savvy with the Guardian's American presidents in literature quiz.

---
Entertainment Weekly suggested "7 books that would make great TV shows."

---
A selection of "adorable letters from famous authors to their children" were gathered by Flavorwire.

---
Can you guess the children's author who fled from the office when anyone visited? Listverse featured "10 curious facts about your favorite childhood authors."

---
"Like a cut through a log with an axe," Damien Gernay's Lumberjack Bookcase is "blunt, direct and functionally effective," Dornob wrote.

---

Ikea's Expedit bookcase is ubiquitous for a reason. Apartment Therapy offered the best uses for the "world's most popular bookcase."
The Writer's Life
The Purity of a Dog's Heart
photo: © Exley Foto Inc.
Suspect (just out from Putnam) is Robert Crais's 19th novel, one of the few that doesn't star Elvis Cole and Joe Pike. It is the story of LAPD officer Scott James and his new partner, Maggie, a military-trained K9 German Shepherd with PTSD after tours in Iraq and Afghanistan. Scott also suffers from PTSD, after his partner was gunned down and he was almost killed.
Tell us about Suspect. This is a book about a police dog, right?
You know, I write crime stories. I'm a crime thriller guy. It's what I love to read, and it's what I write and my audience knows me for that. And so when I decided to write about the whole human and dog relationship, I kind of knew how that would sound, like "Crais is writing a dog book!" And what's gonna pop into most peoples' minds, I think, is like one of those things like Lassie or Rin Tin Tin where it's like really a human wearing a black-and-tan jacket. Maggie is having conversations with the audience and starts thinking like a short person, you know? "Maggie, get the keys!" and Maggie runs and gets the keys so Scott can start the car, and she's like telepathic and a super genius cartoon. I didn't want to do that.
Not only because I'm just not into that kind of thing, but because it was important to me to portray her as a dog, as accurately as our current understanding of dog behavior can inform us. My research was voluminous about how dogs think, what they feel, why they feel those things, how they process the world around them, what motivates dogs to do what they do.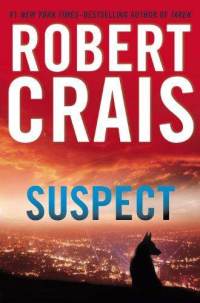 So, in the novel, people adopt this military dog, Maggie, but then they can't keep her anymore, so they donate her to the LAPD's K9 platoon. The chief K9 dog trainer, Dominic Leland, hears about Maggie's record, and says, okay, I'll take a look at her. When he checks her out, he says this dog's not fit for service, she has PTSD. When Scott enters the scene, they're getting ready to ship her back. But Scott relates to her because when he learns about her, she's going through things very close to what he's going through. And if there is no hope for Maggie, maybe Scott feels then there's no hope for him. So he has to save her to save himself. When he asks Leland to "give me some time with this dog, give me some time to prove that she can still do it," he's really talking about himself.
The book then becomes Maggie and Scott healing each other. And that's the real strength and the backbone of it. That's what motivated me to write it. And the fact that there happens to be a pretty good crime story in it, you know, that's all to the good, too. But it's really about a man's love affair with a dog and the dog's devotion to the man, and where they end up.
So, for the book, what kind of research did you do, and how did you even approach that sort of character? Where do you pick up research on dog cognition?
I haven't had a dog in 15 years, and that's part of the story behind this book. I've always been a dog guy. I've had dogs since I was a boy. I picked this guy when his eyes were still closed, when he was three days old and still in the litter. Six weeks later, I brought him home and he was my boy from day one.
I had 12 years with him and then he passed away and I was never able to get another dog. I just couldn't replace him. It felt deeply disloyal, and I was fine with it, but I thought, "Okay, you know what? He was loyal to me, I'm loyal to him, he was gone, I don't need another dog, so let's get on with life." So I had cats.
A few years ago, though, I began to think about that. From time to time, I think, "Ah jeez, it's time to get another dog." And immediately all these emotions come up and I can't be that disloyal to my dog. I guess because it's my nature, I wanted to see why. I started to read about the human/canine bond and how far back it goes. About the history of dogs and being domesticated--dogs and people and the synergy between us. That really opened up the doors to learning about dogs, and I began to research everything I could about the bond and about dogs themselves, like how dogs process the world, how they think.
One of the things I learned is that all the behaviors that dogs show with people stems back to when dogs were wild. The dog will hold itself differently when it approaches another dog--they have a behavioral ritual that's in their DNA. That part of their behavior is hardwired; they do the same thing with us. It's in the dog's genetic makeup to seek that kind of dynamic out. That kind of social interaction with human beings is important. And all of that research led me--how could it not?--to military dogs.
In a military environment, where you have patrol dogs or explosives detection dogs, the actual human/canine relationship becomes far more intense and concentrated than it ever could be in a domestic situation. When handlers and their dogs go downrange in a combat theater, the nature of the job isolates the handler and the dog. They end up living together 24/7, apart from everybody else. That bond becomes super, super intense. And there are documented cases again and again where a handler will go down. The dog will literally drop on the handler's body and won't even let our guys approach. As I began to read those stories, I just saw it as such a purity of the heart of a dog. And it darn near broke my heart. That's at the core of this bond between dogs and people.
And that's what I wanted to write about. The purity in Maggie's heart. And by extension, all dogs' hearts. It's why we love dogs, I think, and why dogs love us. It's at the core of our relationship with dogs. --Rob LeFebvre, freelance writer & editor
Book Review
Fiction
The Aviator's Wife
by Melanie Benjamin
A History of the Present Illness
by Louise Aronson
Habits of the House
by Fay Weldon
Mystery & Thriller

Standing in Another Man's Grave
by Ian Rankin
Biography & Memoir

Saturday Night Widows
by Becky Aikman
May I Be Happy: A Memoir of Love, Yoga, and Changing My Mind
by Cyndi Lee
Business & Economics
After the Music Stopped: The Financial Crisis, the Response, and the Work Ahead
by Alan S. Blinder
Essays & Criticism

The Atlantic Ocean: Reports from Britain and America
by Andrew O'Hagan
Psychology & Self-Help
True Refuge: Finding Peace and Freedom in Your Own Awakened Heart
by Tara Brach
Science
This Explains Everything: Deep, Beautiful and Elegant Theories of How the World Works
by John Brockman
Children's & Young Adult
The Fire Horse Girl
by Kay Honeyman
The Tell-Tale Start: The Misadventures of Edgar & Allan Poe, #1
by Gordon McAlpine , illus. by Sam Zuppardi
The Bully Book
by Eric Kahn Gale
SOLITUDE CREEK
by Jeffery Deaver
ISBN-13 978-1455517152
Grand Central Publishing
5/12/2015
#4 in the Kathryn Dance Series


an exclusive interview with
NYT bestselling author Jeffery Deaver
SOLITUDE CREEK is the fourth in the Kathryn Dance series, following the amazing, XO. What's in store for Dance this time around?
Oh, mayhem, chaos, and terror, of course! In this novel, Kathryn gets busted down to "buck private" for making a serious mistake during an interrogation; she's relegated to civil work for the CBI, like checking health certificates and bottle deposit receipts. But you can't keep a strong woman down and she secretly runs an investigation on a villain obsessed with turning people's panic into a weapon.
THE BIG THRILL caught up with Deaver to talk about mayhem, chaos, and of course, SOLITUDE CREEK. Read about it here.

ALSO FEATURED ON THE
the big THRILL…
RUINS OF WAR by JOHN A. CONNELL: It took a decade, four defunct novels, and countless rejections before Connell landed a publishing deal. But the hard work and determination paid off. His novel, RUINS OF WAR—a unique, historical thriller set in postwar Germany—is already garnering national acclaim. And Connell, well, he's considered a debut-to-watch. Read about him in THE BIG THRILL.
THE TAPESTRY by NANCY BILYEAU: As a trained Journalist, whose editorial credentials include Rolling Stone and Entertainment Weekly, Nancy Bilyeau understands the value—and importance—of a well-researched novel. Particularly in the case of her Tudor-inspired thrillers. For THE TAPESTRY, the third book in her bestselling Joanna Stafford series, Bilyeau pits her protagonist against none other than King Henry VIII. Check it out in THE BIG THRILL.
THE SHADOW CARTEL by LAYTON GREEN: International man of action, Dominic Grey, has fought cults and criminals all over the globe. In his next escapade, he takes on THE SHADOW CARTEL. We recently sat down with Dominic's creator, Layton Green, and asked the world-traveler-turned-bestseller about his journey to the top of the bestseller list and where he plans to go from here. Catch the whole interview in THE BIG THRILL.
STONE COLD DEAD by JAMES ZISKIN: A taut tale of mystery and suspense that is at once a reminder of how a sleuth got the job done in the era before CSI and an antidote to nostalgia, James Ziskin's STONE COLD DEAD is just too cool to miss. Read all about it in THE BIG THRILL.
DYING BRAND by WENDY TYSON: In the third installment of Wendy Tyson's Allison Campbell mysteries, Campbell ends up investigating the brutal murder of her former boyfriend. As her hunt for truth reveals each secret, Campbell's past and present collide, in a mystery that is not just deadly, but the most personal yet. Get the full scoop on DYING BRAND in THE BIG THRILL.