Shelf Awareness for Readers for Tuesday, April 2, 2013

Book Candy
15 Modern Classics; Best Bible Movies; Bookcase Styling Tips
Quiklit suggested a "new Canon: 15 modern classics you should read right now."

---
Focusing on those "awkward (or not so awkward, as the case may be)" years, Flavorwire discovered a collection of "fascinating photos of famous authors as teenagers."

---
Check out an audio clip of Neil Gaiman ("After all, who better to help you face the unknown?" asked Entertanment Weekly) reading from The Dark by Lemony Snicket and Jon Klassen.

---
"The Good Book has inspired some mighty good films," Entertainment Weekly observed in highlighting its choices for "10 best Bible movies of all time."

---
The Atlantic magazine found several "authors who loved the film versions of their books," including Philip K. Dick, Dennis Lehane and Anne Rice.

---
"Haven't we all seen a bookcase that has seen, hmm, how do I say it, better days?" asked the Chic+Glamorous blog in offering 6 chic styling tips for a bookcase.
The Writer's Life
Mike Greenberg: Sports Guy Writes Women's Novel, Upsets Bracket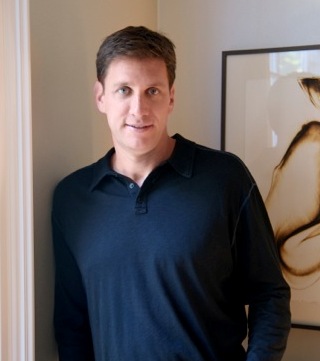 Since 1999, Mike Greenberg has been half of the ESPN sportscasting duo Mike and Mike in the Morning, and he frequently anchors ESPN's news program SportsCenter. Before joining ESPN, Greenberg was a sports anchor, reporter, talk show host and syndicated sports columnist.
Losing his annual NCAA men's "Bracket Wager" to co-host Mike Golic resulted in his milking a cow in studio. While humorous, this was not unexpected from "Greeny." What many may find surprising, however, is his debut novel. Greenberg's already written two books (Why My Wife Thinks I'm an Idiot: The Life and Times of a Sportscaster Dad; Mike and Mike's Rules for Sports and Life), but All You Could Ask For (see our review below) is his first go at fiction. The surprising part is that the novel is a tale of three women, alternating between each of their perspectives. It's ambitious to take on the perspective of one woman, but three?
Greenberg explained: "I received some really good advice from my friend, the novelist Jane Green, when I started writing. She told me if I really, really knew my characters, they would write themselves. And she was right. In my mind I know all three of these women, I know how they look, how they dress, how they sound, and so from that perspective I wouldn't say any of them was any harder than any other."
Greenberg also gained insight from a three-woman focus group. It helped to have some input with things like generational lingo. But through the writing, the research, the focus group, what all did Greenberg learn about women?
He said, "If there is one thing I have learned through this process, it is that men and women are not nearly as different as we all like to think. Perhaps in the small ways we are, but in the ways that matter we are very much alike. Writing dialogue for women is a bit of a challenge, but writing emotions, fears, joy, friendship--those things are human, they aren't limited by gender."
So if the genders aren't really all that different, would All You Could Ask For change if its theme of friendship was featured three men, instead of three women? "That's the first time I've been asked that and it's an excellent question," Greenberg said. "I think the overriding themes would have been much the same, as I said, but certainly a lot of the sensibility would be different. Katherine, for instance, being a woman in a 'man's world' clearly defines a great deal of who she is. That stuff would have to be very different."
Greenberg himself works in the "man's world." It is probably more infused with testosterone than the average workplace, so how does everyone there feel about his "women's" fiction?
"So far everyone has been great," he said. "And the truth is, the biggest change I have seen in the 20 years I have been covering sports is in the number of women that have joined the party. So, while there is still plenty of testosterone, there is an increased amount of estrogen as well."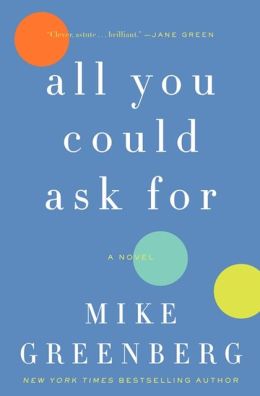 Inspiration came to Mike Greenberg from all directions. He wanted to write fiction as a young boy after reading John Irving, and the idea to have alternating perspectives came from Nick Hornby's A Long Way Down. "I loved that book and I loved that constant change of voice when I read it, that's where I got the idea," Greenberg said.
Having an idea is one thing, but finding the time to form that idea into a story can be a completely different beast--especially when you're a sportscaster, husband and father. So how does Greenberg do it? "I write in bursts that sometimes result in a paragraph or two, other times four or five pages. I will look up and be surprised at how much I have written, primarily dialogue--that tends to move more quickly. Then I walk around or check my e-mail for a few minutes, then try again. I can usually get two or three of those spurts in a day, then I print what I have written and edit it by hand in bed at night."
And sometimes fitting those "spurts" into the day takes some creativity: writing on an airplane and off-air in the studio, editing in bed. Greenberg recalled, "I wrote some of it at the top of Smuggler Mountain in Aspen. That is my favorite place in the world; there is an observation deck where you can see what seems like forever. So I hiked up with a laptop in my backpack and wrote a few scenes up there."
As inspirational as Smuggler Mountain was, there's one major inspiration for All You Could Ask For: Heidi Armitage. Greenberg said, "Heidi was our friend, one of my favorite people, one of my wife's closest friends. She was an outdoorsy, funny, sexy, soccer mom with a twinkle in her eye who was dealt an impossible hand by breast cancer at the age of 43. The book was written in her memory." However, Heidi isn't actually embodied in any of the three characters. "I think every author puts a little of himself, or herself, into every character, so I'd say each of them is a little like me, but nothing at all like Heidi. Actually, Brooke is the most like me, which is ironic in that she is my wife's least favorite character. But Brooke just wants everything to be perfect, and if she is in a bit of denial, then that is alright with her. I'm that way--when there is trouble, I yearn to move past it, to resolve it any way possible just so things can be normal again. There are pieces of me in all the characters, but Brooke is actually the one I understand best."
To continue paying tribute to Heidi, Greenberg and his wife, Stacy, are donating all of their proceeds from All You Could Ask For to the V Foundation for Cancer. "The V Foundation was founded by ESPN in conjunction with the legendary basketball coach Jim Valvano just weeks before his death of cancer. It is ESPN's primary charitable endeavor and thus I have done a great deal of work with them over my 16 years with the company. I would encourage everyone to look into the work they are doing and the spirit in which it is done."
So now that his novel is out, is this a goal accomplished, time to call it a day? Game over? "No, this is just the beginning," he said. "I'm already almost finished with my next novel; I hope to write one a year for the rest of my life."
If All You Could Ask For is any indication of what we have to look forward to, I'm sure readers will join me in wishing Mike Greenberg a nice, long life. --Jen Forbus of Jen's Book Thoughts
Book Review
Fiction

The Iron King
by Maurice Druon , trans. by Humphrey Hare
Ordinary Grace
by William Kent Krueger
All You Could Ask For
by Mike Greenberg
The Burgess Boys
by Elizabeth Strout
Graphic Books
The Initiates: A Comic Artist and a Wine Artisan Exchange Jobs
by Etienne Davodeau
Biography & Memoir
Lifesaving Lessons: Notes from an Accidental Mother
by Linda Greenlaw
Yokohama Yankee: My Family's Five Generations as Outsiders in Japan
by Leslie Helm
We'll Be the Last Ones to Let You Down: Memoir of a Gravedigger's Daughter
by Rachael Hanel
Sports

Color Blind: The Forgotten Team That Broke Baseball's Color Line
by Tom Dunkel
Travel Literature
Hidden Cities: Travels to the Secret Corners of the World's Great Metropolises─A Memoir of Urban Exploration
by Moses Gates
Children's & Young Adult

Poseidon: Earth Shaker
by George O'Connor
The Museum
by Susan Verde , illus. by Peter H. Reynolds
--- SPECIAL ADVERTORIAL OFFERINGS ---

The Neptune Challenge


by Polly Holyoke


Dear Reader,

When the sea has become humankind's last hope, a group of teens fights to survive beneath the waves. I've always LOVED reading stories about quiet kids who become heroes. So In The Neptune Challenge, I continue the story of Nere Hanson, a shy girl who is brave, can talk to dolphins, and definitely gets to save the day!

If you like stories about courage, friendship and adventure, you'll love The Neptune Challenge.

Visit www.pollyholyoke.com to enter to win a signed copy AND a dolphin necklace/bookmark.

Polly Holyoke

THE NEPTUNE PROJECT
Texas Bluebonnet Award 2014-15 Master List
Maryland Black-eyed Susan Book Award Nominee
Bank Street's 2014 List of Best Children's Books





PUBLISHER: Disney/Hyperion

PUB DATE:
May 19, 2015

AGE RANGE: 10-14

GRADES: 4-8

TYPE OF BOOK: Middle-grade fiction

ISBN-13:
978-1484713457

PRICE: $16.99
Alchemy's Daughter


by Mary A. Osborne


Dear Reader,

In medieval San Gimignano, seventeen-year-old Santina apprentices to Trotula, the village midwife. Some say she is victim of the midwife's spell, but Santina is determined to follow in Trotula's footsteps even as calamities strike. Kirkus says, "…this well-researched story incorporates historical information about medieval alchemy, midwifery, and the conflict between science and superstition..."

Email me at mary@maryaosborne.com for a chance to win a signed copy of the Alchemy's Daughter.

Warmly,

Mary A. Osborne
maryaosborne.com





PUBLISHER: Lake Street Press

PUB DATE:
May 15, 2015

AGE RANGE: 14 to adult

GRADES: 9 to 12

TYPE OF BOOK: YA historical novel

ISBN-13:
978-1-936181-17-9

PRICE: $16.95
Wet Hen: A Short Vowel Adventure


by Molly Coxe


Dear Reader,

Thank you for your enthusiasm for the first two Short Vowel Adventures, Rat Attack, and Princess Pig. Here's Wet Hen, a sweet spring story featuring the "short o" sound, endless rain (Think Noah's Ark starring a broody Hen and her best friend, Ben, a cheerful fieldmouse), rainbow-colored eggs, and (after 21 days afloat in the tiny hen house) baby chicks (also in rainbow colors)!

Email me at bravemouse1@gmail.com to enter to win a signed copy.

Happy Spring,
Molly Coxe





PUBLISHER: BraveMouse Books

PUB DATE:
Available now

AGE RANGE: 5 - 7

ISBN-13:
ISBN 9781940947303

PRICE: $3.99