Shelf Awareness for Readers for Friday, June 17, 2011
Bookselling News
Love in the Stacks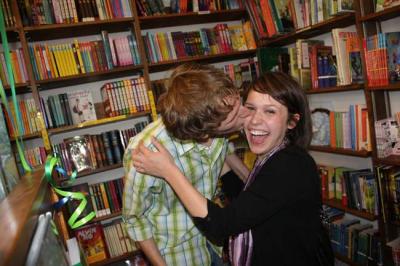 Folks, we have a new wedding-proposal idea for you: get on bended knee at your favorite bookstore!
That's what Jed Carlson did last week in St. Paul, Minn., at the Red Balloon Bookshop, when he asked his girlfriend and fellow Bethel University senior Emma Beyers to marry him. The pair share a passion for children's literature. "Both of our moms are elementary school teachers, and we've always had good books around," Carlson said.
Carlson was clever enough to ask Red Balloon events coordinator Amy Baum help him out. The store staff created a display of Beyers's favorite kid lit picks (with an "Emma Recommends" sign), played her favorite music and even presented the newly betrothed with a Red Balloon book bag, a bottle of champagne and a pair of champagne flutes. Baum said, "It was truly a romantic moment for those of who live inside the covers of a book."
Once Carlson had received a "Yes," the Pioneer Press wrote, "the couple had a few quiet moments alone in the stacks."
A Real Headache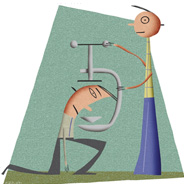 Here's one book list you may never have considered: titles about migraines (and yes, just thinking about it gives us a headache). But for Janet Geddis, owner of the Avid Bookshop in Athens, Ga., her Goodreads list of nonfiction titles that deal with the issue is an important part of her life with and work against headache disorders. (She welcomes suggestions of novels and stories that feature characters with migraine or other types of headache disorders at avid.athens@gmail.com.)
When she launched her blog the Migraine Girl several years ago, Geddis "just wanted a place to vent some of the frustrations of the affliction." Readership grew quickly, however, and the blog is now housed on Migraine.com as "part of a national effort to show how common migraine is and sway lawmakers to make life easier for the millions of Americans who suffer," the Banner-Herald wrote.
Geddis was profiled in recognition of her work as a patient advocate on behalf of migraine sufferers. She recently visited Washington, D.C., for Headache on the Hill, a trip organized by the Alliance for Headache Disorders Advocacy.
Great Reads
A Heartfelt Lullaby: Go the F**k to Sleep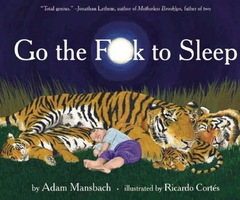 Anyone who has ever had a newborn, an infant, a baby, a toddler, a preschooler... oh, heck, anyone who has ever known a young child will understand the impetus behind Adam Mansbach's runaway bestseller and "children's book for adults," Go the F**k to Sleep. Sometimes even the most dulcet rhymes don't have the desired effect of getting little ones to... well, go the f**k to sleep, although Mansbach does mimic them in his text:
The windows are dark in the town, child.
The whales huddle down in the deep.
I'll read you one very last book if you swear
You'll go the f**k to sleep.
If you haven't heard about this book yet, you've probably been on a remote island for a couple of weeks: Mansbach has or will hit every media outlet from Nightline to Late Night to NPR--and next week the Akashic Books title will even be featured in the somewhat staid Time magazine.
However, the audiobook version, recorded by actor Samuel L. Jackson, may be the best showcase for Go the F**k to Sleep; you can listen to it here; and Audible is offering a free download for a limited time.
Book Candy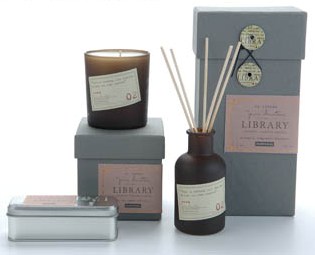 If you'd like your personal literary life to extend to your home's aroma, look no further than these gorgeous (and actually sweet-smelling) Paddywax Library Diffusers. The chic bottles of scented oil filled with slender reeds come in scents meant to evoke Poe, Austen, Whitman and Thoreau. While the Austen--"gardenia, tuberose, and jasmine"--seems sensible to our sensibilities, beware the "absynthe" in the Poe....
----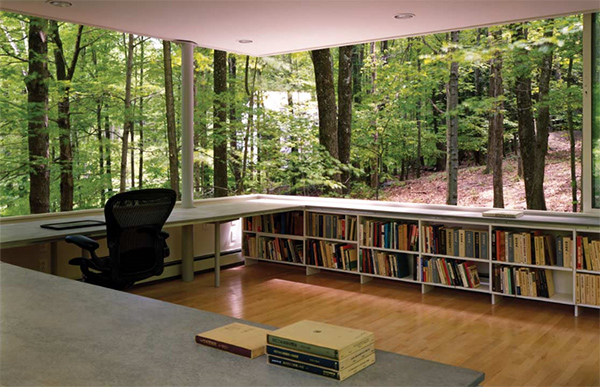 So, you say you have 10,000 books in your collection and are looking for just the right forest retreat to display them in? May we suggest the Scholar's Library in Olive Bridge, N.Y., which was showcased by Modern Residential Design.
Further Reading
In this feature, we highlight a new release and then give you ideas about what to read based on different aspects of that book.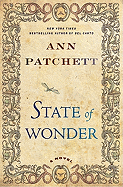 My first pick is the masterful State of Wonder by Anne Patchett, which follows Dr. Marina Singh, a pharmaceutical research fellow, as she obeys her CEO's orders to find out why and how her colleague Anders Eckman died at an Amazon field station. (See full review below.)
The station is headed by Singh's former medical school mentor, Dr. Annick Swenson, and after the two women first meet in the Brazilian riverfront city of Manaus, they travel into the jungle to meet their fellow researchers and their subjects, the mysterious Lakashi tribe. (NB: Patchett told me in an interview that she named the tribe after--yes--her beloved Kashi cereal. It's all material!)
If you enjoyed State of Wonder and would like to know more about: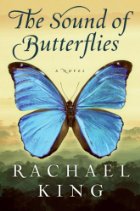 The city of Manaus: Read The Sound of Butterflies by Rachael King and learn more about the early days of this peculiar Brazilian burg built on the spoils of the rubber barons, who funded the jewel box opera house that Patchett writes about in her novel.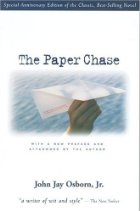 Domineering mentors: Read The Paper Chase by John Jay Osborn. Yes, read it and don't watch the television adaptation; in Osborn's book, which preceded Scott Turow's One-L in defining the law school experience, it's easier to imagine the terrors induced by "Professor Kingsfield."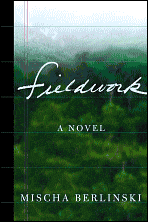 Anthropological discovery: Read Fieldwork by Mischa Berlinski, because the novelist actually spent time as an anthropological journalist in northern Thailand, and his fictional murder mystery, while slighter than Patchett's, echoes some of its cloistered, alien atmosphere.
Literary Lists
Drinking in Hard Times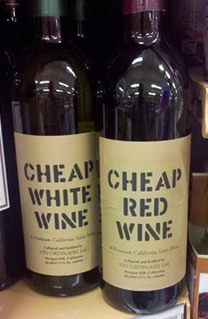 Because "a good novel about the economic slowdown can take the pressure off of another grinding week at the office or on the job hunt," Flavorwire helpfully suggested 10 novels about lost wealth and the Great Recession.
____
Booze and books. Flavorwire couldn't "think of anything better than to sip a cool drink while typing away at our--er, laptops--out on the porch in the sweet summer night air." Thus, the inevitable feature: "How to Drink Like Your Favorite Authors."
Mixed Media
A Gathering of Owls: News from J.K. Rowling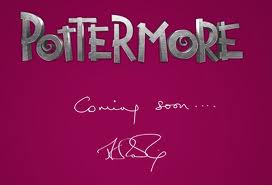 It began as mysteriously as a Hogwarts hidden hallway. At first, according to the Los Angeles Times Jacket Copy, it was just two owls and the words "Pottermore" and "Coming Soon" on the site pottermore.com. On Thursday, owls began fluttering by and landing on famed author J.K. Rowling's YouTube channel with the legend "The owls are gathering... Find out why soon," and a countdown clock that indicates the world has about six days until "J.K. Rowling's announcement." While Rowling has said she will not write any more Harry Potter books, no one yet knows what the media-shy mogul novelist has up the sleeve of her invisibility cloak, although nearly 50,000 people are following the Pottermore Twitter account in hopes of learning more as soon as possible. Accio gossip! (P.S.: In case you can't wait six days for more Pottermania, here's the trailer for the final movie.)
A New I, Claudius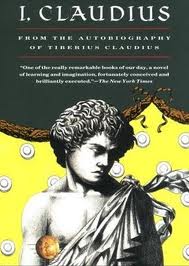 Some of you may remember the TV blockbuster I, Claudius, in 1976, a 13-part series from BBC that redefined Roman decadence for the 20th century. A new miniseries adaptation of Robert Graves's novel is now in the works from HBO and BBC2. Deadline.com reported that the acquisition deal "ends a long series of twists and turns for the rights to a book that was previously turned into an Emmy-winning 13-part miniseries in 1976 by BBC." Although BBC controls the rights to the original TV miniseries, the new HBO/BBC2 production will focus primarily on Graves's books I, Claudius: From the Autobiography of Tiberius Claudius Born 10 B.C. Murdered and Deified A.D. 54 and Claudius the God: And His Wife Messalina.
Book Trailer of the Day: Killer Stuff and Tons of Money
Book trailer pick: Killer Stuff and Tons of Money: Seeking History and Hidden Gems in Flea-Market America by Maureen Stanton (Penguin Press). Check out the trailer's gem: a little tap dancer dancing atop a record on an old-fashioned phonograph, filmed at a flea market in Massachusetts.
Book Review
Fiction

The Astral
by Kate Christensen
Robopocalypse
by Daniel H Wilson
State of Wonder
by Ann Patchett
Mystery & Thriller
Tigerlily's Orchids
by Ruth Rendell
The Two Deaths of Daniel Hayes
by Marcus Sakey
Science Fiction & Fantasy
The Uncertain Places
by Lisa Goldstein
Nonfiction
Sugar in My Bowl: Real Women Write About Real Sex
by Erica Jong, editor
Biography & Memoir
I Wore the Ocean in the Shape of a Girl
by Kelle Groom
Current Events & Issues
Allah, Liberty and Love
by Irshad Manji
Children's & Young Adult
Jonathan and the Big Blue Boat
by Philip Christian Stead
Blood Red Road: Dustlands, Book One
by Moira Young
Junonia
by Kevin Henkes
SOLITUDE CREEK
by Jeffery Deaver
ISBN-13 978-1455517152
Grand Central Publishing
5/12/2015
#4 in the Kathryn Dance Series


an exclusive interview with
NYT bestselling author Jeffery Deaver
SOLITUDE CREEK is the fourth in the Kathryn Dance series, following the amazing, XO. What's in store for Dance this time around?
Oh, mayhem, chaos, and terror, of course! In this novel, Kathryn gets busted down to "buck private" for making a serious mistake during an interrogation; she's relegated to civil work for the CBI, like checking health certificates and bottle deposit receipts. But you can't keep a strong woman down and she secretly runs an investigation on a villain obsessed with turning people's panic into a weapon.
THE BIG THRILL caught up with Deaver to talk about mayhem, chaos, and of course, SOLITUDE CREEK. Read about it here.

ALSO FEATURED ON THE
the big THRILL…
RUINS OF WAR by JOHN A. CONNELL: It took a decade, four defunct novels, and countless rejections before Connell landed a publishing deal. But the hard work and determination paid off. His novel, RUINS OF WAR—a unique, historical thriller set in postwar Germany—is already garnering national acclaim. And Connell, well, he's considered a debut-to-watch. Read about him in THE BIG THRILL.
THE TAPESTRY by NANCY BILYEAU: As a trained Journalist, whose editorial credentials include Rolling Stone and Entertainment Weekly, Nancy Bilyeau understands the value—and importance—of a well-researched novel. Particularly in the case of her Tudor-inspired thrillers. For THE TAPESTRY, the third book in her bestselling Joanna Stafford series, Bilyeau pits her protagonist against none other than King Henry VIII. Check it out in THE BIG THRILL.
THE SHADOW CARTEL by LAYTON GREEN: International man of action, Dominic Grey, has fought cults and criminals all over the globe. In his next escapade, he takes on THE SHADOW CARTEL. We recently sat down with Dominic's creator, Layton Green, and asked the world-traveler-turned-bestseller about his journey to the top of the bestseller list and where he plans to go from here. Catch the whole interview in THE BIG THRILL.
STONE COLD DEAD by JAMES ZISKIN: A taut tale of mystery and suspense that is at once a reminder of how a sleuth got the job done in the era before CSI and an antidote to nostalgia, James Ziskin's STONE COLD DEAD is just too cool to miss. Read all about it in THE BIG THRILL.
DYING BRAND by WENDY TYSON: In the third installment of Wendy Tyson's Allison Campbell mysteries, Campbell ends up investigating the brutal murder of her former boyfriend. As her hunt for truth reveals each secret, Campbell's past and present collide, in a mystery that is not just deadly, but the most personal yet. Get the full scoop on DYING BRAND in THE BIG THRILL.