Shelf Awareness for Readers for Tuesday, October 25, 2011

Book Candy
A Reading Getaway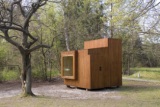 For "a tranquil place to escape and indulge in the pleasure of reading," as inhabit.com put it, Dorte Mandrup Architects in Denmark offers the Read-Nest, a 32-sq.-ft. wooden cube that has a door, window, skylight, bed, table and shelf.
Great Reads
Further Reading: Bios of Famous Men
Does anyone else remember the first "Got Milk?" commercial, in which a geeky history aficionado was unable to answer the question "Who shot Alexander Hamilton?" because his mouth was full of peanut butter? "Aaawohn Buuuuhw," he croaked. "Aaaahwohn BUHHHH!"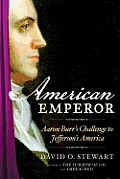 The ad was all the funnier because, after all, who remembers "Aaaahwohn BUHHH!" anyway? It's the murdered Alexander Hamilton whose achievements are still celebrated in social-studies and history classrooms. He was a Founding Father and first Secretary of the Treasury, and his Bank of New York is still in operation.
But Aaron Burr was a senator and vice president of the United States. Shouldn't he be remembered for those achievements? Unfortunately not, because Burr also had delusions of grandeur (his own and his country's; for instance, he believed that once the West seceded, a huge new empire would emerge on the Gulf of Mexico) and committed treason, for which his president prosecuted him. By the time he killed Hamilton in a duel over ad hominem attacks, Burr was a figure of sadness who never regained his peers' esteem.
In American Emperor: Aaron Burr's Challenge to Jefferson's America, historian David O. Stewart shows how Burr's struggles with the nation he was sworn to serve not only affected his legacy, but changed some of the ways that nation governed.
To learn more about the actors in this true-life drama, we've assembled a brief list of biographies of famous men: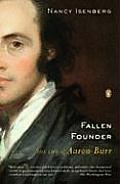 Fallen Founder: The Life of Aaron Burr by Nancy Isenberg is an intimate and sophisticated look at a man whose status as "founding father" may be in question, but whose support of free speech and equal rights is still remarkable for his time.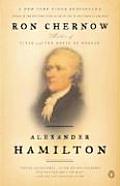 Alexander Hamilton by Ron Chernow delves further into the brilliant statesman's beginnings and personal life than previous biographies. Hamilton forged a singular path from his "Caribbean bastardy" through military service to power.
American Lion: Andrew Jackson in the White House by Jon Meacham is a stirring tale, stirringly told--how can it fail when the editor of Newsweek magazine takes on the story of the brave Indian fighter and hero of New Orleans? Oh, and Burr supporter....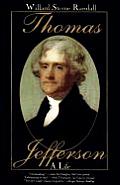 Thomas Jefferson: A Life by Willard Sterne Randall stands for many as the best one-volume biography of our third president (Dumas Malone's multi-volume version is still the one to beat), and will provide great background for fans of Stewart's book. --Bethanne Patrick
Literary Lists
Geek Books; Best Cliffs; Plane Crashes; Fictional Bars
In an effort to help people become "better geeks," Wired recommended "9 essential geek books you must read right now," claiming: "If you've read all nine of these, you are one serious, smart geek. If not, you've got some fun ahead of you."

A cliff is not a cliffhanger. John Mullan chose 10 of the best cliffs in literature for the Guardian, from "Gloucester's unsuccessful suicide attempt on Dover cliff in King Lear to Mary-Lou's tumble from a Cornish cliff in The Second Form at Malory Towers."

If cliffs don't offer enough scary altitude for you, then you might want to soar and plummet with Chris Bohjalian, author most recently of The Night Strangers, who shared his "6 favorite books about plane crashes" in the Week.

Play it, Sam. Flavorwire showcased "10 fictional bars we wish we could frequent," noting that "everyone--real or fictional--needs a good neighborhood bar." Two of them are book-to-film bar adaptations: the Hog's Head in Harry Potter and the Order of the Phoenix and the Green Dragon in The Fellowship of the Ring.
Mixed Media
HP Update: Rowllng & Hermione; Weasleys & Cats; Butterbeer Latte
BuzzFeed featured an extras clip from the upcoming Harry Potter and the Deathly Hallows Part 2 DVD, in which Rowling calls Emma Watson the perfect choice for Hermione: "From the first moment that I spoke to Emma, I just thought, 'Oh, thank Christ.' I did because, you know, who knew who they were going to cast as Hermione? I was more worried about Hermione than anyone else."

A Texas woman "commissioned a carpenter to craft a 9 foot tall replica of The Burrow, the home of the Weasley family from J.K. Rowling's Harry Potter books. She claims she's not a crazy cat lady either," BuzzFeed noted.

Buzzfeed also shared a Harry Potter-themed recipe for Butterbeer Latte that should warm the cockles of muggle's hearts everywhere.
Book Review
Fiction

Men in the Making: Stories
by Bruce Machart
Shards
by Ismet Prcic
Bin Laden's Bald Spot: & Other Stories
by Brian Doyle
A Dublin Student Doctor: An Irish Country Doctor Novel
by Patrick Taylor
Swell
by Corwin Ericson
Mystery & Thriller
Troubled Bones: A Medieval Noir
by Jeri Westerson
History
Lions of the West
by Robert Morgan
Books: A Living History
by Martyn Lyons
Essays & Criticism
In Other Worlds: SF and the Human Imagination
by Margaret Atwood
Religion
Tell Me Something About Buddhism
by Zenju Earthlyn Manuel
Children's & Young Adult
Maggie & Oliver or A Bone of One's Own
by Valerie Hobbs , illus. by Jennifer Thermes
The Cheshire Cheese Cat: A Dickens of a Tail
by Carmen Agra Deedy , Randall Wright , illus. by Barry Moser
--- SPECIAL ADVERTORIAL OFFERINGS ---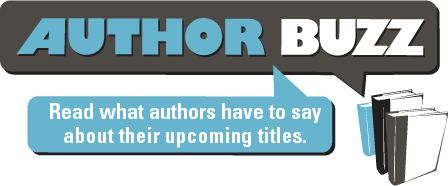 Dear Reader,

When I first set up a "demon graveyard," of sorts, for my Demonica/Lords of Deliverance series, I never imagined that the characters who populated it would become so central to the series. But here we are, following up the Grim Reaper's story with that of his right-hand man, Hades.

Dark, lethal, and a little playful, Hades will take a beautiful, brave fallen angel on a journey that will lead them both to danger and, possibly, love.

Please write to 1001DarkNights@gmail.com to win one of five copies.

http://www.1001darknights.com/authors/2015-books/larissa-ione-hades/




Publisher: Evil Eye Concepts, Inc

Pub Date: 5/26/15

ISBN: 978-1-940887-54-8

List Price: $2.99