Shelf Awareness for Readers for Friday, January 6, 2012

Book Candy
To Be Read Shelf; Carved Book Landscapes; Puppy Bookmark
Bookshelf Porn featured a delightful "Has Been Read/Will Be Read" bookshelf that it called "perfect for New Year Resolutions these could be that extra push you need to get through those books you've been meaning to read."
---
Guy Laramee's beautiful Carved Book Landscapes were showcased by Colossal. "So I carve landscapes out of books and I paint Romantic landscapes," the artist observed. "Mountains of disused knowledge return to what they really are: mountains. They erode a bit more and they become hills. Then they flatten and become fields where apparently nothing is happening. Piles of obsolete encyclopedias return to that which does not need to say anything, that which simply IS. Fogs and clouds erase everything we know, everything we think we are."
---
Bookmark of the day: In highlighting this Puppy Bookmark, Buzzfeed noted: "I'd read a lot more if a puppy would always hold my place like this."
The Writer's Life
Elliot Perlman Puts a Human Face on History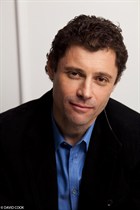 Elliot Perlman is a barrister in Melbourne, Australia, who has published two novels, Three Dollars and Seven Types of Ambiguity, and a story collection, The Reasons I Won't Be Coming. In his sprawling new novel, The Street Sweeper (Riverhead, January 5, 2012), Perlman puts a deeply personal spin on two of the 20th century's most fraught topics: the Holocaust and the American civil rights movement.
You're Australian, though you spent several years in New York City. What inspired you to tackle the civil rights movement?
I grew up thinking of the movement as a very recent chapter in the history of the enlightenment, that being an attempt by our species to rid ourselves of irrational ideas and act in the service of rationality and justice. I was always fascinated by that. And it's one of those rare examples, like the Holocaust, where it's fairly unequivocal which side the good guys were on.
Did your years in New York change how you thought about this?
It was never put to me quite this way, but I was taught that what might be called the golden age of black-Jewish relations in the U.S. never faded. When I moved to New York, I learned there are all sorts of schisms, not just between the black community and the Jewish community, but you almost can't talk about the "community" because each group is so riven with schisms. And this might sound incredibly naive, but I just didn't know about black anti-Semitism, and I didn't know that there was ongoing racism against blacks in New York, which I held to be the bastion of liberalism.
One of your characters is the first man to interview death camp survivors. Did you imagine yourself writing for people who didn't know as much about these events?
I have some enormously loyal readers in the U.S. Many of them will know much of what I was writing about. But some of them don't know quite as much as I put in there, even about U.S. history, let alone about European or Jewish history. Then there might be readers who know almost nothing about these. Growing up, it was often novels that alerted me to things which I would then learn about other ways. Novels are a form of entertainment, but they can also be a source of education and enlightenment. I've tried to tread a fine line.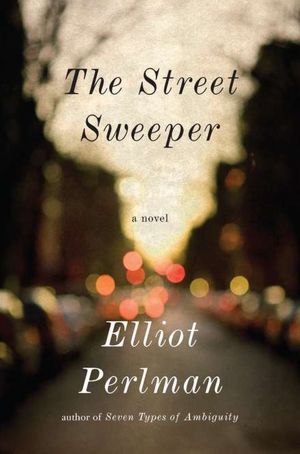 How well-known are these events in your native Australia?
It's definitely less well known. And I'm writing for British, French, German, Danish audiences as well. You never know what part of the story they don't know.
I've had older Australians tell me that they lived through the civil rights movement from a distance, and they remember the turmoil and the turbulence, but not the detail. This reminded them. And I'm sure a similar thing could be said about the Holocaust.
Could you give us a bit of insight into your thinking about the relationship between history and memory?
It's often largely by chance that certain things become the received view of an event.
When finally survivors were being interviewed, if you'd interviewed the person next to the person you spoke to, you'd've gotten a different story. People think that they know about the Holocaust, but what they really know are certain images. People think, 'That's awful, and I've seen it, so I've "done" the Holocaust.' Most of that footage was taken by Western soldiers, and they didn't get to a single death camp, which were liberated by the Soviet Union. That footage actually isn't from the very worst places. What most people think of the Holocaust is frequently not quite right.
It's just a quirk of geopolitics, if you like, that one group of camps is better known. On a more personal scale, as the late Primo Levi said, not only can words not adequately put the reader in the position of a victim, even the survivors give a minority version of the events. Most victims died within 48 hours of arriving in Auschwitz. You can't hear that story because there's no one around to tell it.
In that way, it's quite random which memories become history. You get survivors who don't really want to talk about what happened to them. so their stories don't become history. Even in your own life, maybe something tragic occurred when you were nine and you remember that as characterizing the year or even your childhood. You become typecast in your mind as the person that experiences a tragic event. But the day before, a million kids were playing with you at your birthday party. --Kelly Faircloth, freelance writer
Literary Lists
Epigraphs in Literature; Fictional Lawyers; 'Kick-Ass Females'
"Behind every great fortune there is a crime." Mario Puzo used that line from Balzac as an epigraph for The Godfather. That's just one of the "25 Greatest Epigraphs in Literature."
---
Simon Lelic, author most recently of The Child Who, chose his "top 10 lawyers in fiction" for the Guardian, noting that lawyers "work right at the heart of things. They bring an objectivity to events that was precisely the perspective I was looking for. And yet, contrary to rumor, lawyers are people too. They see, hear and cannot help but feel. They are, in many ways, the perfect protagonists, challenged daily by rights and wrongs. No wonder, I suppose, that lawyers appear in fiction as frequently, and as memorably, as they do."
---

Word & Film showcased "Stephanie Plum and 5 other tales of kick-ass females" in book-to-film adaptations that "we truly found extraordinary."
Book Review
Fiction
The Translation of the Bones
by Francesca Kay
The Last Nude
by Ellis Avery
Mystery & Thriller
The Darkening Field
by William Ryan
The Invisible Ones
by Stef Penney
Science Fiction & Fantasy
Blueprints of the Afterlife
by Ryan Boudinot
Biography & Memoir

MWF Seeking BFF: My Yearlong Search for a New Best Friend
by Rachel Bertsche
The Real Elizabeth: An Intimate Portrait of Queen Elizabeth II
by Andrew Marr
History
The Castrato and His Wife
by Helen Berry
Essays & Criticism
No Enemies, No Hatred: Selected Essays & Poems
by Xiaobo Liu
Children's & Young Adult
Irises
by Francisco X. Stork
Unraveling Isobel
by Eileen Cook
Why We Broke Up
by Daniel Handler , illus. by Maira Kalman
Audio
Life Itself: A Memoir
by Roger Ebert, read by Edward Hermann
--- SPECIAL ADVERTORIAL OFFERINGS ---

The School for Good and Evil


by Soman Chainani


Dear Reader:

On May 14, the doors open to THE SCHOOL FOR GOOD AND EVIL, the first in a trilogy that will soon be a series of movies too!

For centuries, the legendary School for Good and Evil has trained legendary heroes and villains. But when princess-wannabe Sophie is dumped in the School for Evil and witchy loner Agatha is thrust in the School for Good, clearly it's a mistake. Or is it?

E-mail me at somanschainani@gmail.com to enter to win a signed copy. And play the 'Are You Good or Evil?' quiz online at www.schoolforgoodandevil.com to see which school is yours!

Cheers,
Soman Chainani

www.facebook.com/TheSchoolforGoodandEvil





HARPERCOLLINS CHILDREN'S

MAY 14, 2013

8 & UP

MIDDLE-GRADE FICTION

ISBN: 9780062104892

PRICE: $16.99
Soulfire


by Mona Ombogo


Dear Reader…

People who read get the best out of the world. We can be in a countless places at once. We visit worlds that don't exist on our plane. We make friends and enemies. We laugh, cry, we live.

Soulfire is a fantasy novel about a young prince, learning to go beyond his boundaries, when his world of metal and stone is invaded by love and magic. Take this adventure; explore an ancient world through young eyes.

Enter to win a copy of Soulfire via my website www.monaombogo.com. Or simply write me at mo@monaombogo.com or masopwe@yahoo.com and tell me three things that you love the most about fantasy.

Here is to sharing the worlds we love…

Xo… Mona.





NETHERWORLD BOOKS

DECEMBER 2012

AGES 15 - 25

YA FANTASY

ISBN: 9781909224285

PRICE: $13.89