Shelf Awareness for Readers for Tuesday, February 28, 2012

Book Candy
Work Bookcase; Oprah Book Club Fight Club?; Kesey Mixtape
"Ever wondered how a massive bookcase can become part of a working space?" asked Freshome before offering the stunning example of a round bookcase hovering above the work space of anthropologist, ethnobotanist, author and photographer Wade Davis. The challenge was "to convey a feeling of enthusiasm and knowledge, so Travis Price Architects imagined a cave-inspired design that would capture natural light and bring it inside."

---

The first rule of book club is you do not talk about book club. On Jimmy Kimmel Live: After the Academy Awards Sunday night, Kimmel offered to help Oprah Winfrey come up with some new show ideas for her OWN network, including "Oprah's Book Club Fight Club (starts around the six-minute mark).

---

Nirvana's "Lithium," of course. Flavorwire gave Ken Kesey's novel One Flew over the Cuckoo's Nest some musical treatment with a literary mixtape for Randle McMurphy, imagining what "he would harass Nurse Ratched, lead fishing trips and school everyone at cards to."
The Writer's Life
Book Brahmin: Sara Benincasa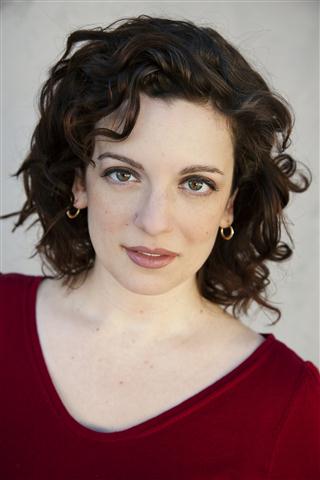 Sara Benincasa is a comedian, writer and host of the podcast Sex and Other Human Activities. Her comedy has won praise from the Chicago Tribune, CNN, the Guardian and the New York Times, and has earned her an ECNY (Emerging Comedian of New York) Award and a Webby nomination. Her memoir, Agorafabulous!: Dispatches from My Bedroom (Morrow), is based on her solo show about panic attacks and agoraphobia. She speaks about mental health at colleges around the country.
On your nightstand now:
I've got a few, all in electronic form: Born Standing Up by Steve Martin, because it's required reading among my tribe of comedian fellow-travelers; Cool, Calm, and Contentious by the divine Merrill Markoe, who is a comedy goddess; my friend Amanda Hocking's Virtue: A Fairy Tale; and Passionate Nomad: The Life of Freya Stark by Jane Fletcher Geniesse. The through-line here is "rampant unchecked bad-assery."
Favorite book when you were a child:
Without a doubt, it was From the Mixed-Up Files of Mrs. Basil E. Frankweiler by E.L. Konigsburg. It probably saved me from a lifelong fear of New York. I grew up frightened of New York City because I had panic attacks in the tunnels and during Broadway shows--I think it was the lack of control over my surroundings. Plus, I was raised out in the country in Jersey and I felt suffocated by all the tall buildings on either side of each street in Manhattan. But From the Mixed-Up Files turned New York City into a magical wonderland and ensured I would forever love the Metropolitan Museum of Art.
Your top five authors:
Oh, jeez. You're only letting me pick five? What sort of crazy mind games are you playing? WHAT'S YOUR ANGLE, SHELF AWARENESS? Okay, fine. I adore Neil Gaiman, who I once had the pleasure of interviewing in a bathtub (this momentous occasion in journalistic history is available for your viewing on YouTube). I am a big fan of Francesca Lia Block, who made this agoraphobic traveler fall in love with Los Angeles as a young woman. Frederick Reiken's The Lost Legends of New Jersey cemented him as a favorite for me; I'll read anything he writes. And Jon Kabat-Zinn's work helped save my life. I dig the Torah author known as the Elohist, or E, because he has a relatively abstract view of God when compared to the Jahwist, or J, who is totes into anthropomorphism, which is not my favorite flavor of god. I'm not Jewish or anything; I'm just a huge fan of their work. Especially their early stuff.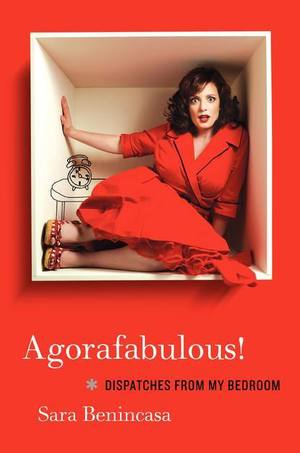 Book you've faked reading:
In order to impress a boy in high school, I pretended to read all of A Prayer for Owen Meany. I understand it's magical, life-changing, spiritual, quintessentially American and deeply moving. I still haven't read it. And now that guy from high school is married with a baby, a sweet apartment and a promising career in finance. I've had multiple nervous breakdowns and enjoy telling filthy jokes to crowds of strangers. Who won, huh? Who frigging won?! (Don't answer that, Shelf Awareness.)
Book you're an evangelist for:
Jon Kabat-Zinn's Full Catastrophe Living, which outlines the Mindfulness-Based Stress Reduction (MBSR) Program. It's great, and it has CDs that go along with it! All books should have CDs that go along with them. Mine doesn't, but I highly suggest using Liz Phair's Whip-Smart or Exile in Guyville as your soundtrack to Agorafabulous!
Book you've bought for the cover:
The Jersey Shore star JWOWW's autobiography, which is at least as soul-stirring as Malcolm X's. And did he pay for his own fake boobs? I think not. Then JWOWW's photographer, Jan Cobb, also did my cover! Fate or happenstance? You decide, Shelf Awareness. You decide.
Book that changed your life:
Jon Kabat-Zinn's Full Catastrophe Living taught me that it's possible to breathe your way through most of life's everyday difficulties. His book also introduced me to cognitive behavioral therapy, which is a wonderful tool for anxious folks.
Favorite line from a book:
"It was the best of times, it was the worst of times. It was the combination best of times and worst of times." This is both a line from Dickens and a line from the song "Combination Pizza Hut and Taco Bell" by Brooklyn-based rap group Das Racist.
Book you most want to read again for the first time:
Weetzie Bat by Francesca Lia Block. Magical and adorable and addictively hopeful.
Why any human should plunk down cash money for your book:
Because it's funny and smart and real and not full of self-pity like so many crappy memoirs. It has bad words, strange characters and one very awkward sex scene. Who doesn't love very awkward sex scenes?
Deborah Coonts: My Vegas Inspiration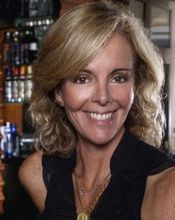 Fishing for a story in Las Vegas is like shooting crappie in a barrel. Take the other night. There I was, at a Strip bar, swilling local spirits and wallowing in inspiration, when a gaggle of young women noisily crowded into the bar. Shrink-wrapped in Spandex, teetering on impossibly high heels and juking to the beat, they turned every head in the room. Men jumped up, proffering chairs, which the women eyed warily.
With skirts that ended just below their butts, they had precious little fabric to protect their dignity much less their choochilalas. First one, then another, would sink daintily, only to shoot upright again--cold metal on exposed "lady parts" having the same effect as a cattle prod on a balky beast.
The whole show reminded me of a dignified version of the Whack-A-Mole game I used to play at the State Fair. Although no one hit these women over the head with a bat--a stupid stick maybe. Of course, from the looks of it, they were part of a bachelorette party--so all bets were off. Finally collective intelligence prevailed and they clustered in coveys at the bar... standing. A few broke from the pack and headed to the ladies' room.
Like a fox, I slunk in trail--belly to the floor, ears pricked for the hint of a story. At the sink, I sidled in next to the sweet young thing wearing a veil. Her Lady in Waiting, or whatever they call them, clung to the bride's elbow as she bemoaned her difficulties with her fiancé.
"How long have you known each other?" I asked, casually, as if I'd just happened to overhear.
"Three months," came the tearful reply. "And I think he slept with a bartender last night."
With a sympathetic hand on her arm and a knowing look of complicity, I said, "Men."
And I asked myself, "What would Lucky do?" --Deborah Coonts, author of So Damn Lucky, the latest in the Lucky O'Toole Las Vegas adventure series. She can be followed on Facebook and Twitter.
Literary Lists
Magical Books for Adults; Worse Movies from Books; Crash
To celebrate J.K. Rowling's announcement that her next novel will be for adults, Flavorwire "compiled a list of wonderful and magical books for adults to inspire the great Ms. Rowling (and tide us over!)."
---

"It's a cliché that great books make bad films. But which are the worst?" asked the Toronto Globe & Mail to introduce its look at "Great books, awful movies: A brief history."

---
Noting that the 50th anniversary of the first printing of Saul Bass's only children's book, Henri's Walk to Paris (which has just been reprinted by Rizzoli), "got us to thinking about other children's books illustrated by famous designers who are more noted for their other work," Flavorwire showcased "children's books illustrated by famous designers."

---

For NPR's Three Books series, Tim Wu, author of The Master Switch: The Rise and Fall of Information Empires, recommended books that predict "The Crash," observing: "It's like a good disaster movie--the crash is the best part."
Book Review
Fiction
Me and You
by Niccolo Ammaniti , trans. by Kylee Doust
Land and Blood
by Mouloud Feraoun , trans. by Patricia Geesey
The Healing
by Jonathan Odell
Mystery & Thriller

The Case of the General's Thumb
by Andrey Kurkov , trans. by George Bird
The Technologists
by Matthew Pearl
Bleed for Me
by Michael Robotham
Before the Poison
by Peter Robinson
Food & Wine
Sticky Fingers' Sweets: 100 Super-Secret Vegan Recipes
by Doron Petersan
Political Science
Redefining Black Power: Reflections on the State of Black America
by Joanne Griffith, editor
Science
This Will Make You Smarter: New Scientific Concepts to Improve Your Thinking
by John Brockman, editor
Children's & Young Adult
Crafty Chloe
by Kelly S. DiPucchio , illus. by Heather Ross
Pandemonium
by Lauren Oliver
--- SPECIAL ADVERTORIAL OFFERINGS ---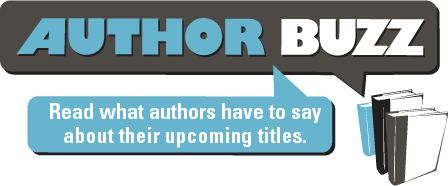 Dear Reader,

When I first set up a "demon graveyard," of sorts, for my Demonica/Lords of Deliverance series, I never imagined that the characters who populated it would become so central to the series. But here we are, following up the Grim Reaper's story with that of his right-hand man, Hades.

Dark, lethal, and a little playful, Hades will take a beautiful, brave fallen angel on a journey that will lead them both to danger and, possibly, love.

Please write to 1001DarkNights@gmail.com to win one of five copies.

http://www.1001darknights.com/authors/2015-books/larissa-ione-hades/




Publisher: Evil Eye Concepts, Inc

Pub Date: 5/26/15

ISBN: 978-1-940887-54-8

List Price: $2.99