Shelf Awareness for Readers for Friday, April 27, 2012

Book Candy
Arya Stark Mixtape; Walden, the Game; 20-Kronor Tribute
Gizmodo called Davide Anzalone's Aliante carbon-fiber bookshelves "novel objects of lust," and praised the creation for "looking like it could serve alongside the stealth fighter in the U.S. Air Force, you can actually fill the shelf's outstretched tipped wings all the way to the ends without them sagging."

---
Arya Stark's Literary Mixtape from Flavorwire includes Game of Thrones–inspired tunes "we think she would pass as a boy, practice with Needle and get her revenge to."
---
Walden; or, Life in the Virtual Woods. The University of Southern California has been given $40,000 by the National Endowment for the Arts to "support production costs for a video game based on the writings of Henry David Thoreau at Walden Pond. The player will inhabit an open, three-dimensional game world which will simulate the geography and environment of Walden Woods. Once developed, the game will be available online."

---

"Crappy first drafts of great books" were showcased by Psychology Today, which noted that writers "mostly sit at desks feeling rotten, struggling to write crumpled sentences that they can smooth into something acceptable."

---

Sweden will issue a new 20-kronor note in 2015 celebrating Astrid Lindgren, creator of the Pippi Longstocking children's book series.
The Writer's Life
On the Bus
Earlier this month, Atria sent four authors--John Connolly, William Kent Krueger, Liza Marklund and M.J. Rose--on a bookstore tour stretching more than 2,300 miles, from Vermont to Missouri, to visit bookstores, meet people, sign books and promote mysteries. John Connolly sent us a dispatch from Atria's Great Mystery Bus Tour:
Why?
This was the question that sprang to the lips of booksellers, readers, the drivers with whom we shared 2,000 miles of road and, indeed, the four authors as we trundled halfway across the United States. Why are we here? (If Jean-Paul Sartre were on the bus he'd have had a ball, although he'd probably have dragged the mood down a bit.)
Yes, we were celebrating the 10th birthday of Atria Books, and promoting our own books along the way, but more than that, we were giving a vote of confidence to bricks-and-mortar bookstores, and to the beauty and practicality of the printed book in general.
Look, in recent times a certain amount of hostility seems to have crept into the discourse over e-books vs. print books, with its nadir being the casual manner in which certain e-book proselytizers toss around the phrase "dead tree publishing" to describe printed books, thereby snarkily dismissing everything from the Gutenberg Bible to that beloved, battered paperback that you've kept from childhood. But e-books and print books are not the same thing, and each will have its place in the future of reading.
There is a convenience to e-readers, and there is no denying the extraordinary advances that now allow us to carry around a virtual library in our bags. But that's just the point: it's a virtual library, not an actual one. Those of us who treasure books love being surrounded by them, whether in a local library, or in a bookstore, or in our own home. It's why we hold on to books even after we've read them. They become markers in our lives, a reminder of where we were in our existence when we read that book. We experience a small Proustian rush when we come across a volume gifted to us by a lover or when we hold a book retained from the collection of our parents, beloved of them and now beloved of us. These little artifacts, these humble constructs that age and weather just as we do, are expressions of our inner selves made manifest both to ourselves and to others. They must be treasured, not dismissed as relics of a bygone age with no purpose in this bright new universe of brushed steel and touch screens, and the places in which they can be found, our bookstores and libraries, must also be protected, because if we let them disappear they will be gone forever, and they will not return.
So we ask ourselves this: Will our world be a poorer place without bricks-and-mortar bookstores, and if a library is something that one accesses only on a screen? For me, and for my publisher, the answer is yes.
And that's why we were on the bus. It's as simple, and as complex, as that.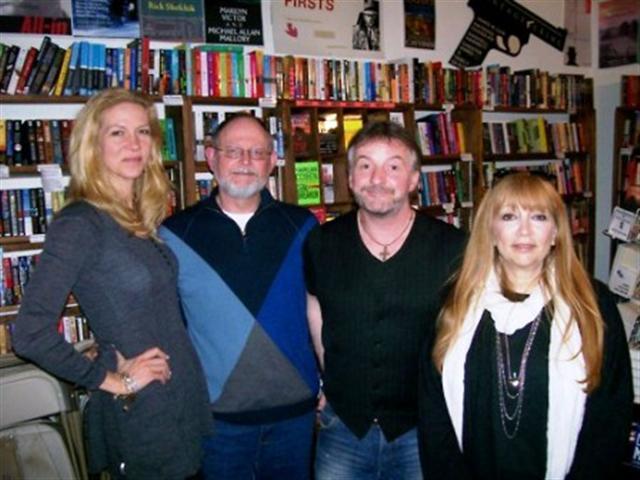 For a writer, being trapped in a small, enclosed space with three other writers, a publicist, two assistants, a cameraman and a bus driver is an odd experience. Writers, by and large, do not play well with other children. It's one of the reasons why we become writers: writing gives us an excuse to indulge the solitary aspect of ourselves, to retreat into our cocoon and allow the mystical process of writing to begin--or, alternatively, to buy stuff that we don't need on eBay and watch videos of cats falling off tables.
Some of us found it hard to write on the bus, for a variety of reasons. William Kent Krueger seemed to manage both to read and write easily enough, but he's from the Midwest and exudes the Zenlike calm of "Minnesota nice." Liza Marklund got a little writing accomplished, but the motion of the bus did for her in the end, and I think it was a similar case for M.J. Rose. I didn't even try writing, as I knew from past experience that there wouldn't be enough drugs in the world to prevent me from taking a trip down Vomit Alley.
So, what to do? We watched stuff on our computers (Breakfast at Tiffany's for M.J.; The Wire and Deadwood for me); we tried to do a little e-mail when the bus wasn't swaying too much; we napped; we played video games....
And we talked, because here's the thing: the opportunity rarely comes along for a writer to talk at length with other writers about not only the craft of writing, but about being a writer. Oh, we meet up at conventions or in bars after events, but it's usually late in the evening, and there's alcohol taken, and there are other people around, maybe readers or booksellers, and in mixed company writers get a bit sheepish about discussing writing too deeply for fear of being considered pretentious.
What did I learn from these conversations? Well, I learned how different we all were from each other, but also the similiarities. Most of us were troubled by doubt about the value of our work. We were all rewriters of one kind or another. One of us enjoyed the writing of the first draft, but for the rest it was torture. Only one of us was brave--or foolhardy--enough to go back and take a look at his earlier books in an effort to come to some semi-objective assessment of their worth.
And we found out that each one of us had always written, ever since childhood. The desire to tell stories of our own followed naturally from our own explorations in reading. Books and stories were our way of examining the world and, ultimately, ourselves.
When we finally left the bus after 2,000 long, swaying miles, I thought to myself that I'd miss those three writers.
Not enough to get back on that bus, not without a gun to my head, but I'd miss them....
Inklings
Betrayal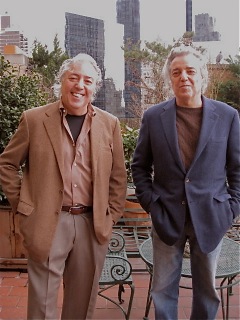 Ariel Warning is about betrayal. The betrayal of a twin, of one's universe. In writing this novel, I journeyed to a multitude of shores. Examined my own inner life, as well as everything that comes out of the deepest underbellies, especially the imagination. Never once did I think of doing anything other than making sure my novel travelled roads that my imagination dictated and later, working on my craft. At this stage, I have some craft. That was not always true. For years my identical twin, Richard, was my Maxwell Perkins. He inspired and tweaked my manuscripts, just as Perkins guided Hemingway. My cerebral responsible twin was a good editor. As good as it gets. But Ariel Warning was different. This was my book.
Now that it's completed, and I have time to ponder and be bored by everyday life, I keep thinking of where it started. And I keep going back to a time when my identical and I were in our early 20s. We were standing in front of a singles bar and out stepped this young woman. I took one glance and recognized that she was the most beautiful woman I had ever seen. My identical fell in love with her. He was as smitten as young Werther, as much in love as Romeo. Me, well, I was a shallow, crude, moronic, fun-loving playboy. I was a charmer. He was serious; I a comic actor. And I did the one thing in my life I fully regret. I slept with the woman my identical twin loved. Both of us have put it aside, but it has stayed inside of me. All these years. And now with Ariel Warning, some of it seeped out. It makes me feel cleaner inside. The Investigation of Ariel Warning is not an apology. It's just what it is, the conscious work of a man who has a great deal of culpability to come to grips with. Besides, it's a damn good read! --Robert Kalich, author of The Investigation of Ariel Warning (MacAdam Cage).
Literary Lists
Authors Who Couldn't Spel; Grumpy Writers; Books of Travel
"Six wordsmiths who couldn't spell" were unmasked by Mental Floss, which noted that Albert Erskine, one of William Faulkner's editors at Random House, said, "I know that he did not wish to have carried through from typescript to printed book his typing mistakes, misspellings (as opposed to coinages), faulty punctuation and accidental repetition."
---

Focusing on the "exploits of our favorite literary curmudgeons," Flavorwire compiled a list of the "10 Grumpiest Living Writers."
---
Sita Brahmachari, whose latest novel is Jasmine Skies, shared her top "10 books that take you travelling," noting that as a child, she "loved books where young people got to go on adventures and quests that changed them forever."
---
Ewan Morrison, author most recently of Tales from the Mall (an enhanced e-book/app with video), chose his "top 10 books about shopping malls" for the Guardian. "There are, it turns out, few works of fiction set in shopping malls, or for that matter, about that subject in nonfiction," he wrote. "A disturbing omission in literary history given we live in a world that is being rapidly homogenized by these structures."
Book Review
Fiction

The Sovereignties of Invention
by Matthew Battles
The First Warm Evening of the Year
by Jamie M. Saul
Waiting for Sunrise
by William Boyd
Mystery & Thriller
Border Run
by Simon Lewis
Science Fiction & Fantasy
Blackbirds
by Chuck Wendig
Biography & Memoir

Blood Knots: A Memoir of Fathers, Friendship, and Fishing
by Luke Jennings
Let's Pretend This Never Happened (A Mostly True Memoir)
by Jenny Lawson
Crossing the Borders of Time
by Leslie Maitland
History
City of Scoundrels: The 12 Days of Disaster That Gave Birth to Modern Chicago
by Gary Krist
Business & Economics
The 20% Doctrine
by Ryan Tate
Children's & Young Adult

Tua and the Elephant
by R.P. Harris , illus. by Taeeun Yoo
Captain Awesome to the Rescue!
by Stan Kirby , illus. by George O'Connor
The Storm Makers
by Jennifer E. Smith , illus. by Brett Helquist
--- SPECIAL ADVERTORIAL OFFERINGS ---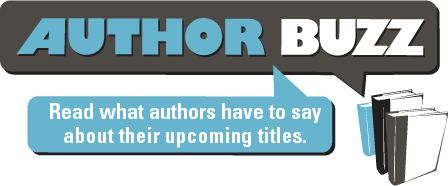 Dear Reader,

When I first set up a "demon graveyard," of sorts, for my Demonica/Lords of Deliverance series, I never imagined that the characters who populated it would become so central to the series. But here we are, following up the Grim Reaper's story with that of his right-hand man, Hades.

Dark, lethal, and a little playful, Hades will take a beautiful, brave fallen angel on a journey that will lead them both to danger and, possibly, love.

Please write to 1001DarkNights@gmail.com to win one of five copies.

http://www.1001darknights.com/authors/2015-books/larissa-ione-hades/




Publisher: Evil Eye Concepts, Inc

Pub Date: 5/26/15

ISBN: 978-1-940887-54-8

List Price: $2.99