Shelf Awareness for Readers for Friday, May 25, 2012
Book Candy
Fifty Shades of Popularity; Bookshelves; Electric Books
Fifty Shades of Grey state by state: Goodreads created a "Fifty States of Grey" infographic showing that while "readers are most concentrated in the the Tri-State and New England," ratings indicate that the "Southern and Plains states like the book more than the rest of the country."

---

The Hold on Tight adjustable bookshelf is a finalist in the Dwell Live/Work Design Contest, Laughing Squid reported.

---

Decoist offered "20 bookshelf decorating ideas" and asked the all-important interior design question: "What if decorating your bookshelf were as important as decorating the living room?"
---
"25 awesome minimalist book covers" were showcased by Flavorwire, which wrote: "There's something so satisfying about the minimalist style--modern design is often hectic and showy, and while that can be beautiful, we tend to agree with Antoine de Saint-Exupéry, who said 'A designer knows that he has achieved perfection not when there is nothing left to add, but when there is nothing left to take away.' "

---
Electric literature: Apartment Therapy introduced designer Dave Hakkens's Plugbook, which is tome-shaped, hides cables and provides two outlets.
Great Reads
Further Reading: Espionage
If there's anything we know about spies, it's that they hide, they hide in plain sight, in the most everyday places--possibly the tailor plying her needle in a quiet shop, the dapper man sipping wine at a restaurant table, even the mom at the playground with her two small sons.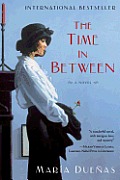 In Maria Duenas's sweeping novel The Time in Between, Sira Quiroga leaves her homeland of 1940s Spain and her job in her mother's dressmaking atelier to travel to Morocco with a handsome lover. Soon finding herself alone and pregnant with no friends, no money and no way to return home, Sira begins rebuilding her life. When she opens her own couture dressmaker's shop in Tangiers, she begins catering to the wives of international diplomats who visit Morocco, armed with concealed guns and better-concealed secrets. Sira must deftly navigate the crosscurrents of political intrigue and international style, as she begins hiding coded information in her sketches of the latest fashions.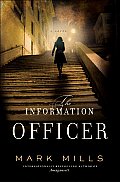 Set in the same era but in a far different place, Mark Mills's The Information Officer centers on Major Max Chadwick, an Englishman stationed on Malta during World War II with the duty of maintaining Maltese support for the British. Despite constant bombings and a surplus of broken-down aircraft, Chadwick's job is going well, until a series of local young women turn up dead. Trying to hide the murders from the public while searching for the killer, Chadwick also must keep under wraps his affair with a married woman, whose submarine officer husband is a prime suspect.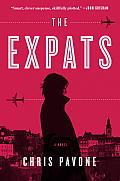 Kate Moore, the protagonist of Chris Pavone's debut The Expats, is a former (or so she thought) CIA agent who jumps at the chance to move to Luxembourg with her husband and two young sons, thinking she'll finally have a normal life. But she quickly grows bored with her new routine, not to mention suspicious of a few friends in the expat community. Meanwhile, her husband's job may involve more than maintaining electronic security for banks, but can she be sure?
Like all good spy novels, these three books lead readers on a dizzying dance as they obscure, camouflage and finally reveal the truth, while tackling important questions of love, career, loyalty and who can truly be trusted. --Katie Noah Gibson, blogger at Cakes, Tea and Dreams
The Writer's Life
Craig Johnson: Books into TV
On Tuesday we interviewed Craig Johnson about his latest mystery, As the Crow Flies. Johnson also had time to talk to us about his Walt Longmire novels being turned into a television show for A&E. The network has ordered 10 episodes, premiering June 3, starring Robert Taylor as Walt Longmire, Katee Sackhoff as Vic Moretti and Lou Diamond Phillips as Henry Standing Bear.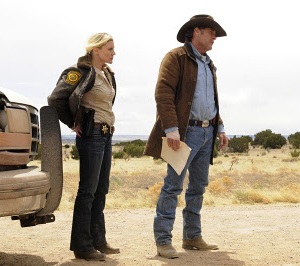 How involved are you in the television series?
Well, it's kind of funny because all the other writers that I've spoken to pretty much said that, yeah, they will write you a check and then they will say "see ya" and that'll be the end of that, you won't hear from them again. Maybe you'll recognize what's on television when it comes on. And my experience was something completely different than that.
I think a lot of it had to do with the executive producers--Greer Shepherd, who was the big executive producer for The Closer and Nip/Tuck, and John Coveny and Hunt Baldwin. All these people that are involved with the show, they've really done good work. They were really concerned about making sure that they got the area right. It even got to the point where they hired my buddy Marcus Red Thunder as another creative consultant and brought him there for the filming of the pilot.
So I think it's all according to who you're working with, and I was very lucky to land with some really incredible people. They kept me in the loop throughout the entire process. They sent me DVDs of the actors that they were looking at for the roles, which is just crazy--they don't ever do that. They were two weeks into the process, and I get a phone call from them and they said, "We're having a real problem cutting your first book, The Cold Dish, down to 45 minutes." I said, "You are? My first draft was over 650 pages long. I can understand that. "
They said we had to come up with some other ideas, because if we get a go for this, it'll be 10-12 episodes for the first season. I've only written eight books. What they were wanting to do was take bits and pieces from the books and then elaborate from those to make the episodes. So I discussed with them which pieces would work in that kind of a format. Then they wrote the scripts and sent them for me to go through and change things, tell them about stuff, add things, or whatever, then ship them back to them. Then they brought us down there for the three weeks that they filmed the pilot episode.
Where did they film the pilot?
They filmed it down near Las Vegas and New Mexico and in Santa Fe, where they had sound stages and crews and that kind of stuff. They filmed it in March, which was kind of funny because when they were gonna go for the pilot, they sent Chris Donahue to Wyoming and Montana to scout locations, and he looked at them for a minute, and he goes, "When does this pilot take place, what time of year?"
They said late in the spring. He goes, "Well, have any of you ever been to Wyoming or Montana in March?" Nobody in Los Angeles could say yes, so he had to explain to them that it looked like a lot of things but it didn't look like early spring in March.
We flew down and spent the three weeks with them during the filming process. It was very interesting. It was very weird. You have something in your head for eight or nine years and all of a sudden there it is. I guess the closest way that I can describe it is like if you had a houseplant on your kitchen table for eight years and you came down to breakfast and it started talking to you. It was very wonderful but very weird all at the same time. But yeah, it's been a hoot to be involved as closely with the process as I have been, but it was something I certainly didn't anticipate in any way, shape or form.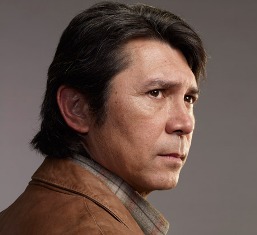 It sounds like a lot of fun, though.
Yeah, it was. It's a really interesting cast. Really incredible people. Robert Taylor is playing Walt, Lou Diamond Phillips is playing Henry. Katee Sackhoff is playing Vic.
That's amazing right there.
Yeah, yeah. And Katee's a hoot. She's absolutely a hoot. We've been Twittering back and forth and all this kind of stuff. But she loves her character, and Robert loves his character, and Lou loves his character. It's kind of nice to have a cast that reads, because they all ran out and bought all the books. It's been very interesting to me, because I don't know how often that happens. It's very nice.
Sounds like an intelligent cast, which is helpful.
It is. Which is always what you hope for, right? --Rob LeFebvre
photos via AETV.com
Inklings
Book Snob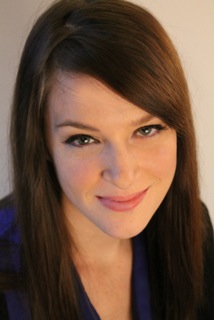 I'm coming out to the world: I just read--or should I say devoured--The Hunger Games. I can't continue to hide behind the more intellectual books on my nightstand. If people ask me what I'm reading these days, I quickly tell them 1Q84 by Haruki Murakami but simply forget to mention that I have secretly read each of the Hunger Games books, each in one sitting.
When I think about my own book, Perfect Chaos, a memoir about having bipolar disorder, I always return to the question, "What are you going to do next?" "Write a real book," something fictional, something hard.
But what makes my own book something I don't consider "real" or hard, for that matter? It was a difficult book to write; one full of my darkest, scariest thoughts as I battled my way out of suicidal depressions and psychotic states. What makes me think that this is not something to be as proud of as a contemporary fiction piece? What makes us value certain types of writing over others? Perhaps it's my late arrival as an English major. I'm left feeling that I fall far behind whenever "the classics" come into play. Perhaps it's the fact that I just don't like to read what everyone else is reading. But I ask myself, if everyone was furiously reading Shakespeare would I read him in secret as well? What's wrong with being a writer that everyone wants to read?
So today I am coming out to say that I am a book snob who read The Hunger Games and loved it. I'm now going to read what sounds interesting, and even fun. I am going to count myself as a real author and maybe even read Harry Potter. --Linea Johnson, author, with Cinda Johnson, of Perfect Chaos (St. Martin's)
Literary Lists
Summer Reading Recos; Pre-K Reading; Fave Picture Books
With the arrival of Memorial Day Weekend, beach reads season officially launches:

"Booksellers know how important a good story is--one that reaches out, pulls you in and keeps you reading late into the warm summer night," noted NPR's Morning Edition in featuring 15 handpicked summer reads from "our go-to independent booksellers": Lucia Silva of Portrait of a Bookstore, Studio City, Calif; Daniel Goldin of Boswell Book Co. in Milwaukee, Wis.; and Rona Brinlee of the BookMark in Atlantic Beach, Fla.

Jennifer Weiner shared her summer reading list with Entertainment Weekly's Shelf Life book blog.

USA Today featured its Summer Books Preview.

---

It's never too early to feel overwhelmed with books to-be-read. Education.com recommended "50 books your child should read before kindergarten."

---

Here's a great way to start an argument. Flavorwire suggested "10 epidemically overrated books" while cautioning: "Now, keep in mind that this isn't a list of bad books--it's a list of good books that (to our minds) just seem to get more accolades than they deserve."

---

"Pirates, monsters and a very naughty dog" are among the characters who made the Guardian's list of "family favorite picture books."
Book Review
Fiction

The Listeners
by Leni Zumas
The Lola Quartet
by Emily St John Mandel
Emmaus
by Alessandro Baricco , trans. by Ann Goldstein
Radio Iris
by Anne-Marie Kinney
Biography & Memoir
Outlaw Marriages: The Hidden Histories of Fifteen Extraordinary Same-Sex Couples
by Rodger Streitmatter
Father's Day: A Journey into the Mind and Heart of My Extraordinary Son
by Buzz Bissinger
Lefty: An American Odyssey
by Vernona Gomez , Lawrence Goldstone
Sports

Red Nails, Black Skates
by Erica Rand
Running with the Kenyans
by Adharanand Finn
On Par: The Everyday Golfer's Survival Guide
by Bill Pennington
Children's & Young Adult

Railsea
by China Mieville
Revived
by Cat Patrick
Mister Death's Blue-Eyed Girls
by Mary Downing Hahn
SOLITUDE CREEK
by Jeffery Deaver
ISBN-13 978-1455517152
Grand Central Publishing
5/12/2015
#4 in the Kathryn Dance Series


an exclusive interview with
NYT bestselling author Jeffery Deaver
SOLITUDE CREEK is the fourth in the Kathryn Dance series, following the amazing, XO. What's in store for Dance this time around?
Oh, mayhem, chaos, and terror, of course! In this novel, Kathryn gets busted down to "buck private" for making a serious mistake during an interrogation; she's relegated to civil work for the CBI, like checking health certificates and bottle deposit receipts. But you can't keep a strong woman down and she secretly runs an investigation on a villain obsessed with turning people's panic into a weapon.
THE BIG THRILL caught up with Deaver to talk about mayhem, chaos, and of course, SOLITUDE CREEK. Read about it here.

ALSO FEATURED ON THE
the big THRILL…
RUINS OF WAR by JOHN A. CONNELL: It took a decade, four defunct novels, and countless rejections before Connell landed a publishing deal. But the hard work and determination paid off. His novel, RUINS OF WAR—a unique, historical thriller set in postwar Germany—is already garnering national acclaim. And Connell, well, he's considered a debut-to-watch. Read about him in THE BIG THRILL.
THE TAPESTRY by NANCY BILYEAU: As a trained Journalist, whose editorial credentials include Rolling Stone and Entertainment Weekly, Nancy Bilyeau understands the value—and importance—of a well-researched novel. Particularly in the case of her Tudor-inspired thrillers. For THE TAPESTRY, the third book in her bestselling Joanna Stafford series, Bilyeau pits her protagonist against none other than King Henry VIII. Check it out in THE BIG THRILL.
THE SHADOW CARTEL by LAYTON GREEN: International man of action, Dominic Grey, has fought cults and criminals all over the globe. In his next escapade, he takes on THE SHADOW CARTEL. We recently sat down with Dominic's creator, Layton Green, and asked the world-traveler-turned-bestseller about his journey to the top of the bestseller list and where he plans to go from here. Catch the whole interview in THE BIG THRILL.
STONE COLD DEAD by JAMES ZISKIN: A taut tale of mystery and suspense that is at once a reminder of how a sleuth got the job done in the era before CSI and an antidote to nostalgia, James Ziskin's STONE COLD DEAD is just too cool to miss. Read all about it in THE BIG THRILL.
DYING BRAND by WENDY TYSON: In the third installment of Wendy Tyson's Allison Campbell mysteries, Campbell ends up investigating the brutal murder of her former boyfriend. As her hunt for truth reveals each secret, Campbell's past and present collide, in a mystery that is not just deadly, but the most personal yet. Get the full scoop on DYING BRAND in THE BIG THRILL.