Brave New Book World: Adapting to the Coup d'Etat
Political and economic systems may come and go, but the book world has always shown a remarkable ability to adapt to change. The past two weeks, following passage of the health-care bill, are no exception.

"Everyone sees a myriad of opportunity," said one publisher who wished to remain anonymous. "Already houses have dropped inappropriate titles from this year's lists and signed up--often in multibook deals--exciting, previously overlooked authors, including Bill Ayers, Raul Castro, Dennis Kucinich, Idi Amin, Father Coughlin, Robert Mugabe, George Lincoln Rockwell, to name just a few. We're going to be learning a lot from the best minds of our new Nazi-Communist-socialist-African-atheist-Islamist regime."

Among changes in the landscape:

Post-apocalyptic fiction, which had gained dramatically in popularity the last few years, has been renamed "current events."

Led by media czar Bill Clinton, the national certification program for all authors and book reviewers has proceeded quickly and led to the wholesale changes, including the replacement of New York Times lead reviewer Michiko Kakutani by Chelsea Clinton, who, her dad said, is "a quick study" and should grow into the role nicely.

The newly opened New York branch of North Korea's Foreign Languages Publishing House and its ambitious debut list have already led the Big Six to become the Big Seven.

The Collected Works of President-for-Life Obama will begin appearing with the fall season. The initial volume covers the first decade of his life and includes notes to his mother, letters to relatives and homework assignments. "We're so excited," said editor Sonny Mehta. "Even in Dearest Leader's earliest writings, we can see the seeds of Great Obamaism." Obama will also be co-author with Speaker Nancy Pelosi and Senate Gauleiter Harry Reid of The Mod Squad: Yes, We Can and Yes, We Did! The trio will tour with Vice-Regent Joe Biden, whose new work is called A Big F**king Book, which he inadvertently wrote last week.

Random House and Macmillan, both of which are owned by German media companies, expressed approval about the changes. Markus Dohle of Bertelsmann, whose accent seems to have thickened in recent weeks, said, "Our company thrived during a similar historical period in the 20th century, and I anticipate repeated success in this era. There is, I believe, something in our superior genes responsible for this."

"I haven't checked yet, but my masters at Holtzbrinck must know a lot about this kind of thing," said Macmillan's John Sargent. He noted that Holtzbrinck's U.S. operations, which took the Macmillan name in 2007, are changing again, this time to von Holtzbrinck Gruppe, effective immediately.

La Martinière Groupe's Little, Brown and Grand Central publishing units have been annexed by Bertelsmann and Holtzbrinck and will be divided between them.

American Booksellers Association general secretary Oren Teicher confirmed rumors that the association has renamed its marketing program DependentBound and is working to create a national bookseller syndicate that will encompass all the previous competing components of book retailing. "Since the events of two weeks ago, we at the ABA have heeded the call by Dearest Leader to work together and avoid factionalism in thought and deed," Teicher said.

Teicher added that the changes have been well-received by many booksellers, who have noted, among other bits of good news, the many new holidays and occasions for gift-giving and tie-ins. For example, later this month, Hitler's Birthday, Lenin's Birthday and May Day will be celebrated during a 10-day period, following closely by Paternalism Day, the former Father's Day, and Birthing Unit Day, formerly Mother's Day.

Certain textbook publishers have already been sent to reeducation camps in Texas, where they are joining select school board members. Surviving textbook publishers have pointed to major opportunities, particularly for texts explaining the country's bright new reality as well as understanding the inherent flaws of such bygone concepts as the Constitution, elections and majority rule. They did, however, express concern after the Not So White House announced that Education and Indoctrination Minister Arne Duncan has begun importing school textbooks from Havana and Hanoi.

At least one publisher is not getting with the program. Regnery Publishing has renamed itself Armageddon Press, and Jed Lyons and other Regnery/NBN/Eagle Publishing staff members have gone underground. Armageddon's first title will be a primer of basic writings in response to the events of the past two months by leaders of the Republican Party, including Sarah Palin, John Boehner and Newt Gingrich, all of whom were granted political asylum in Myanmar last week. (Palin, whose titles have disappeared in the U.S., is planning a new book, this one about her new adopted country. "Gosh darn, we could have learned a few things from these guys in our day!" she said.)

Although sales may be difficult to achieve, Armageddon's business model is an interesting combination of old and new. Denied access to the traditional supply chain, Armageddon is setting up a network of operatives who will infiltrate the country and sell its books nonreturnable on a cash-only basis, "a new twist on guerrilla marketing," Lyons said in an encrypted e-mail.
---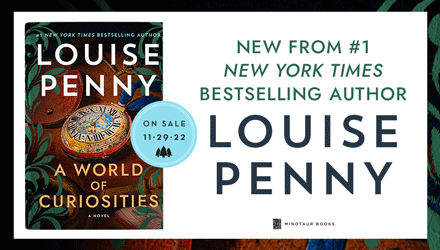 ---