'Reading Changed Dreams into Life and Life into Dreams'
"I learned to read at the age of five, in Brother Justiniano's class at the De la Salle Academy in Cochabamba, Bolivia. It is the most important thing that has ever happened to me. Almost seventy years later I remember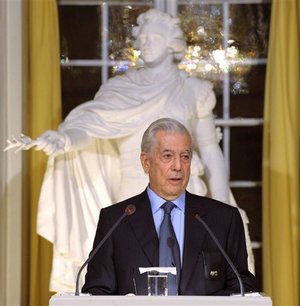 clearly how the magic of translating the words in books into images enriched my life, breaking the barriers of time and space and allowing me to travel with Captain Nemo twenty thousand leagues under the sea, fight with d'Artagnan, Athos, Portos, and Aramis against the intrigues threatening the Queen in the days of the secretive Richelieu, or stumble through the sewers of Paris, transformed into Jean Valjean carrying Marius's inert body on my back.

"Reading changed dreams into life and life into dreams and placed the universe of literature within reach of the boy I once was. My mother told me the first things I wrote were continuations of the stories I read because it made me sad when they concluded or because I wanted to change their endings. And perhaps this is what I have spent my life doing without realizing it: prolonging in time, as I grew, matured, and aged, the stories that filled my childhood with exaltation and adventures."
--Mario Vargas Llosa in his
Nobel Lecture
, "In Praise of Reading and Fiction," which he delivered yesterday in Sweden.
---

---