'How You Read Not as Important as Will You Read?'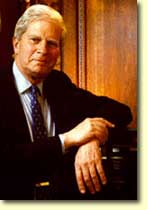 "The new immigrants don't shoot the old inhabitants when they come in. One technology tends to supplement rather than supplant. How you read is not as important as: will you read? And will you read something that's a book--the sustained train of thought of one person speaking to another? Search techniques are embedded in e-books that invite people to dabble rather than follow a full train of thought. This is part of a general cultural problem."
--James H. Billington, Librarian of Congress, in a
Newsweek
poll of "some literary brains on the future of reading."
---

---