Booksellers: 'Matchmakers of the Book Ecosystem'
"Sixty-four million Americans read five hours a week or more, 16 million Americans report they have engaged in creative writing, and more than 2 million titles went on sale in the U.S. last year. With all that supply and demand, we need matchmakers, people with expertise, knowledge, and intuition to connect people with books, to offer help in choosing what to read.... Bookstores can and should be sites for this conversation. Increasingly, the good ones are places where people seeking deeper engagement with their culture and society choose to congregate. They are offering language classes, reading groups, singles nights, writing workshops, self-publishing solutions....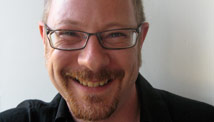 "We may think of bookstore clerks as just underpaid drones, but the reality is that most people who work in bookstores do so because they love reading and writing. I believe that Borders employees past and present can become part of an emerging system of supporting writing and reading, whether in new bookstores or new online ventures, operating as the matchmakers of the book ecosystem."
---

---