Rebel Bookseller 2.0
Christine Onorati, the owner of WORD, Brooklyn, N.Y., is tired of hearing about how bookstores are doomed. "Half of all restaurants that open close," she said during a panel of New York independent booksellers who gathered last Friday at Greenlight Bookstore to celebrate the reissuing of Andrew Laties's Rebel Bookseller (Seven Stories). "But nobody says restaurants are dying." This was not an academic question for Onorati: her first bookstore never clicked with the Long Island community where it was located and she closed it before opening WORD. "People usually like the idea of a bookstore and what it represents to have one in their neighborhood," she said, but they don't always take the next step of actively shopping there. That's not a problem at WORD though: "We've grown every year since we opened, and our clientele is young."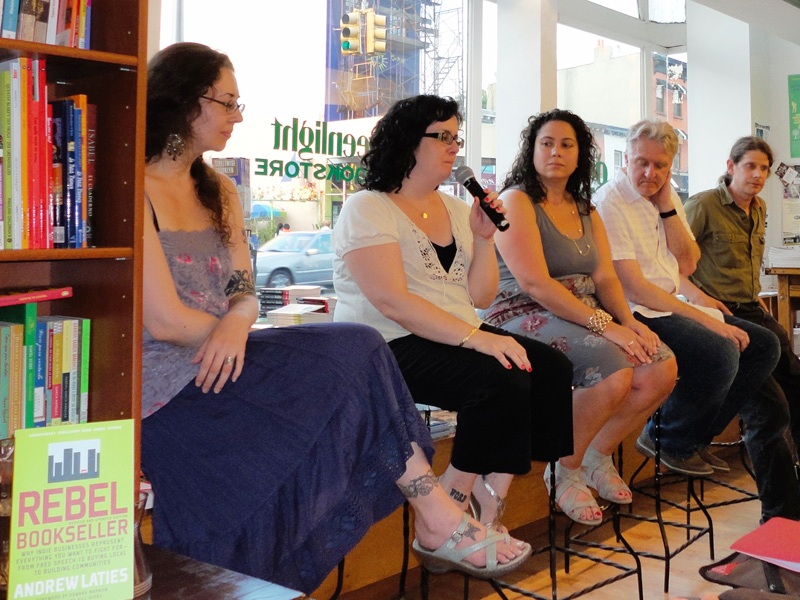 L.-r.: Margarita Shalina, Christine Onorati, Tatiana Nicoli, Denis Loy Johnson, Andrew Laties.
The Borders shutdown was on everybody's mind that evening, but Laties's attitude was a sharp contrast to the wistful farewells that permeated online chatter on the subject. "I have been fighting Borders since 1989," he said at the beginning of the panel, "and I'm very happy that they're going out of business." His anti-corporate attitude was reflected in the short chapter he read, an essay about bookselling in post-communist Latvia that was rejected by the trade publication that commissioned it, he claimed, because it not-so-subtly compared chains like Barnes & Noble and Borders to Soviet-era nationalized retailers who did little more than sell the books they were shipped.
Dennis Loy Johnson, co-founder of Melville House Books (which runs a storefront out of its Brooklyn headquarters), brought a cautionary note to the conversation by observing that however one felt about Borders, hundreds of bookstores had just gone out of business and thousands of booksellers put out of work, and the ramifications for publishers were still unclear. There is a real fear, he explained, that "we won't be able to publish enough books to survive, and the books we do publish will become more expensive."
Margarita Shalina, the small press buyer at St. Mark's Bookshop, New York City, added that independent booksellers who'd been around for decades had a historical perspective from which to view the current situation, but they also needed to keep innovating; she mentioned that St. Mark's had recently begun hosting events, strengthening ties with its East Village community.
Community was also the key to the optimistic spirit exhibited by Tatiani Soli, who opened Boulevard Books in her local neighborhood--Dyker Heights in Brooklyn--in 2010, literally around the corner from her apartment. "I grew up there so I know my community," she said. That's led her to focus on events that reflect broad community interests, rather than trying to lure authors with whom her neighbors might not be familiar to a venue that seems (from a Manhattan perspective) isolated and remote. "And I've never been happier," she said of the past year. "It's the most rewarding experience of my life." --Ron Hogan
Correction: Dennis Loy Johnson emails, "I said that with fewer bookstores publishers won't be able to PRINT enough copies of a given book (meaning margins would worsen and unit prices would have to go up, which would make it harder to compete for surviving indies who can't discount like Amazon).... It would mean that the bankruptcy of Borders, and the shrinkage of B&N, is actually a bad development for indies, counter-intuitive as that might at first seem."
---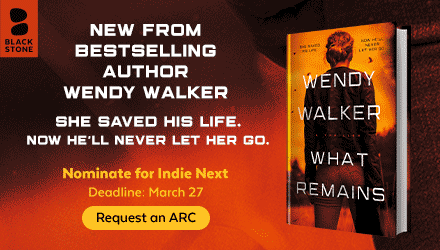 ---