Books 'N' Things: BN.com Marketplace Expands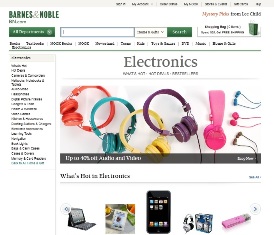 Barnes & Noble has expanded BN.com Marketplace, adding more than a million new products to the catalogue through a deal with several online partners, including Wayfair.com, Right Start, UnbeatableSale.com, School Specialty, Abe's of Maine, Delivery Agent and more.

Five new categories have been added to BN.com Marketplace: Home and Gift, Consumer Electronics, Arts and Crafts, Toys and Games and Baby. Most products from these new third-party partners will have free standard shipping year round.

John Foley, B&N's president of eCommerce, called the expansion "an organic extension of our consumer value proposition. If shoppers are buying cookbooks from BN.com, it's natural to offer them cooking supplies at the same time; if shoppers are buying new baby books, it's natural to offer them baby supplies as well; and so on across all of our categories."

---

---