Kindle Fire Reviews: Still Smoky
The Kindle Fire begins shipping tomorrow, but reviews are shipping today.
Forbes.com quoted the last paragraphs of six of those reviews
. Its own last paragraph: "To sum up: the Kindle Fire is very cheap, somewhat unpolished, and no iPad killer."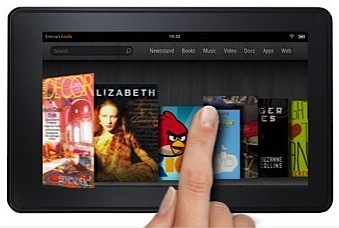 For his part,
David Pogue in the New York Times
called the Fire "not nearly as versatile as a real tablet. It's designed almost exclusively for consuming stuff, particularly material you buy from Amazon, like books, newspapers and video. It has no camera, microphone, GPS function, Bluetooth or memory-card slot. There is a serviceable e-mail program, but no built-in calendar or note pad." He concluded that the Fire is "a cross between a Kindle and an iPad, a more compact Internet and video viewer at a great price. But at the moment, it needs a lot more polish; if you're used to an iPad or 'real' Android tablet, its software gremlins will drive you nuts."
Still, Pogue called the updated versions of the Kindle and Kindle Touch "rather spectacular" and wrote that new traditional Kindle "is now so small, it fits in a pants pocket. But again, the news here is the price: $80.
"Do you have any idea how astonishing that number is? The first Kindle, born four years ago this month, cost $400. This model weighs 40% less, occupies a third less space and stores seven times as many books--at 20% of the price."
To help navigate the e-readerverse, PaidContent.org has
a chart comparing Kindles, Nooks, Kobos and the Sony Reader
.
---

---