Digital Book World: Bookstore Renaissance; Staying Relevant
Shelf Awareness editor-in-chief John Mutter moderated a panel on "The Bookstore Renaissance" at the Digital Book World conference held this week in New York City, inviting representatives from four independent bookstores to share their thoughts on recent developments in the bookselling business that appeared to counter the pessimism of recent years, in what many see as a "huge opportunity" after the collapse of the Borders chain--including a spike in sales that many stores experienced during the 2011 holiday season. The panel members were also invited to share their ideas on how to continue to capitalize on that growth potential.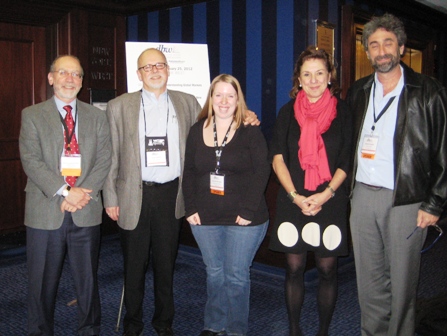 Roxanne Coady of R.J. Julia Booksellers (Madison, Conn.) talked about the launch of JustTheRightBook.com, which offers subscribers a monthly book selection based on a personal review of their reading tastes--"the opposite of the wisdom of crowds," she quipped. Coady elaborated on how the site's "human algorithm" drew on one of their biggest strengths as booksellers: "We know how to put the right book in the right hands," she said, "and we are early discoverers." She noted that 67% of the visitors to the site who took their quiz wound up buying or borrowing one of the recommended titles (though not always from R.J. Julia).
Bradley Graham, one of the new co-owners of Washington, D.C.'s Politics and Prose, discussed how the store was exploring potential new revenue streams, including a series of classes that had expanded from literary discussions to broader educational programs. The store also recently installed an Espresso Book Machine, promoting it to customers with the slogan "Real Books in Real Time."
Meanwhile, Mitchell Kaplan recently launched B&B Press, a publishing arm to his South Florida Books & Books stores, with an anthology of original "holiday stories for the rest of us" called Blue Christmas ("Never put a holiday in a book title," Kaplan joked, noting that sales dropped immediately after Christmas) and a $60 edition of Les Standiford's Last Train to Paradise (celebrating the 100th anniversary of the extension of the Florida East Coast Railway) with a foil embossed cover and fold-out images.
The arrangements to sell Google eBooks through independent bookstore websites was a prominent topic during the hour-long session. "It's not really something I have the time to focus on," admitted Suzanna Hermans of Oblong Books (Rhinebeck, N.Y.), adding that the amount of money it would generate is "so minuscule" that it was better for her to put time and effort into making improvements to in-store service instead. Kaplan conceded that Google eBooks was not providing a substantial amount of revenue, but added "I don't want to give my customers any reason to shop anywhere else." He compared his commitment to selling e-books through the website to his decision to match the hours that a competing Barnes & Noble a few blocks from his store was open. "It won't be a big part of what we do," he concluded, "but it will allow our customers to support us that way if they want."
---
During the first morning sessions of DBW, F&W Media CEO David Nussbaum called upon participants to engage in "purposeful but creative destruction" of their customary business practices to stay relevant in the changing publishing environment. He was almost immediately followed by James McQuivey, v-p and principal analyst at Forrester Research, whose survey of industry professionals suggested that, although they might be prepared to accept that challenge, their optimism had diminished slightly over the last year. While 72% of those surveyed believed their companies could compete in the digital marketplace, for example, only 28% believed they would be stronger in the future. And while conference co-organizer Mike Shatzkin had strenuously championed apps during his opening remarks, McQuivey's sources suggested "the love affair with apps is officially over," with less than one-fifth of those surveyed convinced they had the potential to change the future of books, and just over half of them believing that apps were too expensive an investment.
Kelly Gallagher, v-p of publishing services at R.R. Bowker, shared the results of their latest research, identifying a "Power Buyer" segment of the market comprised of consumers who regularly buy four or more books a month. Those readers, he said, account for 22% of the print book consumer base--but they drive 53% of all purchases as measured by volume, and 50% as measured by revenue. By contrast, 35% of the ebook audience is responsible for 60% of the purchases, bringing in 48% of the revenue.
Later in the conference, Amazon.com's v-p of Kindle content, Russ Grandinetti, discussed some of the online retailer's early findings concerning their Kindle Online Lending Library, a service available to Amazon Prime customers who have Kindle accounts. They're finding that participation in KOLL drives visibility and word-of-mouth, and encourages some book sales, particularly where series are involved. Nineteen percent of the customers who borrowed The Hunger Games through KOLL, for example, purchased the sequel, Catching Fire, rather than wait until their next opportunity to borrow an ebook; another 19% went ahead and bought Mockingjay as well. And, though Grandinetti stressed that the data was far too preliminary to reach firm conclusions, the early trends indicated that longtime Prime customers who participate in KOLL go on to make 30% percent more book purchases than they had before its launch.
---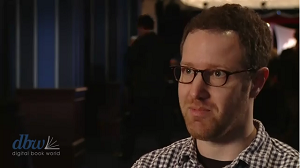 Digital Book World also presented a pre-conference "Book Marketing Summit," a full day of sessions on topics ranging from SEO optimization and social media marketing to audience building and analytics. Some of these sessions ran concurrently with a comprehensive workshop conducted by Dan Blank of WeGrowMedia.com that zeroed in on how to determine the return on investment for all these content strategies. Blank encouraged his audience to experiment regularly with different techniques, and to talk with their colleagues not just about the ones that worked, but the ones that didn't. "Metrics should empower you to make decisions for future content strategies," he emphasized, as campaigns become framed around specific actions that demonstrate proven value. Before the day was through, DBW announced that the Book Marketing Summit would be spun off into a distinct event, which will take place later this year. --Ron Hogan
---

---