Harry Potter and the E-Book Launch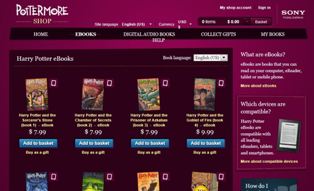 As of today, all seven Harry Potter books can be purchased as e-books, slightly earlier than the most recent postponed launch date, and are available only on Pottermore.com. U.S. prices are $7.99 for each of the first three titles and $9.99 for each of the last four; the Jim Dale audiobooks range from $29.99 to $44.99.

Pottermore CEO Charlie Redmayne told the Bookseller that Pottermore is planning enhanced editions of the e-books and will operate "an affiliates scheme for retailers." The e-books are listed on Amazon and B&N.com, directing buyers to Pottermore. The e-books are also available to libraries through OverDrive but not yet available via Apple's iBookstore, Kobo, W.H. Smith, Waterstones (or apparently IndieBound).

"This is the first time Amazon and B&N have driven customers off their platform to another site, and then given the ability to push that content back to their device," Redmayne said.


---

---