Target Drops Amazon Kindle Line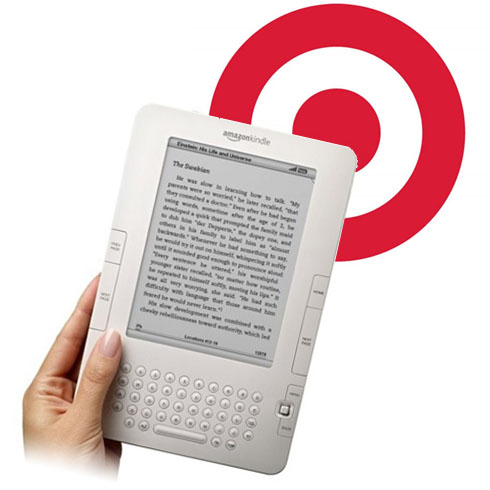 Target plans to stop selling Amazon Kindle e-readers and tablets, and has already removed the products from its website. The Verge reported that an internal Target memo said "the company will be removing Amazon hardware from its locations starting this month. Certain accessories will remain in stock, but shipments of Kindles themselves will cease as of May 13."

Target representative Molly Snyder confirmed the move, telling CNN that the retailer, which started selling the devices about two years ago, is "phasing out Kindles and Amazon- and Kindle-branded products in the spring of 2012." Apple recently partnered with Target for a number of "mini-stores" at 25 of its locations and is now selling the iPad.

Fortune magazine observed: "If Target did make the decision in an effort to mollify Apple, that would be sort of a retro-chic move in an era when big retailers tend to dictate terms to manufacturers rather than the other way around. There aren't many manufacturers with market power like Apple's, however."

Reuters noted that "Amazon ran Target's website for several years, but that relationship ended last year amid a legal battle."

"This is evidence that Target is getting more serious about Amazon as an enemy rather than a partner," said analyst Matt Nemer of Wells Fargo. "That's probably something Target now regrets. It put them behind in the world of multi-channel retail and let a serious competitor learn a lot about their business."

The New York Times reported that as retailers like Target address the challenge of "showrooming," carrying Amazon's Kindle is, as Michael Norris of Simba Information put it, "like Starbucks selling Dunkin' Donuts gift certificates."

The warning signs for Target's move were there in January, the Times wrote. According to a Citi analyst Deborah Weinswig, a letter sent by Target executives to vendors stated: "What we aren't willing to do is let online-only retailers use our brick-and-mortar stores as a showroom for their products and undercut our prices."

At Mobylives, Dennis Johnson suggested that "opponents can take some satisfaction in the interesting suggestion made by the Times reporters that anger at Amazon's price check app hasn't dissipated, and six months later may still be motivating a wide range of retailers to fight back.

"Which makes the notion that others may indeed follow suit not so far-fetched at all, but an equally simple, elegant and possible development."

---

---