BEA: Jennifer Weiner on Books, Blogging, the Times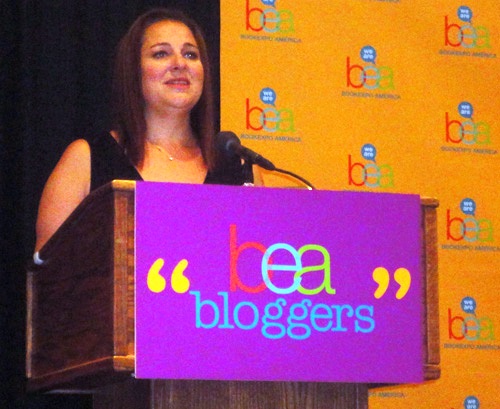 "There has never been a more exciting time to be part of the conversation about books and reading than there is now," Jennifer Weiner told the audience during her keynote address to the third annual Book Blogger Conference (the first to be owned and operated by BookExpo America itself rather than as a partnering event). In a free-ranging talk, Weiner said that Oprah Winfrey's original book club had all the qualities that would come to be associated with book blogs ("Oprah didn't sound like a book critic; she sounded like a friend") and Weiner discussed how she had used social media to combat the sexism and discrimination she sees in contemporary publishing and literary media--beginning with an offer to send a signed copy of one of her books to readers who sent proof that they'd purchased Sarah Pekkanen's debut novel, The Opposite of Me. After giving away more than 400 books on that project, she continues to make similar offers whenever she finds a book she's passionate about.
Weiner also spoke about what she sees as a longstanding mistreatment of her and her books by the New York Times, which she claimed, has viewed her as "a symptom of what it saw as literature's wrong turn." She also questioned her ranking on the paper's bestseller lists. "This week, my current paperback, Then Came You, [is] the #8 bestselling book on Bookscan," she said. "For the same time period, it's #22 on the Times list. This has happened with every book since Little Earthquakes. My publisher will go to the Times and say, 'We think Jen's book should be higher, and here are our numbers to support our claims.' The Times will say, 'We think Jen's book is right where it should be, and we're not showing you our numbers. They're proprietary.' "
While admitting that she can't do anything about that situation, Weiner did allow that she is no longer giving the Times permission to hurt her feelings; instead, she's focused on using Twitter to communicate directly with readers and other writers. She encouraged the assembled bloggers at the conference to do the same: "Dance like no one's watching. Sing like no one can hear. Tweet like your mother's not online." --Ron Hogan
---

---