BEA: Rock Star Authors Rock BEA
Hearing Patti Smith interview Neil Young was like being allowed to sit in while the two relaxed on a deck in the evening, drinking--or smoking--and talking about life, music, writing and the joys and challenges of creativity. She was well prepared and kept the conversation focused; he sometimes circled around as he answered, then came out with some wonderful lines befitting a songwriter.

In a few quick remarks before they began, Steve Rosato, show manager of BEA, summed it up when he said that this was "not only one of the highlights of BEA, but a highlight of what's going on in New York City."

In his introduction, Penguin Group CEO David Shanks referred to the Department of Justice lawsuit, saying, "It's great to talk about books. With all the lawyers, I feel like I'm on work release." He quickly added that that statement "was vetted by lawyers," along with what socks he was wearing, what side he parts his hair on, and more.

Shanks called it "the thrill of a lifetime to share the stage" with Smith and Young, although it was "not exactly how I pictured it in my daydreams. They'll be happy I didn't bring my guitar."

When Smith and Young appeared, a scrum of photographers and many attendees nearly charged the stage to take pictures. As hundreds of cameras flashed, Smith said, "I feel like Sophia Loren at the Milan airport!"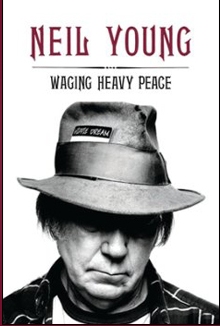 Smith said she had read a lot of Young's upcoming book, Waging Heavy Peace (which Young called "more a diary than a memoir"), and was struck that there is "no barrier between you and the reader. It's intimate.... It's like talking with a friend." She also praised the book for being "not chronological, because memory isn't. Our way of talking about life isn't linear because we don't remember things in chronological order."

Young responded by saying, in one of his many hilarious comments, "My memory not only doesn't work chronologically, but sometimes it doesn't work." When writing the book, Young "didn't keep it in order," he said. "Some people said it was all over the planet."

Young recalled his father--Scott Young was a longtime sportswriter, journalist and author of some 45 books who wrote on "a big old" typewriter on the family house's third floor. As a child, Young said, "the first thing I heard in the morning was chatter chatter, tap tap. The rule was we couldn't go upstairs when he was writing, so I'd go right up." His father, he continued, liked to say that when you sat down and starting writing, "all kinds of thing will happen."

Asked by Smith about his reading habits, Young said he is "not a voracious reader. Right now I'm reading you--Just Kids. I love it and am having a blast." He called Smith's memoir of her early years in New York "soulful" and said, "I feel like I'm with you and Robert [Mapplethorpe] in that room, building things."

Smith suggested that their two memoirs have in common "the humanity inherent in them. They were not written vindictively or to settle scores." Young said the titles take "similar paths but in different geographic places."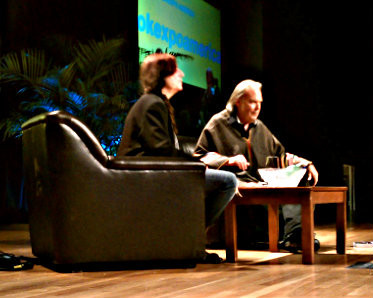 Smith brought up several of Young's songs and adaptations, praising "Jesus Chariot," better known as "She'll Be Coming 'Round the Mountain." She noted that as children, "we learned and sang [it] by rote with no sense of the lyrics."
The song has "a lot in it," Young said. "It's a crazy, religious, cultish, weird song." As for the title, he said, "I renamed it. The folk process allows you to change anything."

Smith asked about the inspiration for Young's classic "Ohio," and he told a story about being with David Crosby and two of the Crosby, Nash, Stills and Young crew at a peaceful cabin in the redwoods, smoking weed, when someone threw down on a table a copy of Time or Newsweek whose cover was the famous picture of a woman grieving over the body of one of the students killed at Kent State. "It's an unbelievable picture," he said. "It still gives me the chills."

In reaction, "I picked up my guitar, and it took about a minute to write the song." In a "kind of social networking of the time," as Young put it, the song was paired with a song from Stephen Stills, "Find the Cost of Freedom," and was sent around on acetate pressing to radio stations--and became an instant phenomenon. "We were all together," he continued. "It was the beginning of something, a great moment, and radio was so important."

Smith noted that "for some of us who didn't see the picture, you translated it for us, made us so much more aware of what was going on in the world." She added that she had learned much about the Vietnam War from Young, Bob Dylan and Phil Ochs.

In that period, "radio was great," Young recalled. "There were no programmers, and deejays were wonderful personalities." He and Smith both lamented the formulaic approach of radio now, as well as other changes in how music is made.

"The stage used to be our laboratory," Smith said. "But it's been hijacked."

Young noted that he used to play new songs in concerts. "It was an honest thing. It worked. I could gauge what was happening." Sometimes he tried different things and changed verses as he worked on songs. Often he made songs from live performances into his album songs. "I'm much better live than in the studio," he stressed.

These days, however, such a process wouldn't work. Now, Young said, the different versions of his new songs would be posted immediately on Youtube and people might say "he can't even remember his own new song right!"

Young also lamented that so many people listen to music on low-quality machines such as MP3 players on computers. "We always worked on the music in depth," he said. Playing music in such a way is "like reducing Picasso to wallpaper, like painting it over."

Smith and Young agreed that, as Smith put it, "in some ways, improvisation is dying." Young suggested "a correlation in the lack of quality" in music with the push to make what we do "in the studio more organized and perfect." He added that the trend is "very very very stifling and incredibly neglectful of the muse." Still, he is hopeful and sees, he said, "a rebirth of recording and artistry and not treating music like background."

Smith remembered first meeting Young many decades ago and feeling a bond immediately. "There's kin," she remembered feeling. "There's someone I can understand. I related right away to your songs and voice."

Smith and Young agreed on the creative process with song writing, which Young described this way: "When I try to write, I write my worst shit" because the best writing "is nothing. It's feeling." He doesn't "wait for songs" to come to him, he said. "I let them come to me." Ideas, he continued, "are free to come and free to go.... If it happens, it happens. If it doesn't, it doesn't matter."

Smith described singing Young's songs as "like singing something that's always existed. They're so effortless, like they came out of the wind."

Both Smith and Young sang the praises of their instruments and others' instruments. "If you want to write a song, go ask a guitar," Young said. "Pick up someone else's guitar and the next day a song will come." He added that "music lives in guitars, sounds live in them," and compared old guitars with old cars. "When you sit in an old car, you can feel all that happened in it right there. It's why I like to go to junkyards." --John Mutter
photo: Grace Lichtenstein
---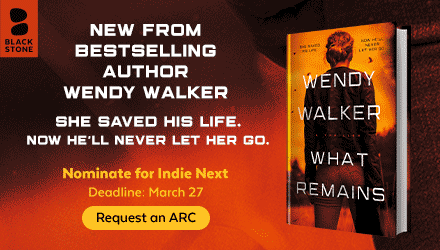 ---