B&N: Slight Fourth Quarter Gain Helps Trim Losses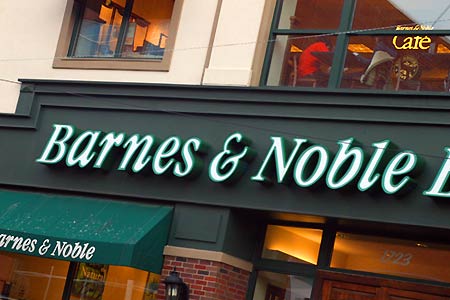 In the fourth quarter ended April 28, revenues at Barnes & Noble rose 0.4%, to $1.4 billion, and the net loss was $57.7 million, a 3% improvement over the same period last year. For the full year, revenues rose 2%, to $7.1 billion, and the net loss was $68.9 million, a 7% improvement over the previous year.

The loss of $1.08 a share is slightly higher than analyst estimates of 93 cents a share, and sales were below estimates of $1.48 billion, which may lead to a decline in B&N stock today.

In the fourth quarter, sales at B&N bookstores open at least a year rose 4.5% and for the year rose 1.4%. B&N attributed the gains to "the liquidation of Borders' bookstores during fiscal 2012, increased sales of NOOK products, and a strong title lineup including the Hunger Games and Fifty Shades of Grey trilogies." Comp-store "core" bookstore sales, which exclude sales of Nook products, rose 6.9% in the quarter and 0.7% for the full year. BN.com sales declined in both the quarter and fiscal year.

For the quarter, bookstore sales rose 0.5%, to $1.05 billion; college revenues rose 5.7%, to $228 million; and Nook revenues fell 10.5%. to $164 million. For the year, bookstore sales fell 1.5%, to $4.9 billion; college revenues fell 1.9%, to $1.7 billion; and Nook revenues rose 34.3%, to $933 million.

Concerning Nook sales this year, B&N said that "device sales declined during the fourth quarter due to higher third-party channel partner returns, lower selling volume and lower average selling prices. In order to optimize the supply chain for new products, the company took back Nook Simple Touch inventory following the previously announced holiday sales shortfall."

Digital content sales--including digital books, digital newsstand and apps--increased 65% in the fourth quarter and 119% for the full year (to $483 million) on a comparable basis.

In comments, CEO William Lynch said, "We grew our business in 2012 while continuing to make the necessary investments for the future of the business." Noting the new partnership with Microsoft, the new Nook Simple Touch with GlowLight, and solid comp-store sales in the fourth quarter, he added, "As we look out to fiscal 2013, we feel the company is strategically well positioned to grow value for shareholders."


---

---