Random House Early Holiday Gift for Indies: Two-Day Transit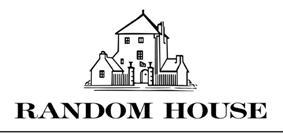 Citing popular demand from independent booksellers, Random House is repeating its two-day transit program this holiday season for all frontlist and backlist titles in all formats at all imprints. Beginning November 1, orders from indies received in Random House's system by 3 p.m. EST will ship no later than the following business day, with a transit time of no more than two days "from dock to door." The program runs through the end of the year and the post-holiday restock season, until March 1, 2013.

"We believe strongly in the future of the physical book and the physical bookstore," Random House COO Madeline McIntosh said. "These booksellers do a great job of connecting our books and authors to their local communities, and we want to give them extra support at this important time of year."

Random House director of account marketing Ruth Liebmann commented: "Faster shipping and fulfillment means less worry for our accounts about inventory levels, less time on a backroom computer figuring out where and when to order stock, and more time on the selling floor." She cited a range of popular titles that will benefit, including new hardcovers from John Grisham, Alice Munro and Ina Garten, a new paperback from Christopher Paolini, and Thomas Jefferson by Jon Meacham.


---

---