Bank Square Books Reopens Today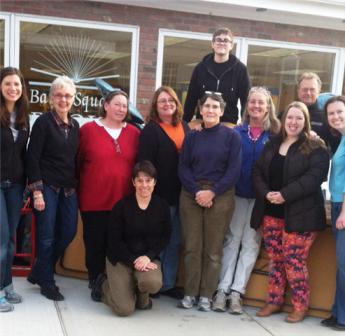 Congratulations to Bank Square Books, Mystic, Conn., which will open for business today at 11 a.m. Because of flooding during Hurricane Sandy, the floor was rebuilt--tile replacing a carpet--parts of walls were replaced and other changes were made, all at breakneck speed.
"Books are on the shelves," the store said yesterday. "We may not be able to find everything, but thanks to all the help we had today, books are in the correct section. What an amazing effort!!"
The shelvers yesterday included co-owners Annie Philbrick and Patience Banister (in picture, third and fourth from the r. in the front row) as well as New England Independent Booksellers Association executive director Steve Fischer and Suzanna Hermans of Oblong Books & Music, Rhinebeck, N.Y., among others.
From 5-8 p.m. today, the store is celebrating its reopening with wine and beer and an appearance by local author Ann Leal, who contributed an essay to My Bookstore, published by Black Dog & Leventhal (more on the book below).
---

---