Bookshops: An 'Important Part of Our National Culture'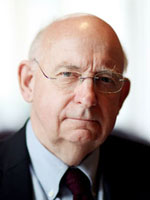 "The physical browsing process is enormously pleasant. It's an important part of our national culture, those bookshops.... But the arithmetic does get more and more difficult, and online retailing gets more and more seductive. And all of us get more and more used to it, from grocery supply to buying books off Amazon. Yet I go to the Westfield shopping centre down the road, and it's turned out to be an absolute goldmine, heaving with people all year round. Anyone who tells you they know the future is telling you the most grotesque lie, because none of us do."
--
Tim Waterstone
, founder and former owner of of the British bookstore chain that still bears his name, in an interview with the
Guardian
. Waterstone is about to return to bookselling as "non-executive chairman" of
Read Petite
, an online outlet for short-form e-books that will be launched to the trade at the London Book Fair and to the public next fall.
---
---