Shelf Awareness for Tuesday, April 3, 2012

Quotation of the Day
Play Ball!
"We're a humanities-based academic press that happens to publish scholarly works about baseball. People sometimes forget that sports is a vibrant part of American history."


News
New Twists in Agency Model Suit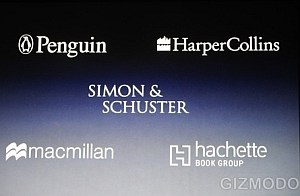 The plaintiffs who have sued Apple and five major publishers of collusion in adopting agency pricing for e-books--a case that mirrors the Justice Department's ongoing investigation--don't have "hard evidence of a conspiracy," but argue in new court filings that there is circumstantial evidence of collusion, according to paidContent.org.

Among the point of "evidence," paidContent said:

"A series of four deals in twelve days between Apple and the publishers. A trade association meeting at which senior executives from Hachette and Macmillan were seen together in a hotel bar. [!] Similar terms in the contracts between Apple and the five publishers."

The filing also "recasts Barnes & Noble's role in the affair," paidContent continued. "In a January complaint, the plaintiffs had implied that the bookseller may have supported the conspiracy because it wanted to protect the price of its hardcover books. Now, the plaintiffs call attention to the fact that Barnes & Noble launched its Nook reader months before the iPad and that the publishers didn't change their pricing system in response--the point appears to be that only Apple was big enough to broker a conspiracy."




Seattle Times Pummels Amazon Again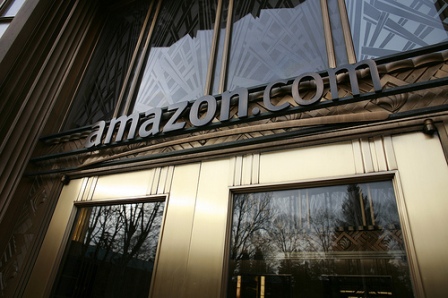 It's enough to make one feel a little sympathy for Amazon.
The
Seattle Times
has published another long article critical of the e-tailer. This one, called "
States fight back against Amazon.com's tax deals
," highlights Amazon's "national fight to hang on, for as long as possible, to one of its major advantages over brick-and-mortar retailers"--not collecting sales tax in many states--even as "the days of tax-free Internet shopping appear to be coming to an end, something that Amazon itself has conceded in recent months."
In part because of the company's aggressive tactics, "The perception of the company has changed 180 degrees," Michael Mazerov, senior fellow with the Center on Budget and Policy Priorities, told the paper. "It is viewed as the bully in these situations."
But on the national stage, the company is now fully supporting a federal sales tax collection "solution," something whose passage is viewed as slim in the near future given the partisan divides in Congress.


Crown Books Opening in Old Borders Site in Calif.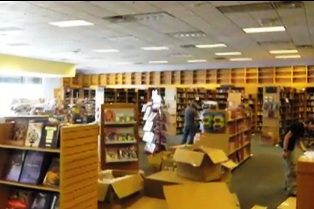 Crown Books, the small southern California bookstore chain, is opening a store in Rancho Santa Margarita in a former Borders location, according to the local Patch.

Like the other Crown Books stores, this one will focus on remainders and overstock.

After the Crown Books founded by Robert Haft collapsed in 2001, A&S Booksellers bought the name and trademark and has used it on most of its stores.




Chattanooga Chew: New College Store in Old Space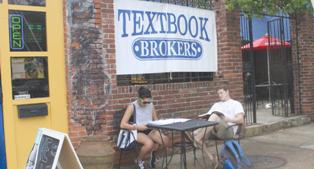 Textbook Brokers has opened in space that was vacated by Chattanooga Books, one of the Nebraska Book Company off-campus college stores that closed when the company restructured recently, the University Echo reported.

Serving the University of Tennessee at Chattanooga, the store carries new and used print and e-textbooks for purchase or rent.

Textbook Brokers has some 80 stores, mostly in the South.




La Casa Azul Nears Opening
The New York Daily News profiled La Casa Azul, the Latino bookstore that is close to opening in East Harlem and is owned by Aurora Anaya-Cerda.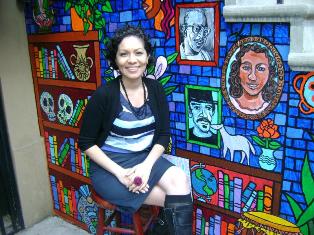 "I feel like this bookstore is a perfect fit for this neighborhood, because it will have those traditional (Latino) components and those elements in terms of design," Anaya-Cerda, who also works at the cultural center El Museo del Barrio, told the paper.

Anaya-Cerda began selling books as a "traveling bookstore" in 2006 and launched a website two years later. Last year, she held a $40,000 in 40 days fundraiser (raising $36,000) and received a matching donation from a supporter who wishes to remain anonymous.

Besides books, the store will sell coffee, offer writers' programs and include an art gallery, a place that will be "the literary haven of East Harlem--where you come whether you're a reader, you're a writer or you're interested in learning about culture and literary arts."

The website, which she originally intended to start after she opened the store, "created a platform for me and began to draw an audience," she said. People began asking where the store was and its hours.
The News also has a q&a online with Anaya-Cerda.
photo: Laura Booth


E-Reading App for 'Non-Smartphones'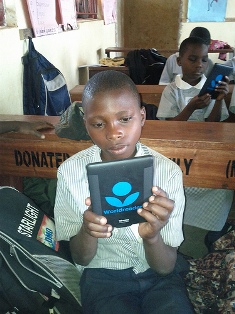 Worldreader, an American nonprofit literacy agency, has beta-launched an app for non-smartphones with the goal of distributing free e-books into sub-Saharan Africa and other parts of the developing world, the Bookseller reported, noting that the biNu app "uses cloud-based data compression technology to enable any Java-enabled 'feature' phone (non-smartphone) to download e-books and access news websites and Facebook over an ordinary mobile signal."

"These 'feature' phones--or dumb phones--may not look cool, but they are the phones that are used by billions of people in the developing world," said Elizabeth Wood, Worldreader director of digital publishing. "We've created the app to give access to books to those who don't have it."

She also noted that Worldreader is talking with publishers about increasing the content: "The end-game is to have thousands of e-books on the app. Yes, this is a leap of faith for publishers, giving away some of their content for free. But once you give these kids in the developing world the tools and hook these kids on books, they will become book buyers."



Notes
Image of the Day: Bookseller Arm Signing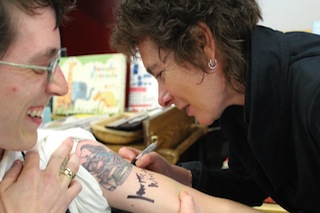 At an event for Jeanette Winterson's Why Be Happy When You Could Be Normal? (Grove) last month at Skylight Books, Los Angeles, Calif., the author signed the arm of bookseller Emily Pullen, just below her tattoo of Roald Dahl's Matilda sitting on a Winterson book. Pullen said the photo exists "just to show how much of a rockstar Winterson is to me."
Photo: Noel Alumit


Cash Mobs Hit Booksellers in Maine and Ontario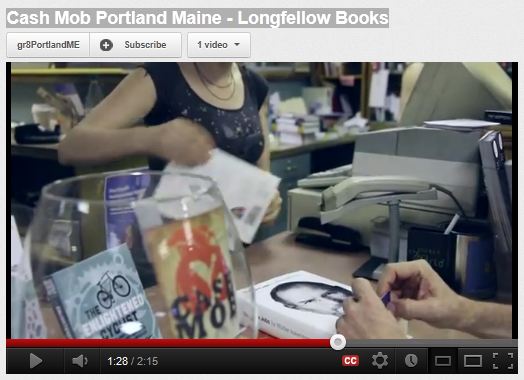 On March 22, Longfellow Books was selected as the first beneficiary of Portland, Maine's Cash Mob, organized by www.gr8PortlandME.com. In a video of the event, Longfellow's co-owner Stuart Gersen said, "I've been Cash Mobbed, and it was great.... This is as many people as we've had in the store maybe since the best night right before Christmas."

Gerson told the Bangor Daily News: "I only recognize a few of these people. So this could be a lot of new customers, which is probably as important as the $20 they're carrying.... You know how much effort businesses go through to get people through the door? I don't know how much this is worth in advertising."

---

North of the border, Cash Mob Windsor hit Juniper Used and Rare Books recently, and owner Roger Wurdemann said sales during the first two hours had doubled the business he usually does in an entire day.

"I'm honored to be the first business chosen and thrilled to be part of something I think is a great idea," he said. "When I heard about this incredible idea I knew I wanted to be a part of it."

Organizer Kelly Ouellette observed: "We want small businesses to understand how valued they are. If we don't we'll lose these people who are truly gems in our city."

According to the Windsor Star, in "less than six months the Cash Mob movement has spread to at least 170 different cities in the U.S. as well as cities in Canada and Italy."



Scribner's Bookstore Nostalgic Moment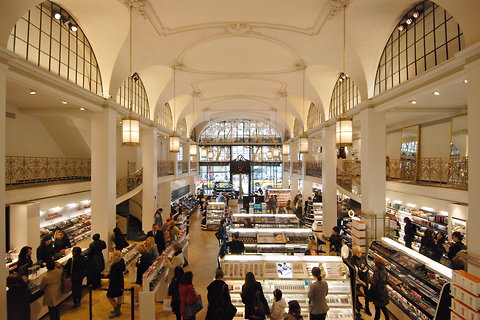 The New York Times revisits the old Scribner's bookstore on Fifth Avenue, which was designed by Ernest Flagg a century ago. The space is now a Sephora shop but retains the distinctive architectural elements that made it so beautiful. (See a striking slide show here.)
In a related note, the Grolier Club has a free show called "Ray Safford, Rare Bookman," focusing on Scribner's retail chief in the 1910s and '20s. The show has letters from customers, including this from Royal Cortissoz, the Times art critic during the period, about a set of Robert Louis Stevenson's newly published letters: "If you do not send them to me, to round out my little edition of Stevenson, I will haunt you in the shape of a rattlesnake with the voice of a tiger, and I will steadily, for the next 18 years, put spiders in your tea!! So there!!!"


Bookmasters Distributing Editorial Océano Mexico
Bookmasters will distribute Editorial Océano Mexico's Spanish-language adult books in the U.S. and Puerto Rico.
One of the major Spanish-language book publishers, Editorial Océano has offices in Barcelona Spain and Mexico City.


Book Trailer of the Day: Prom
Prom by Mary Ellen Mark (J. Paul Getty Museum), which is accompanied by a 40-minute documentary on DVD, from which this trailer was made.


Media and Movies
Movie: The Hunter
The Hunter, based on the novel by Julia Leigh, opens with a limited release this coming Friday, April 6. A mercenary (Willem Dafoe) is hired to hunt the last Tasmanian Tiger, despite a hostile local (Sam Neill). The movie tie-in edition is from Penguin ($14, 9780142000021).


Media Heat: Mother-and-Daughter Clarks on Imus
Tomorrow morning on the Today Show: Jill Smokler, author of Confessions of a Scary Mommy: An Honest and Irreverent Look at Motherhood: The Good, The Bad, and the Scary (Gallery, $15, 9781451673777).

Also on the Today Show: Amanda Beard, author of In the Water They Can't See You Cry: A Memoir (Touchstone, $24.99, 9781451644371). Beard will appear on Dr. Phil tomorrow, too.

---

Tomorrow morning on Imus in the Morning: Mary Higgins Clark, author of The Lost Years (Simon & Schuster, $26.99, 9781451668865), and Carol Higgins Clark, author of Gypped (Scribner, $25, 9781439170311).

---

Tomorrow morning on Fox & Friends: South Carolina Governor Nikki Haley, author of Can't Is Not an Option: My American Story (Sentinel, $27.95, 9781595230850). She will also appear on Imus in the Morning and Laura Ingraham.

---

Tomorrow on ABC's What's the Buzz: Tori Spelling, author of celebraTORI: Unleashing Your Inner Party Planner to Entertain Friends and Family (Gallery, $25.99, 9781451627909).

---

Tomorrow on NPR's Diane Rehm Show: Blaine Harden, author of Escape from Camp 14: One Man's Remarkable Odyssey from North Korea to Freedom in the West (Viking, $26.95. 9780670023325). Also on the show: Shin Dong-Hyuk, subject of the book.




Books & Authors
Awards: ASJA Winners; ForeWord Finalists; BMO Winterset
The American Society of Journalists and Authors's annual writing awards, honoring the outstanding nonfiction work produced on a freelance basis during the past year, include book awards. The awards will be presented April 26 at the ASJA Writers conference in New York City. The book winners and honorees:

General nonfiction winner: Running Away to Home by Jennifer Wilson (St. Martin's)

General nonfiction honorable mentions:
Blood Work by Holly Tucker (Norton)
Better by Mistake by Alina Tugend (Riverhead)

Service/self help winner: Naked at Our Age by Joan Price (Seal Press)

Service/self help honorable mentions:
Built on Values by Nancy Shepherdson (and Ann Rhoades) (Jossey-Bass)
Having Children After Cancer by Gina Shaw (Celestial Arts)

Memoir/autobiography winner: The Kitchen Counter Cooking School by Kathleen Flinn (Viking)

Memoir/autobiography honorable mentions:
Far Away from the Tigers by Jane Katch (University of Chicago Press)
Not Dead Yet by John Hanc (and Phil Southerland) (Thomas Dunne Books)

Children's/YA honorable mentions:
Elizabeth Cady Stanton and Susan B. Anthony by Penny Colman (Holt)
Charles Dickens and the Street Children of London by Andrea Warren (Houghton Mifflin)
---
Finalists for the 2011 Book of the Year Awards, sponsored by ForeWord Reviews and "designed for booksellers and librarians to share in the process of discovering distinctive books across a number of genres with judgments based on their own authority and on patron interests," have been chosen. The winners will be announced on June 23 during ALA in Anaheim, Calif.

---

Don McKay won the $10,000 BMO Winterset Award, which celebrates writing by authors from Newfoundland and Labrador, for his essay collection The Shell of the Tortoise, Quillblog reported.



IndieBound: Other Indie Favorites
From last week's Indie bestseller lists, available at
IndieBound.org
, here are the recommended titles, which are also Indie Next Great Reads:
Hardcover
The Dog Who Danced: A Novel
by Susan Wilson (St. Martin's Press, $24.99, 9780312674991). "If you liked Garth Stein's
The Art of Racing in the Rain
, this should be next on your reading list. This story of love, loss, and redemption moves between venues and characters with the grace and fluidity of a dancer. The voices of Justine, who lost Mack; Ed, who found him; and Mack, himself, move this intricate but smoothly written novel quickly from Seattle to New Bedford. I couldn't wait to get to the next chapter and find out how these flawed but likeable humans were affected by losing or finding Mack, and where Mack would eventually wind up. Wonderful!" --Trish Cutsail, A Likely Story, Sykesville, Md.
Murder at the Lanterne Rouge
by Cara Black (Soho Crime, $25, 9781616950613). "This is a whirlwind mystery featuring Aimee Leduc of the Leduc Detective Agency. The agency specialized in computer security, but Aimee always stumbles onto murders, and in this case she must find the murderer because her partner Rene's girlfriend is the main suspect. Black expertly weaves the social issues of Chinese sweatshops and illegal immigrants with current science and computer technology, 14th century Templars and guilds, and the local police and French secret service. The murder is only one of the mysteries in this investigation that will delightfully transport you to Paris." --Patricia Moody, Hickory Stick Bookshop, Washington Depot, Conn.
Paperback
The Evolution of Bruno Littlemore: A Novel
by Benjamin Hale (Twelve, $14.99, 9780446571586). "
The Evolution of Bruno Littlemore
is a serious novel that manages to transform an interspecies love story into a journey into language, humanity, life and death. It cleverly challenges the reader to explore ancient philosophical themes while sharing a love story between a woman and a chimpanzee, which includes some very funny moments. The story leaves you thinking deeply about what it means to be human. Open the book--and your mind--and let Benjamin Hale take you away." --Ed Conklin, Chaucer's Books, Santa Barbara, Calif.
For Teen Readers
Fever (The Chemical Garden Trilogy)
by Lauren DeStefano (Simon & Schuster Books for Young Readers, $17.99, 9781442409071). "Picking up where book one,
Wither
, left off,
Fever
is a non-stop thrill ride. Rhine, devastated by the life she has been forced into, makes a life-altering decision affecting not just her, but her sister wives and Gabriel as well. Rhine's journey to freedom and her struggle with who ultimately decides one's fate makes readers question their own mortality. DeStefano has written one of the strongest female characters in young adult fiction today." --Alexis Duell, Market Block Books, Troy, N.Y.
[Many thanks to IndieBound and the ABA!]


Book Review
Review: The Cove
The Cove by Ron Rash (Ecco, $26.99 hardcover, 9780061804199, April 10, 2012)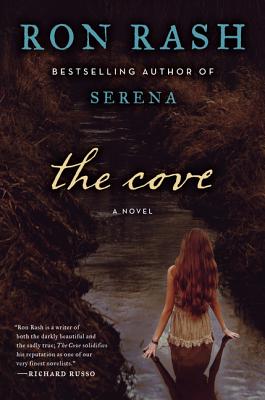 Four years after the publication of his popular and critically acclaimed novel Serena, Ron Rash returns to his home territory in the mountains of western North Carolina to tell a love story set in the waning days of the First World War.
Life is simple and harsh in the cove where Laurel Shelton lives with her brother Hank, who's returned home after sacrificing a hand on the European battlefield, one of several local young men who've been scarred horribly in the war. Their parents both have died in the preceding year and Laura, disfigured by a prominent birthmark, must endure the whispers of locals that she is a witch.
Her life changes the day she encounters Walter Smith, a mute, illiterate man who plays flute music so sorrowful it was as if "was about every loss that had ever been." When he proves his usefulness as a laborer, the Sheltons invite him to stay on at their cabin; the initial attraction Laura feels for him quickly deepens into love. The discovery midway through the novel of a secret Walter has been hiding casts a dangerous new light on the lovers' involvement and propels the story toward its devastating climax.
The novel is based in part on a true incident from the war, involving a troop of German sailors interned in a prison camp in Hot Springs, N.C. In the character of Chauncey Feith, an officious striver who serves as the local army recruiter and scourge of all things German (he prowls the local college library purging German texts), Rash exposes the ugliness of the nativist sentiment that seems a recurring plague of our life in wartime.
While the love story has limitations imposed by Walter's silence, Rash excels in his portrait of both the physical and cultural landscape. The cove, dark and densely wooded, is a place where "brightness never stayed long." He captures the rhythms of the raw rural idiom (a preacher "bibled" the Sheltons' mother's funeral, while Laurel hopes teaching Walter to read and write "might confidence him more") in a county where moonshiners are comfortably situated in the local economy. Though characters like Laurel and Hank may be humble, Rash unsentimentally invests their lives with a dignity that flows from an embrace of hard work and a sense of rootedness.
That strong sense of place might cause some to pigeonhole Ron Rash as a "regional" writer, but with The Cove, he leaves the strong impression he's only begun to mine a rich lode of memory and imagination his region has delivered to him. --Harvey Freedenberg
Shelf Talker: Ron Rash returns to the mountains of North Carolina with a powerful new love story.


Deeper Understanding
Zuccotti Park Press: A Pamphleteer's Occupation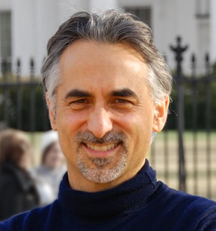 Greg Ruggiero, an editor at City Lights Publishers, founder of Open Media Books and the driving force behind Zuccotti Park Press, writes about the press's beginnings and inspirations:
Who in their right mind would start a small press at a time when the economy is still fragile, e-book sales are rising and some say bookstores, libraries and perhaps the printed word itself will have the same fate as vinyl records and record stores?
Well, we would. Why? Because suddenly we find ourselves in an unique moment where we may have a chance to turn things around, and the printed word, the broadside, the pamphlet, the book, the bookstore and the library have key roles to play in preserving and advancing our intellectual, cultural and political freedom.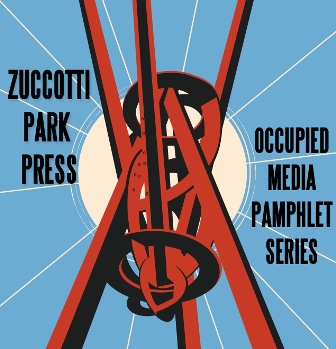 I've always loved pamphlets. They have the immediacy and urgency of guerrilla radio. They fit in your pocket. People share them with one another. The best are not just analysis, but an irresistible call to action that resonates with our conscience and with the times, demanding that we act.
"Perhaps the most important publication in the history of the United States was neither a book nor a periodical, but a pamphlet," Howard Zinn wrote in his essay "Pamphleteering in America." He described, too, how Common Sense went through 25 editions and sold hundreds of thousands of copies, the equivalent of "eight million copies of a pamphlet sold today in the United States."
Given the new political spaces being opened by the Occupy movement, creating pamphlets today seems like common sense. Pamphlets can only further the movement's success as it transitions from occupying tent camps to occupying the national conscience.
I first made it to Zuccotti Park, the birthplace of the Occupy movement, at the end of September. My friend, author Joe Nevins, insisted I meet with him there. I had been closely following developments, and thought I know what it was and what I'd encounter. I was way wrong.
Streams of people snaked through the park, visiting tables, sharing, meeting, engaging. In all my years of participation in social movements--at 47, I've been involved in a few--I'd never seen anything like it. Something inside me opened big and green like a jungle leaf to take in all the energy and light. A sign read, "The Beginning Is Near."
That was last September 30. I woke up the next day feeling like Richard Dreyfus after his face got scorched red in a Close Encounters of the Third Kind. I had to go back. I told my wife that I was going to make a quick visit and that I'd be home for dinner. But that's not what happened. While she was enjoying dinner, I was in handcuffs, singing songs in a police bus packed full of fellow protestors from the movement. Seven hundred people were arrested on the Brooklyn Bridge that day as we marched from Zuccotti Park to Brooklyn.
There were lots of meetings and discussions in our jail cell. One young protestor asked out loud, "What does solidarity mean? That we are solid?" A small circle immediately formed, myself included, around him. To answer his question, each person shared a story conveying what solidarity meant to them. There was no single definition, just stories and examples. The question, and the way it was answered, has stuck with me, awakening the pamphleteer in me to ask and address basic questions like his in circles far beyond the windowless jail cell. There and then, the seed for the Occupied Media Pamphlet Series was planted.
But that's not what pulled the trigger.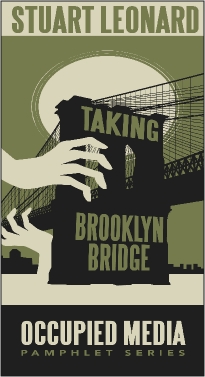 A few days later, an old poet friend, Stuart Leonard, e-mailed me. He was on the Brooklyn Bridge too, and he and his wife had narrowly escaped arrest. The experience on the Bridge was to him what Zuccotti Park and jail have been to me--an awakening--and he was inspired to write a poem, "Taking Brooklyn Bridge."
The poem gave me goose bumps. Written to Walt Whitman and evoking the cadence and style of his magnificent poem "Crossing Brooklyn Ferry," "Taking Brooklyn Bridge" sings the song of awakening.
I sent "Taking Brooklyn Bridge" by e-mail to Lawrence Ferlinghetti, asking whether he would encourage Stuart. Ferlinghetti, 92 years old, responded right away, saying, "It's an impassioned poem and should be published broadside! Why don't you revive your Open Pamphlet Series and publish it?"
That pulled the trigger.
Inspired by the liberated spaces created before the raids, Zuccotti Park Press and the Occupied Media Pamphlet Series are being published by the nonprofit, immigrant advocacy group Adelante Alliance in Brooklyn. Most of the labor on the publishing project, mine included, is donated. People I met in Zuccotti Park and in jail have helped bring the new effort to life.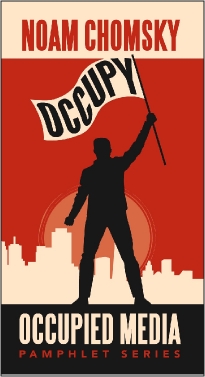 Our first nationally distributed pamphlet, due out May Day, is titled, Occupy. It's a 128-page call to action, a call to resist, a call to continue reaching out and struggling for a better world. "The Occupy movements have been a remarkable success," said Chomsky, who is working with us on the pamphlet. "They've changed the national discourse. They have introduced into public view crucial concerns that had been hidden. They've created communities of mutual support and solidarity.... In fact, one sign of their success is the nature of the repression against them." Occupy features a dozen photos and a "what to do if you get arrested" guide for protestors written by the National Lawyers Guild. Foreign rights have been selling briskly. Roam Agency has already made deals for editions in France, Italy, Korea, and the U.K., where Penguin will bring out an edition.
Forthcoming in September: Taking Brooklyn Bridge by Stuart Leonard, Message to the Movement by Mumia Abu-Jamal (featuring poetry by Alice Walker), Occupying Language by Marini Sitrin and Dario Azzellini. Also in the works: Get it Together by Angela Davis and an interview pamphlet with Ralph Nader.
To quote our pamphlet with Angela Davis, "We transform the meaning of occupation. We turn occupation into something that is beautiful, something that brings community together, something that calls for love and happiness and hope."