World Book Night: 'Y'all Are Made of Awesome'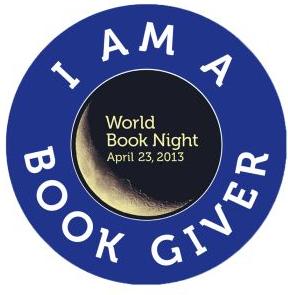 World Book Night U.S. generated plenty of book passion yesterday. The #WBN2013 Twitter hashtag was working overtime for @wbnamerica, and WBN Facebook posts streamed in with enthusiastic commentary and photos of happy book givers. Here's a sampling of WBN U.S. reactions from various sources and locations, proving the event was a nationwide celebration indeed.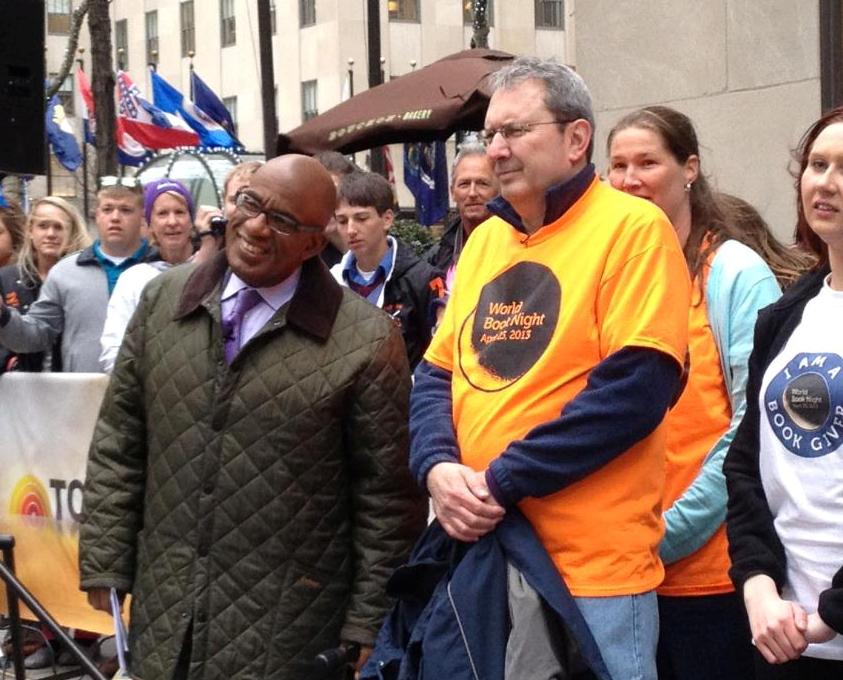 First thing yesterday morning, WBN U.S. executive director Carl Lennertz was "spreading the love of reading with Al Roker in the Today Show. Such fun!"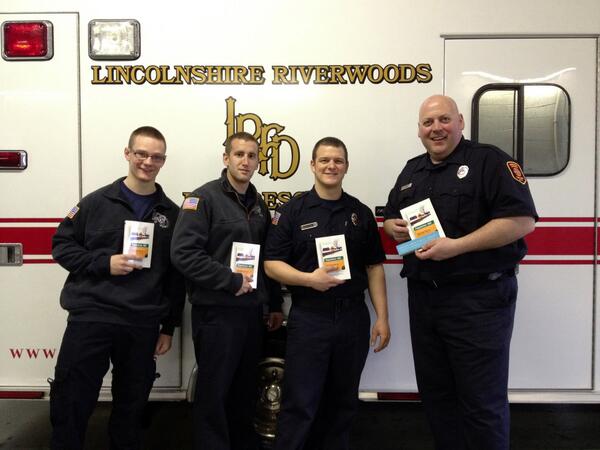 The Vernon Area Public Library District, Illinois, shared copies of Population: 485 with the Lincolnshire-Riverwoods FPD.
---

From My Shelf Books & Gifts, Wellsboro, Pa.: "Happy World Book Night!!! (err... WBN day...) Today & tonight, 19 book givers will go out into our communities, in Tioga and Potter counties, and give out free books to those folks who would benefit most from some encouragement to read! The givers will be at schools and churches, laundromats and coffee shops, prisons and hotels, bars and convenience stores. Thanks to all the authors & publishers who gave up royalties on these books; thanks to those who organized all this; thanks to all the WBN volunteers!"

---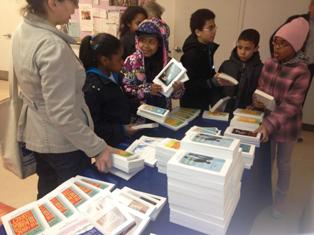 Goddard Riverside Community Center, N.Y.C.: "It's @wbnamerica at Goddard and the giving has already started!" And: " 'You mean we don't have to pay?'--Members of our senior center are pleasantly surprised with a free book!"

---

The Christian Science Monitor: "At tonight's performance of the current Broadway revival of the musical Annie--which tells the story of a plucky orphan living during the Depression--books will be given to each audience member with a ticket. The books' recipients will be encouraged to pass them along to someone who isn't necessarily drawn to reading." (WBN's photo of seating arrangements)


---

Book giver's comment on WBN's Facebook page: "I gave all my books away! What a joy it brings me to give books! I actually had a SUV pull up and ask me if they could have two books! They had seen my sticker saying I was a book giver. The young man working the window at McDonalds also saw my sticker and asked about it. I gave him a book. I had set out for my usual book giving place and never made it there as the books were given before I could get there!"

---

@karen_g: "Just dropped off some books with the Transit Police here in Boston. Can't think of some more deserving folks this wk!"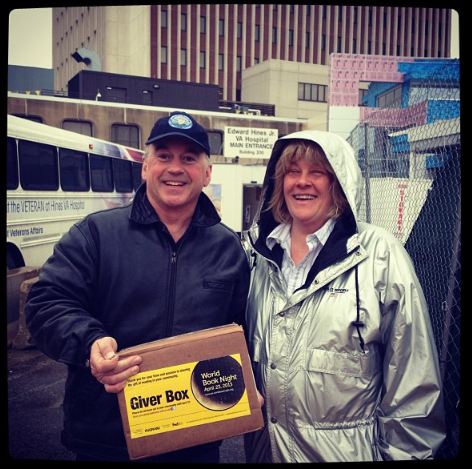 Chris Wolak shared this photo of her friends at the Hines [Ill.] VA hospital.
---

Liberty Bay Books, Poulsbo, Wash.: "Thank you to everyone who spent this April 23rd spreading the love of reading across Kitsap County!"
---

@HemngwayHeroine: "Is the #wbn2013 market seeded? More people taking without asking too many questions this year." And: "My #wbn2013 goal from last year was to approach a more diverse group of people. I got young, old, male, female this year." And: "Next year my goal is to encourage more conversation. Maybe get some photos."

---

Maria's Bookshop, Durango, Colo., shared its first WBN U.S. photo "from a Durango giver! Former Maria's bookseller Lindsay, up at Fort Lewis El Centro de Muchos Colores Hispanic Resource Center this afternoon. Looking forward to more photos from our 39 awesome local givers!"

---

@AnnKingman: "About 300 attended the @FoxboroughRCS World Book Night celebration. So many happy families!" And: "The @FoxboroughRCS student readers. Each read one of the #wbn2013 books and answered questions." pic.twitter.com/RgVBVA3OwB

---

@librarian_erinw: "Books were given out on the Butler Freeport Trail via bike tonight!"

---

Book giver's comment on WBN's Facebook page: "Went to Gus's a local Grog 'n Grill and gave away THE TENDER BAR, everyone seemed pleased, I had fun and even gave one to a gentleman having a birthday... told him he was in great birthday company. Saved one for a man who told me he got back to reading after receiving a book from me last year, and had asked if he could have one this year!"

---

@MarianLaPage: "One guy declined, and the stranger next to him on the bus leaned over and said, 'Are you sure? It's David Sedaris!' He took it!"

---

Magers & Quinn Booksellers (@magersandquinn): "World Book Night giver braves April blizzard in Minneapolis!"

---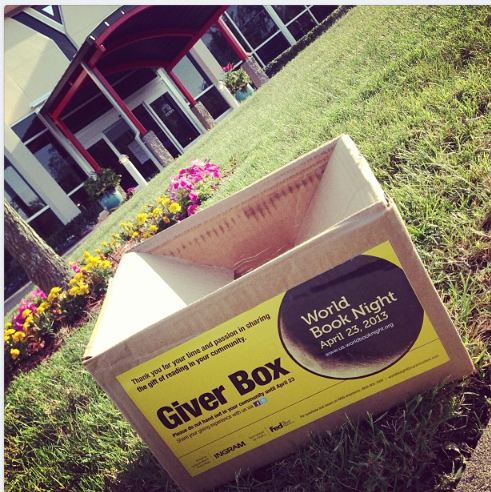 @jennadoesbooks: "An empty box of #wbn2013 books is sitting in front of the YMCA that they happily went into!" http://instagram.com

---

@realjohngreen: "Thanks to all the #wbn2013 volunteers sharing books with people. Y'all are made of awesome."


---

---