This Week's Rumor: Microsoft Not Buying Nook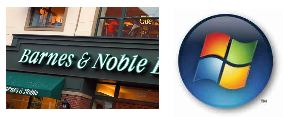 A rumor that Microsoft is going to buy Nook Media from Barnes & Noble for $1 billion may turn out to be just a rumor. If you believe the latest rumor.
Last Thursday, TeleCrunch cited "internal documents" for its story about the purchase, which caused B&N stock to jump 24.3%, to $22.08.
Yesterday, however, Insider Monkey said "a highly placed source inside Microsoft" wrote on Friday: "I literally just walked out of the meeting today discussing all this Microsoft/Nook hoopla going on. This deal was nothing more than a rumor. Microsoft Corporation will not come out and deny or confirm for legal reasons, but the company has no intention of acquiring the Nook unit. Nook is closely integrated with Android (hence their recent Google Play feature) and there is no way it could be ported to Windows 8. This was simply something TechCrunch rushed to report with no fact-checking."
As a result, yesterday B&N stock fell 9.5% to $21.10.
---

---