New Owner for Quail Ridge Books & Music
Quail Ridge Books & Music, Raleigh, N.C., has a new owner. On Friday, Nancy Olson, who founded the bookshop in 1984 and put it up for sale last November, introduced Lisa Robie Poole, who is buying the business and "wants to preserve the qualities that have made it one of the region's most successful and beloved independent bookstores," the News & Observer reported. The sale officially takes place July 31, and Poole will begin working mid-August. The Bookstore Training Group of Paz & Associates handled the sale of the store.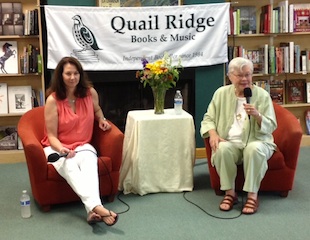 "I think that the Olsons have created something wonderful here, iconic," said Poole (in red in photo). "It's very well-known locally and nationally, and I can't imagine coming in here and trying to do something different with that."

Three parties were interested in purchasing the store, but Olson cited Poole's personality and their instant rapport as deciding factors: "Look at the smile. I liked her personally. I liked her demeanor, just down-to-earth. She didn't try to be a smart aleck or prove that she knew everything or whatever. I just knew we would get along real well."

Olson is staying at Quail Ridge for the first three months as an adviser, and will be available as a consultant after that if needed.

"I'm going to get to know this bookstore top to bottom and all the folks that run it with the help of Nancy," Poole said. "I'll work really hard. I'm a good people person, so I hope that I'll be the friendly face when you walk in the door." Poole is a Raleigh native with two children; her husband is CEO of Waste Industries. (She grew up in the same neighborhood where David Sedaris grew up.)

For her part, Olson has plans: "I'm going to read like the devil. I will have so much more time to read, and I'm happy about that."
Quail Ridge has helped launch the careers for many North Carolina writers, including Lee Smith, Kaye Gibbons, Jill McCorkle and Charles Frazier. (The store has sold 6,000 copies of Frazier's Cold Mountain.) In 2001, Quail Ridge won an award trifecta: the Publishers Weekly Bookseller of the Year award, the Pannell Award for Excellence in Children's Bookselling and the Haslam Award for Excellence in Bookselling.
---

---