Bookstore Sales Off 4.5% in August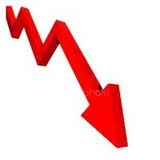 August bookstore sales fell 4.5%, to $1.9 billion, compared to August 2012, according to preliminary estimates from the Census Bureau, which were delayed two weeks because of the government shutdown. For the year to date, bookstore sales have fallen 2.6%, to $8.8 billion. So far this year, sales improved in January and March over 2012, but were down every other month, in part because of high sales a year earlier of the Hunger Games and Fifty Shades of Grey trilogies.
Total retail sales in August rose 4.8%, to $442.7 billion, compared to the same period a year ago. For the year to date, total retail sales have risen 4.3%, to $3,340.7 billion.
Note: under Census Bureau definitions, the bookstore category consists of "establishments primarily engaged in retailing a general line of new books. These establishments may also sell stationery and related items, second-hand books, and magazines."
---

---