Shelf Awareness for Readers for Friday, March 23, 2012

Book Candy
Spring Lit Quiz; Dream Library Loft; E-Reader for Car Guys?
What do you, as a reader, really know about spring? The Guardian "decided to test your literary knowledge with this blooming array of seasonal questions."
---
The "library loft" was one of Buzzfeed's "10 design ideas for your dream loft."

---

A selection of disgruntled marginalia written on illuminated manuscripts by medieval monks was featured at Brain Pickings, including this gem: "Now I've written the whole thing: for Christ's sake give me a drink."
---
Wanted: an e-reader for car guys. Wired magazine's Jason Torchinsky wrote: "Like most car guys (male and female, of course) I use repair books and guides when I work on my cars, and I've often wished I had them electronically.... My hands are grease and grit encrusted pentapods that would make any touchscreen unusable in seconds, and any trackpad or keyboard a mess. Using the devices I have now is not an option."
Great Reads
Nature Is Alive and Well in Picture Books
A recent study of nature in children's books, conducted by University of Nebraska-Lincoln sociology professor emeritus J. Allen Williams, Jr. and a team of researchers, found that nature "has increasingly taken a back seat in award-winning children's picture books" and that this further suggests a "sobering trend... consistent with a growing isolation from the natural world." What did they study? Caldecott Medal and Honor books from 1938 to 2008.
But if Williams and his team had examined the Caldecott award books up to the present, they'd have rejoiced in the choices for 2010--a unanimous endorsement of nature: Jerry Pinkney's wordless extravaganza set on the Serengeti, The Lion and the Mouse (Little, Brown), the 2010 Caldecott Medal winner; the two 2010 Caldecott Honorees All the World by Elizabeth Garton Scanlon, illustrated by Marla Frazee (Beach Lane/S&S), which celebrates the interconnectedness of life by the sea, its farms and its people, and Red Sings from Treetops: A Year in Colors by Joyce Sidman, illustrated by Pamela Zagarenski (Houghton Mifflin Harcourt), an homage to the seasons. Surely a 100% nature books year offsets their mean.

Of the 2012 books, could there be a greater nature lover than the canine star of the Caldecott-winning A Ball for Daisy by Chris Raschka (Schwartz & Wade/Random House)? Okay, maybe that's a stretch. But what about Grandpa Green's intergenerational heroes in the Caldecott Honor book by Lane Smith (Roaring Brook/Macmillan), whose pride and joy are the topiaries they tend. And I think we could agree that Jane Goodall was fond of nature in Patrick McDonnell's Caldecott Honor book Me... Jane (Little, Brown). Even Blackout by John Rocco (Disney/Hyperion), notwithstanding the urban backdrop, finds its cast of characters up on the roof! Nature brings them all together. A sobering trend of growing isolation from the natural world in children's books? Hardly.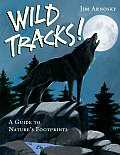 But why would they think Caldecott books would be the best source of titles about nature for children? The best illustrated books of the year often do include nature representations, but the best nature books have their own tall orders to fill: accuracy and information for young people who want to learn more about their own and others' environment and how best to appreciate it and care for it.
Some of the giants in the field are Jim Arnosky, with his detailed field guides that model for children how to keep scientific notebooks (Field Trips, HarperCollins; Wild Tracks, Sterling).

Jean Craighead George's books, illustrated by Wendell Minor (Everglades and Luck, both HarperCollins), delve deeply into a specific ecosystem and often pinpoint the elements that put it at risk (sometimes of a human nature). Nic Bishop has created some of the most outstanding photographs of the natural world available, such as his recent Butterflies and Moths (Scholastic) for beginning readers and his work for the 2011 Sibert Medal–winning book by Sy Montgomery, Kakapo Rescue (Houghton Mifflin).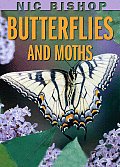 These researchers would have gotten a better picture by examining ALA's Sibert Medal winners and honor books, the NSTA's (National Science Teachers Association) Outstanding Science Trade Books, the Orbus Pictus Award given by the National Council of Teachers of English for the best nonfiction picture book of the year.
While Williams writes, "I am concerned that this lack of contact [with nature in picture books] may result in caring less about the natural world, less empathy for what is happening to other species and less understanding of many significant environmental problems," I am concerned about how Williams is teaching his students to conduct research. Most children have an innate sense of wonder about nature and a fierce drive to protect it. The best creators of picture books about nature ignite that feeling of awe in young readers, and not all of them can win a Caldecott Medal. --Jennifer M. Brown, children's editor, Shelf Awareness
The Writer's Life
David Foenkinos: The Delicate Art of Film Adaptation
David Foenkinos's books have been translated in 30 countries around the world. But it wasn't until his 2009 novel, La délicatesse--a story about a young widow who forms an unexpected relationship with an emotionally fumbling coworker--became a bestseller in his native France that American publishers finally took notice. Harper Perennial acquired that book, now retitled Delicacy, and while it can be hard sometimes to introduce a new author in translation, the publisher has a slight advantage this time--Delicacy is now also a film starring Audrey Tatou and François Damiens as Natalie and Markus, with a screenplay adapted by Foenkinos, who also co-directed with his brother Stéphane.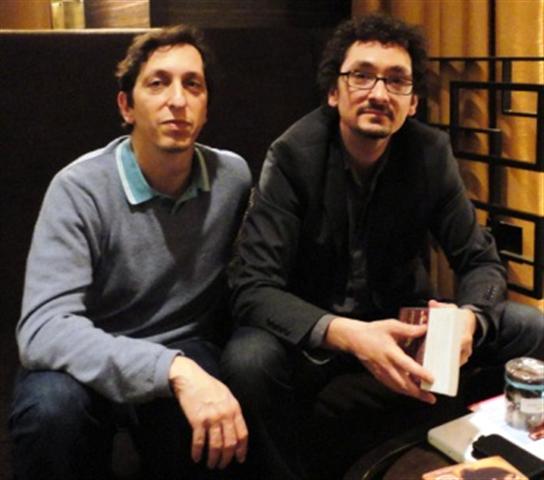 Stéphane and David Foenkinos visit N.Y.C.
"At the beginning, I didn't think it would be a movie," Foenkinos admits, sitting in an uptown Manhattan hotel lobby at the start of a double-duty publicity tour. (He has very little trouble with English, but Stéphane--who became extremely fluent over years of working with Hollywood filmmakers as a casting director for French-location shoots--is on hand to supply translation for the occasional word or phrase.) He'd written original screenplays before, but none of them had ever been filmed, and he wasn't especially interested in adapting his own novels. "This was the first time that I felt I had the movie story in me."
But what about a scene early in the novel, written like a screenplay with an authorial footnote: "Actresses imagined by the director: Audrey Tatou as Natalie and Mélanie Bernier as Chloe"? Just a joke, he insists, although he did eventually get both actresses for those parts. Because the novel's story is relatively simple, he explains, "I tried to have fun with the idea of novelization, the act of writing the novel." (Other small chapters have dictionary definitions, quotations from other authors, and random bits of background information about the characters.) "It was more of a playful thing, rather than thinking ahead."
"It was important to keep the spirit of the book," Foenkinos said of the adaptation process, and though there were some scenes that didn't survive the transition from novel to screenplay, he doesn't regret any of the omissions--although there are some bits he does miss just a little, like a scene in which Markus, hoping to confront Natalie at work, walks up and down the hallways outside her office all morning and afternoon, only to be told that she never came in that day. "It would have been funny," he said, "but it would have been hard to keep it in." On the other hand, he did get to keep another scene where an embarrassed Markus twists his neck to avoid looking Natalie in the eye when she tries to start a conversation. ("That makes up for a lot of scenes from the book that explain Markus's character that aren't in the final film," Stéphane observed.)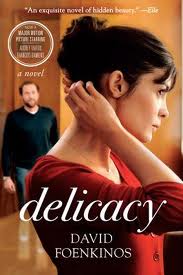 Overall, Foenkinos said, the transition from novelist to film director went well, but they do require different approaches to storytelling. "When you're a writer, you're alone in your room. You can write whatever you want," he explained. "But on the film set, you're dealing with 50 people every day. You have to be always focused, always sure of what you want next." In order to maintain that focus across the production, he and his brother decided they didn't want the actors to read the novel. "It's an emotional story, and they didn't need all the information that's in the book. It's too confusing. We preferred that what they knew about their characters was what was in the script or what we were telling them on the set." Eventually, he noted, Audrey Tatou did read the book, but not until after she'd seen the finished film.
The popularity of the novel in France also meant that the film came with some expectations. "A lot of people thought Natalie was blonde, and it actually came up during test screenings," Foenkinos said; she's never explicitly described as blonde in the novel, but there is a line where he describes her as having "a kind of Swiss femininity," from which readers drew their own conclusions. Others recalled the descriptions of Markus as physically unpleasant ("which is not to say that he was ugly") and complained that François Damiens was too good-looking for the role!
In the end, though, Foenkinos said, "when you're in a movie theater, and a 100 people are watching your movie and loving it, it's a feeling you can't have as a writer. You're really sharing your story." Not that he's abandoning literature any time soon; in fact, he wrote another novel, Les souvenirs (Memories), in the space of time between Audrey Tatou accepting the part of Natalie and when she was available to begin shooting the film. Could that end up on the big screen, too? "Maybe I'll write the script," he said, smiling, "but I'm not going to make movies of all my books." --Ron Hogan, founder of Beatrice.com
Inklings
Avast, Ye Mateys!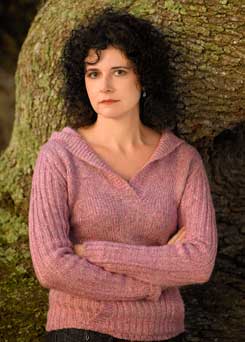 The book I'm reading features a character with hair so greasy that it stains the shoulders of his jacket. He lives in filth. He murders at will. He is willing to let a whole shipload of people expire from thirst. He is unremittingly repulsive, yet I just can't look away. Why?
Maybe it's because he's a pirate, and we love pirates. God only knows why, but we do.
The book is Peter and the Starcatchers by Dave Barry and Ridley Pearson, a modern retelling of Peter Pan, and the character is Black Stache. Black Stache joins a pantheon of pirates real and imagined. Blackbeard, Long John Silver, Jean Lafitte, Captain Hook, Jack Sparrow... we may not know much about the historical men and we may not have read the book where the fictional pirates were born, but we know them, nonetheless. They were pirates, therefore they lived outside the law. Who among us doesn't envy that freedom, just a little?
I first brushed elbows with pirate lore when I was writing my fifth archeologist Faye Longchamp mystery, Floodgates. Jean Lafitte made a cameo appearance, so I read his biography in order to get his character right.
In my new release, Plunder, I invented my own pirates, so I was free to let my imagination run rampant. Gola George, an escaped slave, is the biggest and baddest buccaneer on the high seas. By contrast, his meek partner in crime, Henry the Mutineer, is the smartest pirate ever born. Perhaps they would have continued marauding until they died peacefully of old age, but for a single problem: Henry the Mutineer fell in love with Gola George.
My pirates have blood on their hands and their redeemable qualities are hard to spot but I still love them. We all wish we had the daring freedom of a pirate, but we're not willing to give up our scruples to get it. That doesn't mean that we can't enjoy their daring and cunning on the printed page. --Mary Anna Evans, author of Plunder (Poisoned Pen Press)
Literary Lists
Hunger Games Frenzy; Mad Men Reading List
What better way to celebrate the Hunger Games Friday frenzy today than with the Daily Beast's slide show: "10 Fanatical Hunger Games Fans & Tattoos."
---
Read the books now; you'll get to see the movies later. The Hollywood Reporter recommended "four bestselling young-adult novels, all with movies in development, that will appeal to Hunger Games fans."

---

Just to show that The Hunger Games isn't the only game in town, Flavorwire offered some alternative "dystopic books where kids meet tragic fates."

---
The "definitive Mad Men reading list" of books featured in, based on or that inspired the hit TV series has been updated by Flavorwire "with entries from last season, along with a few more new books related to the show." Mad Men's new season starts on Sunday.
Book Brahmin
Book Brahmin: James Renner
James Renner is the author of two books of nonfiction that detail his adventures in investigative journalism: Amy: My Search for Her Killer and The Serial Killer's Apprentice. His work has been featured in Best American Crime Reporting and Best Creative Nonfiction. His new novel is The Man from Primrose Lane (Sarah Crichton Books, February 28, 2012). He lives in Ohio.
On your nightstand now:
Koko by Peter Straub. I picked this one up at a used bookstore in Akron for a buck--and it's a hardcover, first edition! It's also the first in Straub's classic Blue Rose trilogy, which is about a serial killer whose trademark is a playing card with the word "KOKO" scrawled on it. When I opened it up, a playing card fell out. True story.
Favorite book when you were a child:
The Encyclopedia Brown series. A great introduction to the structure of thrillers and mysteries for beginning writers. I've never forgotten the solutions after all these years.
Your top five authors:
Stephen King, John Irving, Mark Winegardner, Dan Chaon and Richard Harris. I like great big meaty books with fully realized characters and a smidge of rambling.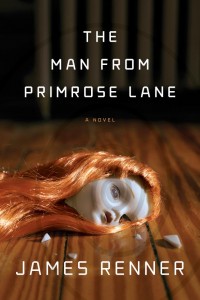 Book you've faked reading:
The Things They Carried by Tim O'Brien. I was assigned this book five separate times in the writing program at Kent State and failed to finish it every single time. Read the synopsis online. Now I'm haunted by the ghosts of dead veterans.
Book you're an evangelist for:
The Devil All the Time by Donald Ray Pollock. My favorite book of 2011. Gritty, sparse, bleak but graceful. Ohio claims its own Cormac McCarthy.
Book you've bought for the cover:
The Girl with the Dragon Tattoo by Stieg Larsson. And I wasn't the only one. I think the cover had more to do with the success of the book than the story or the writing. The cover is gripping. The words, not so much.
Book that changed your life:
The Gunslinger by Stephen King. It wasn't even my Christmas present in 1990. My grandmother bought it for my cousin, but as soon as I saw the strange man with the crisscrossed bullet belts on the cover I knew I had to find out what it was all about. The book opened my eyes to the large and wonderful world of fantasy/sci-fi.
Favorite line from a book:
"It was a pleasure to burn."--from Ray Bradbury's Fahrenheit 451. We're too close to this becoming real.
Book you most want to read again for the first time:
The Hobbit. My mother read this one to me when I was little. I read the Lord of the Rings trilogy my senior year in high school. I'm planning to read The Hobbit to my son very soon. Can't wait to rediscover Middle Earth together.
Book you wish you had written:
Weaveworld by Clive Barker. Residents of a pocket universe decide to hide from an evil force by weaving their world into a large and elaborate carpet. What a fantastic idea. Also, there's time travel, a magic jacket and a fallen angel who has forgotten who it is. Wonderful story.
photo by Danny Vega
Book Review
Fiction
The Book of Jonas
by Stephen Dau
City of Bohane
by Kevin Barry
What They Do in the Dark
by Amanda Coe
The Reeducation of Cherry Truong
by Aimee Phan
Mystery & Thriller
The Inquisitor
by Mark Allen Smith
Sail of Stone
by Åke Edwardson , trans. by Rachel Willson-Broyles
Food & Wine

How to Cook Everything The Basics
by Mark Bittman
Biography & Memoir
The One: The Life and Music of James Brown
by R.J. Smith
Psychology & Self-Help
The Things You Would Have Said: The Chance to Say What You Always Wanted Them to Know
by Jackie Hooper
Children's & Young Adult
Wolf Won't Bite!
by Emily Gravett
The Wild Book
by Margarita Engle
A Bus Called Heaven
by Bob Graham , illus. by Bob Graham
Audio
American Dervish
by Ayad Akhtar, read by the author
--- SPECIAL ADVERTORIAL OFFERINGS ---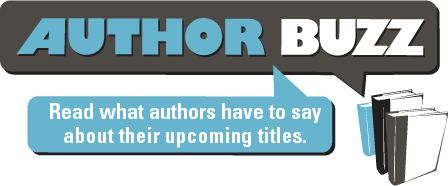 Dear Reader,

When I first set up a "demon graveyard," of sorts, for my Demonica/Lords of Deliverance series, I never imagined that the characters who populated it would become so central to the series. But here we are, following up the Grim Reaper's story with that of his right-hand man, Hades.

Dark, lethal, and a little playful, Hades will take a beautiful, brave fallen angel on a journey that will lead them both to danger and, possibly, love.

Please write to 1001DarkNights@gmail.com to win one of five copies.

http://www.1001darknights.com/authors/2015-books/larissa-ione-hades/




Publisher: Evil Eye Concepts, Inc

Pub Date: 5/26/15

ISBN: 978-1-940887-54-8

List Price: $2.99