Penguin Random House Merging Distribution Services
Penguin Random House is merging its third-party distribution services, and the new Penguin Random House Publisher Services will be headed Jeff Abraham, who has been president of Random House Publisher Services for the past eight years.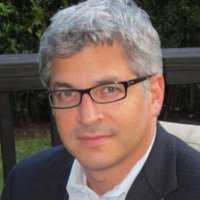 Jeff Abraham
Kristin Feehan, director, distribution clients, at Penguin, now reports to Abraham, as does the staff supporting the Random House clients. The company said that "all current Penguin and Random House internal and client-reporting relationships remain otherwise unchanged and there are no changes to the sales reps' selling responsibilities."
Penguin distributes Europa Editions, Kensington, Library of America and Overlook Press. Random House Publisher Services distributes some 36 publishers, including Beacon Press, Candlewick Press, Charlesbridge, DC Comics, Egmont USA, Kodansha Comics, Melville House, National Geographic Books, New York Review Books, Other Press, powerHouse Books, Quercus, Quirk Books, Rizzoli USA, Shambhala Publications, Seven Stories Press, Smithsonian Books, Soho Press and Wizards of the Coast.

Madeline McIntosh, president and chief operating officer of Penguin Random House, commented: "It is a privilege for our company to represent this amazing group of independent publishing clients, and to be able to contribute to the success of their authors' books. Growing and developing our Publisher Services business is a priority for Penguin Random House, and the opportunity to share our experience and expertise from across our combined company with our clients, and in turn learn from them, is terrific for all of us."

The announcement was made on the eve of eighth annual Random House Publisher Services Client Summit, which gets underway this afternoon in New York City. The three-day event is the capstone to the year-round "Ideas Exchange" educational series. More than 150 guests attend the summit, which features more than two dozen presentations, seminars and exchanges with senior Penguin Random House executives. Topics range from marketplace analysis and adapting to new retail patterns and digital transformation and development to in-depth sales breakdowns and competing internationally.
---

---