Jeter Publishing Bolsters Editorial Team, Signs Johnny Damon
In a move with serious implications for both the publishing industry at large and the publishing softball league, Jeter Publishing has signed former baseball star and two-time World Series champion Johnny Damon to a three-year deal as assistant editor.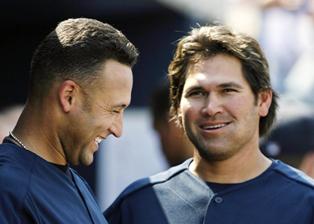 "Bringing Johnny on board adds an invaluable editorial voice to the Jeter Publishing team," said Adam Rothberg, senior v-p and director of corporate communications at Simon & Schuster, speaking on behalf of the imprint, founded last year by New York Yankees star Derek Jeter, who is retiring from baseball at the end of the current season. Noting that the Damon has a career triple-slash line of .284/.352/.433, he added, "Johnny, like Derek, plans to be deeply involved with every book we publish. Pending a physical, he'll report to our Manhattan offices early next week."
Jeter Publishing's acquisition of Damon has set off a hiring frenzy among rival publishers. Macmillan is close to bringing in Cy Young winner Tom Glavine as a public relations manager with a deal of up to four years, according to a source with knowledge of the discussions. Hachette and retired catcher Jorge Posada are talking: the signing would provide Hachette with a new, passionate member of its sales and marketing team--as well as some much-needed power in the heart of its line-up. Talks have reportedly stalled between HarperCollins and left-handed pitcher Randy Johnson--at issue are Johnson's history of back injuries and his InDesign acumen. HarperCollins, meanwhile, has also reportedly begun courting right-handed pitcher Roger Clemens.
Penguin Random House, however, has been conspicuously quiet. When asked to comment, CEO Markus Dohle admitted that "baseball isn't really my thing," but noted that the company is developing a significant contender for the nascent international publishing soccer league. Dohle has already begun evaluating "the wealth of talent" added to Penguin Random House by the purchase last month of the adult trade operations of Santillana Ediciones Generales, which has offices in Spain, Portugal and Latin America. "People think the Penguin Random House merger is about publishing," he said. "But with our operations in Germany, Britain, Spain and Brazil, we may be a football powerhouse for generations."
Medium- and small-sized publishers have grown increasingly exasperated with the sports spending spree. "We can't compete with those salaries," Melville House publisher Dennis Johnson commented. "It's just not a level playing field anymore." --Alex Mutter
---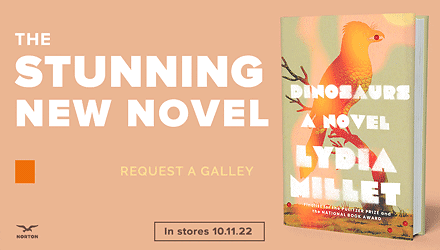 ---