New Owners for Creekside Books & Coffee, Skaneateles, N.Y.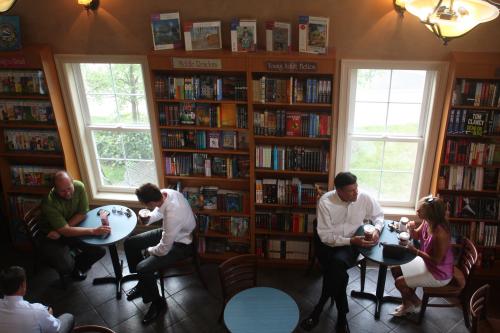 Erika Davis, who founded Creekside Books & Coffee, Skaneateles, N.Y., 10 years ago, has sold the store to Adam and Ksenia Tontarski of Watertown, N.Y. The store is closing temporarily this coming Saturday, May 31. After "some immediate improvements, including new equipment and staff training," the store will reopen by mid-June. Davis will be involved during the transition.

Davis called the sale bittersweet and said in an e-mail to customers that "it has been both an honor and pleasure to own and operate Creekside and to have the pleasure of serving you and the community. I want nothing more than to have Creekside continue as a gathering place and I strongly believe the best way for that to happen is to bring new energy, ideas and innovation to the forefront. I have no doubt that Adam and Ksenia possess the necessary skills and experience to make this happen. I am also very pleased that they have a strong desire to continue operating an independent book café and gathering place in Skaneateles."

Adam Tontarski wrote: "Ksenia and I are honored that Erika has chosen us to carry out her legacy at Creekside and continue the tradition as the Skaneateles gathering spot and third place. We feel that Skaneateles is a great community to work and raise a family and we are very much looking forward to being a part of it. Ksenia and I plan to continue the same tradition of freshly roasted coffee, food, live entertainment, as well as a fine selection of books and magazines, with newly added craft beer on draft and a carefully selected variety of wines. Additionally, our staff of certified baristas will be using state-of-the-art espresso and coffee brewing equipment to ensure the finest quality served in every cup. We are looking forward to serving you for years to come. We would like to invite everyone to please join us for our grand opening and we would greatly appreciate your continued patronage."

Creekside opened in December 2004 as Creekside Books and Creekside Coffee in neighboring spaces. Two years ago, the two Creekside entities merged in the coffeehouse space.
---

---