#BEA14: BookCon Overwhelms/Energizes BEA
BookExpo America ended with a bang: the first BookCon show drew 10,000 excited book fans who swarmed over the parts of the Javits Center on Saturday. "They're scary and inspiring at the same time," said one BEA attendee, echoing the mixed feelings of many industry people. Still, quite a few BEA fairgoers pointed happily to the low average age of the BookCon crowd and its diversity--teenaged girls seemed to be the single-largest group--all of whom were enthusiastic about books and authors. "What's not to like about kids who think reading is cool?" said a publisher.

The bubbling crowds and long lines snaking through the BookCon areas were a striking contrast to the part of the trade show floor that was limited to trade visitors. "DeathCon," said one wag about the shortened, third day of BEA, which had been much more active on Thursday and Friday.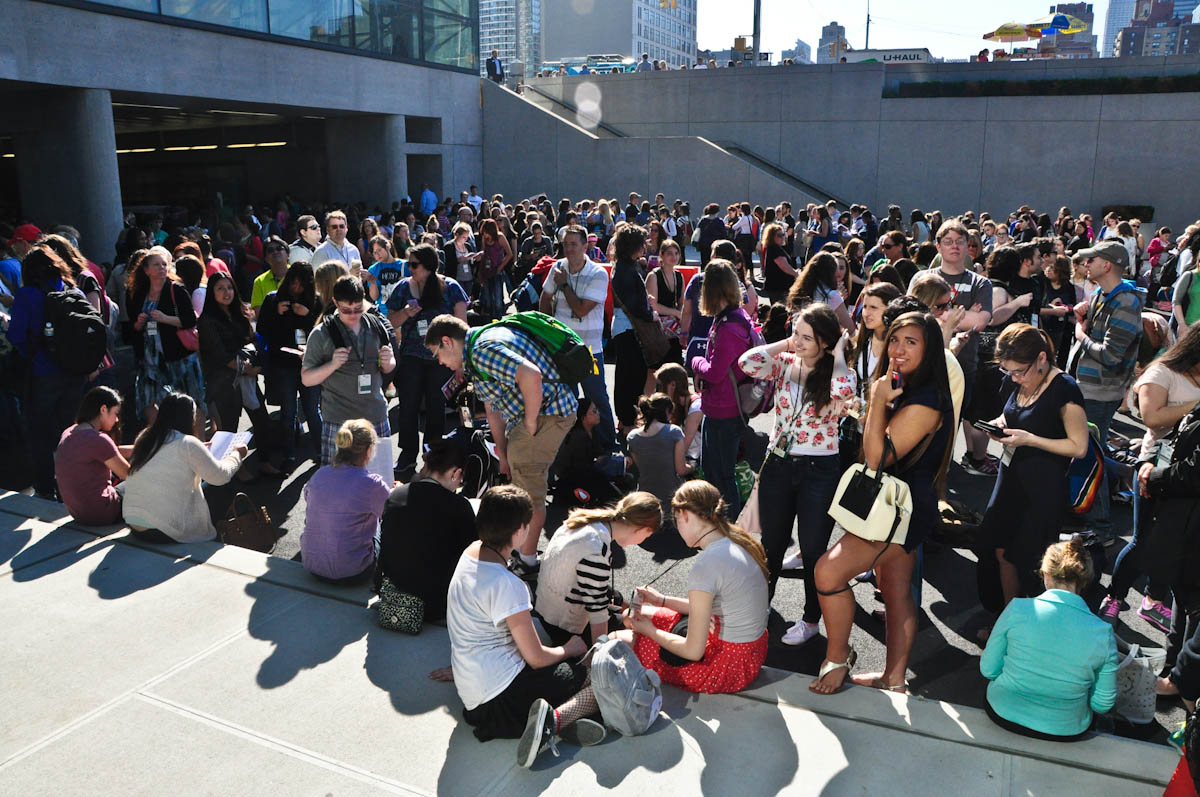 Eager crowd waiting for BookCon to open.
There were some BookCon problems, mostly because of the sheer number of attendees, capped at 10,000 (children aged 6-12 paid $5, older fans paid $35). Tearful attendees were turned away from some full events, and the lines and crowds made many areas nearly impassable, including the UPubU area in the basement. Noting that there had been "kerfuffles," BEA show director Steve Rosato said, "I wouldn't want the alternative."

The announcement that next year's show will consist of a two-day BookExpo, followed by two days of BookCon, caused several BEA attendees to feel that this is a turning point for the show. After years of some people questioning BEA's future, suddenly a more attractive version--one focused on BookCon--had become very appealing to show organizer Reed. "I never paid much attention to the negative talk," said one attendee. "Until BookCon." Perhaps our April Fool's story about the founding of BookCon, "Last Day of BookCon to Feature BEA, Trade-Oriented Show," will become a reality.

Still, BEA remains a great industry meeting place, where people from throughout the book industry around the world meet, catch up, do business, learn about books and authors and make serendipitous connections. May there always be a BEA. --John Mutter
---

---