Watchung Booksellers in N.J. Celebrates Expansion
On Friday, Watchung Booksellers, Montclair, N.J., celebrated the opening of its new Café Room, a 150-square-feet room next to the front of the store, in new space that it shares with the Tiny Elephant Café. (Owned by sisters Alison Meade and Dana Bashan, the Tiny Elephant just opened and has a kitchen and its own serving area.)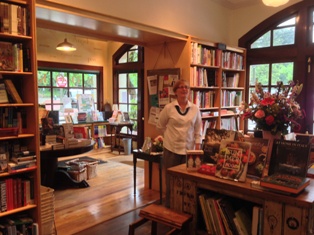 Margot Sage-EL in Watchung Booksellers' new Cafe Room with part of the original space in the background.
Besides several chairs and a counter with stools, the Café Room features what owner Margot Sage-EL calls "aspirational living books," including cooking, gardening, travel and travel writing, music and film and art. The moving of those sections opened up space in the original space and led to a reshuffling of areas. Fiction, which used to be the prominent section at the front of the store, is now in the center of the store, and more nonfiction is up front. "People think we have more books," Sage-EL said, "but it's just that now they can see them all."

The new space has a central table on casters, part of the striking fixtures in the room that were custom made by Tom Blake, that can be moved out of the way for events. The café is open for breakfast and lunch Tuesday through Friday and for brunch on weekends. The front of the store is now much brighter and airy, with a long wall of windows, and the back of the store also feels much more open.

Reaction has been very positive, with customers saying the new room is like "an extension of your living room or den," Sage-EL said. She added that "everyone is thanking us for doing it for them, which is really, really nice."
---

---