Legato Publishers Group to Continue, Headed by Mark Suchomel
Legato Publishers Group, whose future had been put into question during the period when Ingram was going to buy Perseus Books Group's distribution operations, will continue as a separate client services division and as an affiliate of PGW, David Steinberger, president and CEO of Perseus, announced yesterday.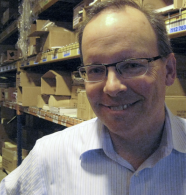 Mark Suchomel
Mark Suchomel will continue as the president of Legato and Jeff Tegge continues as v-p for sales.

Before the sale closed--and ultimately collapsed--Ingram had told Legato publishers that it planned to fold Legato into PGW and that Suchomel would not make the move.

"Mark and Jeff have delivered on their promise, not only to our company, but to our clients," Steinberger wrote to Perseus employees. "Over the past year we have built a successful business comprised of 24 outstanding independent publishers under the Legato brand. This is thanks to the hard work and dedication of both the Legato and PGW teams, as well as the Perseus sales force and many other Perseus employees. This success was highlighted in many recent conversations that we have had with our Legato clients and Perseus employees. Going forward, we will continue to explore and expand ways in which PGW and Legato can partner with each other to provide the best possible service to our Legato clients."

Steinberger added, "I want to thank both Mark Suchomel and [PGW president] Susan Reich for their leadership over the past year and in recent weeks. I also want to thank our clients for their insightful feedback, ideas and suggestions and for their spirit of partnership. I look forward to continued success for our clients and our company this year and beyond."

Suchomel commented: "I am grateful for the huge amount of support Legato received from the client publishers and for the confidence of the senior management at Perseus, most notably David Steinberger. We are happy to be able to turn our focus toward continued growth for our publishers and, together with PGW, build on the great results we have already achieved in such a short amount of time."
---
---