Betsy Burton: 'Amazon Can't Discount the Power of Community'
"The entire book world is watching this three-way standoff breathlessly. Because we are a community, those of us who work in the book industry, a community united by a love of books. Something Amazon doesn't seem to understand.

"Amazon evidently doesn't understand the love of local community either. It drains billions of dollars out of local economies and gives nothing back--no sales tax, no property tax, no payroll taxes since they pay no wages (except the part-time salary of UPS drivers, soon to be replaced--at least in Bezos' grandiose dreams--by squadrons of drones). In the process Amazon drives--or is attempting to drive--local retailers out of business, further eroding local economies nationwide.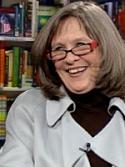 "But it's not going to happen. Just as authors are uniting to stop the bullying, so are local communities. Local First Utah and other like organizations are educating people about the importance of local business to their local economy. And booksellers and authors everywhere are crying out that books are important. That they're not cannon fodder in a corporate war. And that communities are important--whether in the world of books or here at home."
---

---