Amazon Local: 'Gazelle Accepting a Lunch Date from Lions'
From the American Booksellers Association Facebook page yesterday: "Nicole Sullivan, owner of BookBar in Denver, recently received an e-mail regarding partnering with Amazon Local. Here's her response."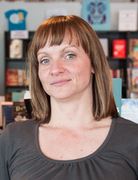 "My store is only part restaurant but mostly we are a local, independent bookstore and proud member of the American Booksellers Association. I must respectfully decline your invitation to chat as we have a firm grasp of local marketing and already do the local thing really well. I understand that Amazon is trying to get in on the local angle because, apparently, doing everything else is not quite enough. In the interest of full disclosure I have participated this week in spreading the message of supporting the passage of e-fairness legislation so working with Amazon would be a bit like a gazelle accepting a lunch date from lions."


---

---