Florida Bookstore Day Focuses on Local Authors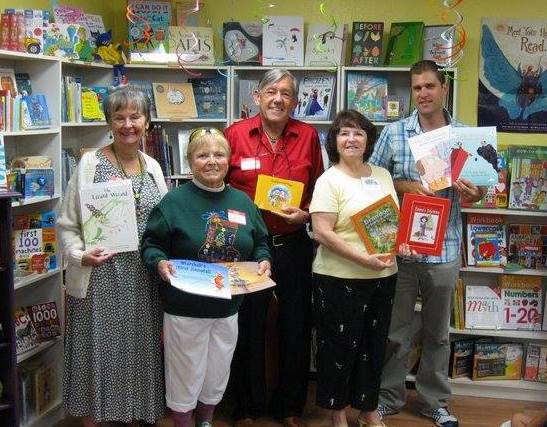 Local children's authors Sharon Whitehill, Camille Blue Amy, Mickey Gorman, Nancy Buscher and Carlo Tiseo at Copperfish Books in Punta Gorda.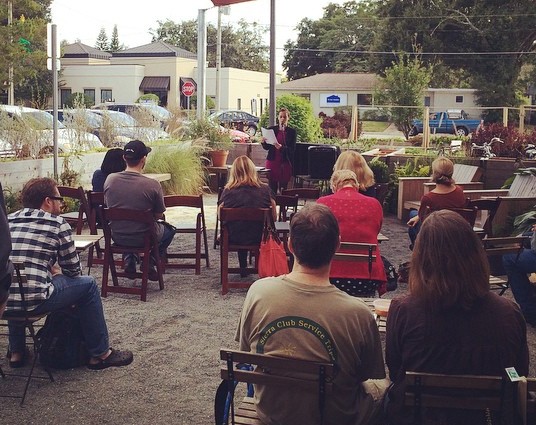 Poet Annemarie Ni Churraein reading at Bookmark It in Orlando.
More than 40 bookstores celebrated the first Florida Bookstore Day on Saturday. At Murder on the Beach, Delray Beach, the store assembled special displays and offered snacks, and people purchased titles by local authors Randy Wayne White and Randy Rawls. Altogether about 30 customers came in for the event, the store reported.
Among other events: a range of authors spoke at Bookmark It in Orlando; Joran Slane Oppelt, Jeremy Gloff and Scott Harrell read at Mojo's Books & Music in Tampa; several local authors, including E. Rose Sabin, read at Wilson's Bookworld in St. Petersburg; and Wild Iris Books in Gainesville had a storewide sale and kids' activities in its courtyard.
Books & Books celebrated Florida Bookstore Day by offering a 20% discount on all books by Florida authors in all its stores and, at its Coral Gables store, had live music in the courtyard and two readings.
Cristina Nosti, director of events & marketing for Books & Books, noted that yesterday was the first day of the Miami Book Fair International, which runs through this coming Sunday, so the events were also an "informal kickoff" to the fair, and "so many Florida authors are involved with the Book Fair that we didn't want to overburden them at this time"--so it didn't have as many formal events with authors as it might have otherwise. In addition, Small Business Saturday and Indies First are coming a week from Saturday, when the store is asking many local authors to volunteer to work in the stores.
Still, Nosti said, "Anything that brings a heightened awareness to Florida-based bookstores and authors--we're there!"
---

---