Amazon and Hachette Come to Terms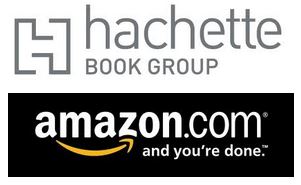 Hachette Book Group and Amazon have settled their dispute over terms and are returning to "normal trading" immediately and Hachette titles "will be prominently featured in promotions," the two companies jointly announced yesterday.

The multi-year agreement for e-book and print sales in the U.S. takes effect early next year and leaves the agency model for e-book pricing intact. The companies said that "Hachette will have responsibility for setting consumer prices of its e-books, and will also benefit from better terms when it delivers lower prices for readers." They also said that Hachette titles "will be prominently featured in promotions." The phrasing resembles that of the recent agreement over terms between Amazon and Simon & Schuster.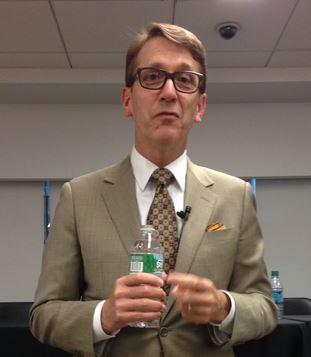 Michael Pietsch
"This is great news for writers," Hachette CEO Michael Pietsch said. "The new agreement will benefit Hachette authors for years to come. It gives Hachette enormous marketing capability with one of our most important bookselling partners."

David Naggar, v-p of Kindle at Amazon, said, "We are pleased with this new agreement as it includes specific financial incentives for Hachette to deliver lower prices, which we believe will be a great win for readers and authors alike."

The dispute became public in May when Amazon began punishing Hachette by delaying shipments of most Hachette titles, not allow pre-orders, not discounting titles at its usual levels and making it difficult to find Hachette titles. A spot check of Hachette titles after the announcement found that Amazon is again treating Hachette titles as it does most publishers' books.
The New York Times nicely described the dispute this way: "Depending on which side you were rooting for, it was a struggle between the future and the past, the East Coast and the West Coast, culture and commerce, the masses and the elite, technologists and traditionalists, predators and prey."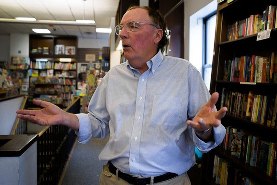 Speaking with Shelf Awareness yesterday, Hachette author James Patterson's first comment on the resolution was "Yay! It's good to have that behind us." A critic of Amazon in the dispute, he added, "I don't know the details. Maybe it was good for Hachette. Maybe it was good for Amazon. I'm assuming Amazon made some gains here.... It's really important that publishers be protected in the short term. Now everyone can move forward and do other things, such as bring attention to books--to serious ones and to some not so serious."
Douglas Preston (see his Book Brahmin with Lincoln Child below), who founded Authors United, which ran ads critical of Amazon's treatment and is writing a letter with the Authors Guild asking the Justice Department to investigate Amazon for antitrust violations, told the Times he was relieved to hear news of the agreement, but added, "If anyone thinks this is over, they are deluding themselves. Amazon covets market share the way Napoleon coveted territory."
James McQuivey, an analyst with Forrester Research, told the Wall Street Journal: "It's a victory for Hachette in that they get to set the consumer prices of their e-books, while Amazon wins in that it has given Hachette an incentive to keep prices lower. This deal should have been done a lot earlier. Emotions took over, and they both began talking like they were protecting the free world."
The most dispiriting comment came from Meryl Gordon, author of The Phantom of Fifth Avenue, a Grand Central title, who told the Times that she was "delighted and relieved... I hope that Amazon has learned that books are not commodities like dishwasher detergent. I'm looking forward to buying books again on my Kindle."
Amazon and Hachette had strong incentives to come to an agreement: the important holiday season is fast approaching and both companies have had poor financial results recently.
Only yesterday, Hachette parent company Lagardère announced third-quarter results and said that Hachette sales were down 18.5%, in part because of an unfavorable comparison with a strong third quarter the year before and the postponement of some titles, but also because of "the difficult situation with Amazon."
For its part, in October, Amazon reported a loss of $437 million for the third quarter and net sales up 20.4%. The size of the loss was a shock, and although the sales increase was high, it continued a trend of slowing sales growth. Wall Street has become less patient with the company, which, combined with unprecedented bad publicity for Amazon, may have led the retail giant to soften some of its demands in the Hachette negotiation.
---

---