ABFFE to Become Part of ABA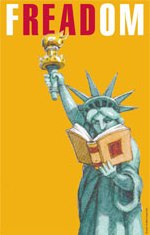 As of January 1, the American Booksellers Foundation for Free Expression will be integrated into the American Booksellers Association and be known as the American Booksellers for Free Expression Group at ABA, the organizations announced yesterday. The move is similar to the way the Association of Booksellers for Children became part of the ABA in 2010 as the ABC Children's Group.

The boards of both ABA and ABFFE approved the move in October "because they believe it will produce administrative efficiencies, making it possible to expand efforts to educate booksellers and their customers about important First Amendment issues," the organizations said.

With the change, the ABFFE board will become the ABFE Advisory Council, and ABFFE president Chris Finan will become ABFE Group director. ABFFE staff will move from the foundation's offices in New York City to the ABA's office in White Plains, N.Y., in the new year.

The move is kind of a return for ABFFE, which was founded by the ABA in 1990 to fight threats to the First Amendment rights of booksellers and their customers and was first headed by Oren Teicher, who is now CEO of the ABA. He commented on the change: "As was the case with ABC and ABA, the integration of ABFFE and ABA will make it possible to devote more resources to programming by consolidating administrative functions and reducing the need for fundraising."

Finan said, "I believe we will be able to work even more closely with independent booksellers to defend free speech."

In a first step toward integrating ABFFE and ABA, all ABA members will be recognized as official supporters of the ABFE Group and receive a sticker expressing support for free speech that can be displayed in the store's front window as well as a subscription to a new monthly newsletter, Free Speech Report.

Dues do not need to paid in the first year, but those who contribute will be eligible for premiums, including "fREADom" T-shirts, tickets to the Children's Art Auction at BEA and autographed copies of Finan's From the Palmer Raids to the Patriot Act: A History of the Fight for Free Speech in America (Beacon Press).
---

---