Customers Rally to Save Norwalk, Conn., Barnes & Noble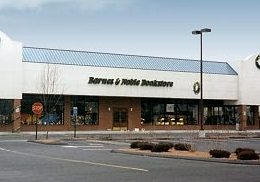 Customers of the Barnes & Noble in Norwalk, Conn., that just announced it will close on January 31 have set up a "Save the Norwalk Barnes & Noble" Facebook page to gather signatures and lobby against the closing, hamlethub.com reported.
The petition reads: "We the undersigned hereby affirm the need to save Barnes & Noble from leaving Norwalk.
"It has recently been stated that the establishment that resides on Connecticut Avenue will be gone by the end of the year. That can not happen. Barnes & Noble is a place where students and adults can go to buy books, study, and relax. By removing Barnes & Noble, where would they go? The library? The Park? Stamford? Barnes & Noble is needed in Norwalk, and we, the people, need it."
Katerina Begetis, co-founder of the local book group "Literary Soul Mates," told hamlethub.com that the closure "is a huge loss for the city. Our group has been meeting here for almost five years, and I know I speak for many when I say nothing can replace it. There is no other atmosphere for book lovers in Norwalk like Barnes & Noble."
---

---