'A Message of Warmth and Solidarity'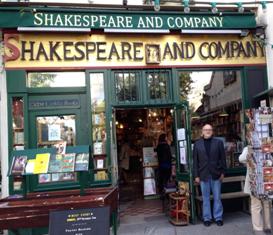 "Here, you're not likely to find cut-rate bargains, but you may find something you didn't even know you were seeking, like a rare title recommended by our biblio-insatiable staff. Or you may discover a first edition that we ourselves discovered in a private collection, a book hitherto tucked onto a shelf of an elegant Parc Monceau flat. Or you may read on our blog about a singer/songwriter's passion for Swedish literature and then decide to sample a new author or two.
"In return for your online purchase, we'll endeavor to give your books that certain je ne sais quoi. It could be with the bookstore's official stamp, a vintage postcard of Paris we found in a second-hand book, or a pocket-sized poem typed by a Tumbleweed at the desk looking onto Notre-Dame. Each package will be carefully, beautifully boxed and shipped, sent like a message in a bottle to you or perhaps to a friend, a message of warmth and solidarity that wherever you may be, in whatever town or city, there's always a home for readers and literary wanderers at Shakespeare and Company."
---

---